Best Xbox controller phone mount clips 2022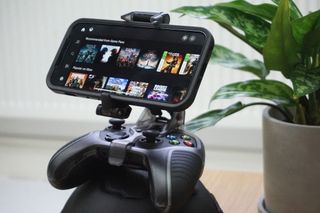 (Image credit: Matt Brown | Windows Central)
Mobile gaming gets an upgrade with a controller, more comfortable and precise than the usual touchscreen and especially suited to Xbox Cloud Gaming. With modern Xbox gamepads packing integrated Bluetooth support, compatible with iOS and Android, a dedicated phone clip is essential outside the living room. Snap these onto your controller and slide in your phone for an instant gaming handheld. These are the best phone clips, all compatible with existing Xbox One and Xbox Series X|S controllers.
Best overall: OtterBox Xbox Mobile Gaming Clip
Why you can trust Windows Central Our expert reviewers spend hours testing and comparing products and services so you can choose the best for you. Find out more about how we test.
OtterBox Xbox Mobile Gaming Clip
The best phone clip out there right now
Reasons to buy
+
Works with Xbox One, Xbox Series X|S, and Xbox Elite controllers
+
Compatible with most phones
+
Easily adjustable design
+
Strong build quality
+
Unique considerations for mobile
Reasons to avoid
-
More costly than alternatives
Microsoft's ambitious cloud gaming platform has drawn some big names like OtterBox, a renowned manufacturer of hard-wearing mobile accessories. The brand company debuted an extensive lineup of official Xbox mobile gear earlier in 2021, including one of the best mobile gaming clips on the market. The OtterBox Gaming Clip packs what you'd expect, plus some added frills. It works with standard Xbox One and Xbox Series X|S controllers and the Xbox Elite Controller Series 2.
What makes OtterBox's phone clip distinctive isn't immediately apparent, clamping around the controller with a telescopic grip that fits most modern smartphones. The "rapid-adjust" system allows you to quickly tweak the angle of your device with an integrated level that trumps fiddly hand screws. The whole unit also splits in half, transforming the clip into a well-balanced tabletop stand.
But the OtterBox clip shines with the details, including various considerations to improve gaming with this peripheral. It factors in all aspects of Xbox controllers, without obstructing buttons and sticks, and easy access to the rear-facing USB port. The phone clamp also has an unusual three-pronged design, preventing the clip from accidentally mashing side-mounted power or volume buttons.
The OtterBox gaming clip comes in at $30, which while still affordable, comes out above most alternatives right now. But it's easily the best phone clip for Xbox controllers right now, both robust and packed with functions while folding flat for added portability. It also plays well with other accessories, like controller shells and carrying cases, from the OtterBox Xbox range.
Best value: PowerA MOGA Mobile Gaming Clip 2.0
PowerA MOGA Mobile Gaming Clip 2.0
Make your phone and Xbox One controller an easy pairing
Reasons to buy
+
Works with Xbox One, Xbox Series X|S, and Xbox Elite controllers
+
Compatible with most phones
+
Adjustable hinge
+
Strong build quality
Reasons to avoid
-
Can accidentally press phone buttons
Designed for the latest Xbox One wireless gamepad, the MOGA mobile gaming clip is a sturdy and adaptive pick for any device, both affordable, and endorsed by Microsoft. The first model was crowned Windows Central's top Xbox accessory back in 2019, but we now recommend its second revision, the "Gaming Clip 2.0," which supports Xbox One and now Xbox Series X|S controllers, too.
The crucial differentiator is a dual-hinge design, which allows you to articulate your display for prime viewing angles. While most third-party alternatives keep your phone secure, PowerA's added flexibility enhances comfort for the duration of mobile console experiences. Two thumbscrews quickly switch up that articulation, and a telescopic slide accommodates most devices, up to 3.12 inches (79mm) wide. It means most traditional smartphones will lock in firmly, provided they're not abnormally wide.
PowerA uses a clamp-like grip around the controller, also maintaining a tight hold around Microsoft's gamepad. That includes an opening to access the wireless sync button and micro-USB port, handling connectivity and charging between sessions. PowerA demonstrates considerations where other cheaper solutions fail, living up to the licensed badge. The only frustration comes with its rubberized clamp, which knocks power and volume buttons on some phones.
The MOGA mobile gaming clip easily delivers the best value of any Xbox controller mount. It works best with Xbox Cloud Gaming on iOS and Android, or other mobile games with controller support. Just remember to get the Gaming Clip 2.0 variant, if you plan to use this with an Xbox Elite Controller Series 2 or Xbox Series X|S gamepad.
Best budget: Jovitec Xbox One Foldable Controller Clip
Jovitec Xbox One Foldable Controller Clip
Take your Xbox One controller on the go with ease
Reasons to buy
+
Compatible with most phones
+
Affordable
+
Strong build quality
+
Easy setup
Reasons to avoid
-
Hinge angle not adjustable
-
Doesn't fit Xbox Series X|S controllers
Converting any existing Xbox One controller into your portable gaming companion, the Jovitec Xbox One Foldable Controller Clip delivers an affordable phone mounting solution. Its clip-on design is easy to attach (and detach) from official gamepads and is paired with an adjustable slider that maintains a firm grip on your phone. However, it's designed for Xbox One controllers, so we don't recommend this for Xbox Series X and Xbox Series S-era controllers, due to the revised shape.
While this all-plastic black mount pushes only the bare essentials, a firm wrap-around clamp guarantees a sturdy grip on your controller. An accompanying spring-actuated slider also suits phones of all sizes, with dual rubberized pads for added security. It touts surprisingly high build quality for the price, too, including a pliant hinge system supporting the weight of heftier devices. Its only fundamental flaw is disappointing hinge flexibility, limiting screen angles beyond the pictured 45-degree deployment.
Jovitec accommodates an extensive lineup of phones, attributed to its adjustable slider mechanism. While starting at 2 inches if closed, the tray supports devices measuring up to 3.5 inches (89mm) horizontally, including most plus-size phones on the market. That maximum also accommodates the larger phones that won't fit some alternatives, if your phone is on the chunkier side.
The arrival of Xbox Cloud Gaming makes this Jovitec clip one of the better options to get started, proving a low-cost entry point with your existing Xbox One controller. It works with almost every conventional smartphone out there and costs less than one month of your Ultimate-tier subscription.
Best alternative: 8Bitdo Mobile Gaming Clip for Xbox
8Bitdo Mobile Gaming Clip for Xbox
Keep your phone sturdy and safe
Reasons to buy
+
Works with Xbox One, Xbox Series X|S, and Xbox Elite controllers
+
Compatible with most phones
+
Adjustable hinge
+
Strong build quality
Reasons to avoid
-
Can accidentally press phone buttons
This option from 8Bitdo joins the best as another reliable phone clip for Xbox controllers, similar in design to the MOGA Mobile Gaming Clip 2.0 from PowerA. Its twin-hinge design provides flexibility to angle your phone screen with precision, and thumbscrews allow for hassle-free adjustments on the move.
Like many on this list, 8Bitdo delivers on build quality, with a sturdy design that keeps a tight grip on your seated device. This model even mixes aluminum and plastic for a premium touch without adding much weight to the final product.
It fits Xbox One and Xbox Series X|S controllers, plus the Xbox Elite Controller Series 2, ensuring compatibility with the latest official gamepads. The spring-loaded phone clamp also extends a few millimeters farther than the MOGA clip, suited to larger smartphones and bulkier cases. It can prove a little top-heavy with some devices, although you'll only feel the effects after longer gaming sessions.
The 8Bitdo mobile gaming clip covers the basics, with some added premium flair and a retail price that falls in line with the competition. It's another great option among the best phone clips for Xbox controllers.
Best bundle: PowerA MOGA XP5-X Controller for Android
PowerA MOGA XP5-X Controller for Android
The controller and clip bundled as one
Reasons to buy
+
Easy, all-inclusive solution
+
Familiar controller design
+
Good build quality
+
Handy integrated power bank
Reasons to avoid
-
Less portable
-
Doesn't work with Xbox consoles
While most Xbox-compatible phone clips are built around official wireless controllers, PowerA conceptualized the MOGA XP5-X controller around mobile. The device takes cues from Microsoft's gamepad but delivers an experience tailored to mobile experiences, including Xbox Cloud Gaming.
PowerA designed the XP5-X to embrace many of the staples of the Xbox controller, with the same ABXY button layout, offset thumbsticks, and other fundamental traits. The ergonomic design is one of the better alternatives for extended gaming sessions, mirroring official hardware from recent years.
But the XP5-X shines in a mobile setting, with an included smartphone clip, supporting devices up to 79mm wide. The controller's hidden trick is a 3000mAh battery, stowed onboard the device, doubling as a power bank for your smartphone. Phones can be especially power-hungry when running or streaming games, with an integrated battery providing that added confidence when separated from an outlet.
The controller works with phones and tablets running Android 6 or newer, plus Windows PCs, but won't work with existing Xbox consoles. It hooks up over Bluetooth or using various included USB cables, backed by official support from Microsoft across its streaming services. This controller and phone clip are unmistakably built with mobiles in mind, delivering an ideal alternative to the Xbox console controller.
Best controller: Razer Kishi Controller
Razer Kishi Controller
Transform your phone into an Xbox Nintendo Switch
Reasons to buy
+
Easy to use
+
Portable
+
Excellent build quality
+
Completes the Xbox cloud gaming vision
Reasons to avoid
-
Wobble with smaller phones
While our final pick doesn't formally fall under the guise of phone mounts, the Razer Kishi remains one of the best accessories out there for cloud gaming with Xbox Game Pass. This clip-on peripheral is one of the best controllers for Xbox Cloud Gaming and transforms your phone into the ultimate handheld gaming machine.
Mimicking the defining Joy-Cons of the Nintendo Switch, this single-piece gamepad slides open to fit most phones inside, assembling a sleek Xbox handheld. The considerations for mobile extend far beyond Microsoft's own wireless Xbox controller, presented as an all-in-one solution, with the robust build quality and convenience for mobile.
The Razer Kishi packs two control modules bound by a spring-loaded strap, featuring dual thumbsticks, buttons, and other essential Xbox inputs. These hook up to your phone via an integrated USB-C or Lightning connector and spring shut when no longer in use, alleviating the need to carry a full-fledged gamepad. Wired connectivity over Bluetooth also eliminates wireless latency and the need to charge an extra device.
Razer first experimented with this form factor via the Razer Junglecat, held back by limited device support, and compatible with just a few phones that fit specific cases. That's now mostly resolved with a more versatile clip-in design, although some minor wobble may occur with very small phones.
But the concept shows the potential of services like Xbox Game Pass expanding to iOS and Android, making a welcomed return with advancements via the Kishi. It comes in three versions — one for iOS, an Android model, and an Xbox-branded Android variant which offers some additional Microsoft visuals but identical functionality.
Bottom line
With Xbox controllers slowly gaining mobile traction, the lineup of dedicated mounts is understandably limited. However, with cloud gaming steadily rolling out via Xbox Game Pass, accessories like the best mounts and clips are must-buy additions to your setup. Using an existing Xbox gamepad saves a ton over dedicated mobile peripherals and is a stellar pickup for cloud gaming.
The OtterBox Xbox Mobile Gaming Clip, coupled with Xbox Cloud Gaming, takes the best Xbox Game Pass games beyond the living room. This clip beats the competition with rich functionality, coupled with sturdy build quality that matches the price. We also recommend the PowerA MOGA Mobile Gaming Clip 2.0 as a more affordable alternative, especially for those unsold on Microsoft's upcoming cloud efforts, wanting to try the service with a controller in hand. These both work with Xbox One and Xbox Series X|S controllers, plus the Xbox Elite Controller Series 2, covering all modern gamepads from Microsoft.
Windows Central Newsletter
Get the best of Windows Central in in your inbox, every day!
Matt Brown was formerly a Windows Central's Senior Editor, Xbox & PC, at Future. Following over seven years of professional consumer technology and gaming coverage, he's focused on the world of Microsoft's gaming efforts. You can follow him on Twitter @mattjbrown.
Windows Central Newsletter
Thank you for signing up to Windows Central. You will receive a verification email shortly.
There was a problem. Please refresh the page and try again.