Best Zombie Games for Windows 10
By George Ponder published
Zombies are everywhere these days, and the Windows Store is no exception. The undead takes center stage in many games that range from tower-defense to first-person-shooter titles.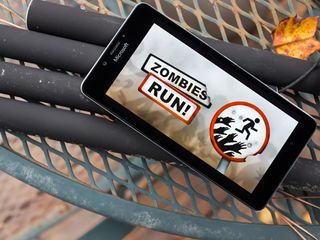 You can snipe them from afar or dive headfirst into a horde of the undead to wage battle. There's even a board game where you try to outmaneuver the walking dead. While Zombies Run is no longer available for Windows 10 (a great fitness-oriented game), the genre remains a strong and entertaining presence in the Store.
These are the best zombie games for Windows 10.
Updated April 19, 2017: We made a few changes to this article based on new releases, reader input and staff debate. There are some new titles in the mix, as well as those that we continue to view as the best from the Windows Store.
Zombie HQ
Zombie HQ is a free Windows 10 game in which your city has been overrun by zombies. It is your job to lead the charge to take back the streets and destroy the walking dead.
Available for Windows 10 Mobile and PC, Zombie HQ has plenty of missions to tackle that range from rescuing survivors of the zombie plague to searching for salvage that can be converted into bigger and more powerful weapons.
The gameplay is centered around a rooftop HQ that can be customized with sofas, jukeboxes, pool tables and more. Weapons include shotguns, assault rifles, flamethrowers, broadswords and more. Each weapon can be upgraded as you progress through the game to increase the damage it can inflict, ammunition capacity, reload speed and more.
To help you survive the zombie battles, there is a ton of apparel to unlock and upgrade that includes hockey masks, centurion body armor and beer hats. Zombie HQ offers a nice level of customization for your character to make it your own.
The gaming experience with Zombie HQ is a mixture of arcade action and role-playing game management. It is easy to lose track of time while destroying the zombie hordes with this addictive and entertaining Windows 10 game.
Download Zombie HQ from the Windows Store (opens in new tab)
Zombie Anarchy
Zombie Anarchy is the new kid on the block with respect to Windows 10 zombie games, and it offers a nice blend of defensive and offensive challenges. The game has you leading a group of rag-tag survivors of the zombie apocalypse, determined to save their city from the undead.
The free combat-strategy game has you seeking out zombie strongholds to defeat and pillage for supplies, rescuing survivors to build up your army, and building up your base camp defenses to thwart zombie attacks and attacks from other gamers. Survivors deliver unique skillsets for battling zombies, and resources collected after defeating a zombie camp are used to build your own defenses and upgrade weapons.
Zombie Anarchy includes a nice strategy element where you can scout out your enemy targets and deploy troops accordingly to make the most of each team member's skillset. The graphics are top notch, with plenty of detail, and the controls are simple to learn.
Zombie Anarchy is a free game from the creative minds at Gameloft and is available for Windows 10 PC and Mobile. There is an addictive quality to the game, and overall Zombie Anarchy is a great option when you need to satisfy that gaming itch.
Download Zombie Anarchy from the Windows Store (opens in new tab)
Zombie Tsunami
Zombie Tsunami takes a slightly different approach to the zombie game genre in that you play the role of the zombie. Available for Windows 10 PC and Mobile, Zombie Tsunami is an endless-runner style game in which you guide a zombie through an urban obstacle course, gobbling up citizens and turning them into zombies. These new zombies then join in on the fun and you end up guiding a horde of zombies down the city streets.
There are more than 300 missions in Zombie Tsunami that are performance based (collect bonus items or jump ten cars), and they help give this Windows 10 Mobile game a little more depth. Coins are scattered along the endless path that can be collected and used to unlock hats for your zombie to wear and powerups.
Eight bonus items are scattered across the zombie's pathway that include a UFO that clones your zombie horde, invincible ninjas or a giant tsunami wave that wreaks havoc on anything in its path. Dangers to avoid include crevices in the city street, land mines and moving cars. You can lose members of your zombie horde, but if the main zombie meets its fate the game is over.
The graphics are colorful and wonderfully animated, game controls are simple, and gameplay requires your undivided attention. All in all, Zombie Tsunami is a fun Windows 10 game, and it's no surprise that it receives a strong recommendation from readers.
Download Zombie Tsunami from the Windows Store (opens in new tab)
Last Heroes – The Final Stand
In this Windows 10 game, you are the last man standing in a brutal fight against a zombie invasion. Last Heroes – The Final Stand is an arcade shooter that plays out much like a tower defense game.
Using an arsenal of weapons, you defend your position from wave upon wave of zombies. Last Heroes has more than 100 levels of play, and over a dozen zombie types and five urban settings to defend. Along with the main path of game levels, Last Heroes has plenty of daily challenges and bonus levels to keep you busy.
Along with the minion zombies that attack your position, the Windows 10 game has several boss zombies to defeat. While the minion zombies are no push over, the boss zombies require a lot more effort to fall. As you defeat the zombies, you earn cash that can be used to upgrade and unlock new weapons, powerups and characters. The upgrades include increasing a weapon's damage, rate of fire and ammo capacity.
Last Heroes – The Final Stand challenges your skills at speed to move around the barricade to eliminate the zombies, at accuracy to avoid running out of ammo, and with strategy in defending multiple fronts. You also have management elements to keep your weapons upgraded to keep pace with the stronger zombie attacks.
All in all, Last Heroes – The Final Stand is a fun, free game for Windows 10 PC and Mobile.
Dead Target: Zombie
Dead Target: Zombie is an epic first person shooter for Windows 10 Mobile that places you in a post-apocalyptic world fighting a zombie outbreak. This free game has more than 500 battles to tackle, plenty of guns to unlock and upgrade, and plenty of zombies to blast into smithereens.
The graphics with Dead Target are stunning, with plenty of detail and ragdoll animations as you destroy the Walking Dead. Battles include quests that improve your ranking and skills, and they unlock weapons to better your chances of survival.
On-screen controls are clearly laid out to control your side-to-side movement, weapons control (firing, reloading and switching weapons), special weapons deployment, and health kits. Your forward movement is automatic and when engaging the zombies, you stand your ground and take out the Living Dead before they take you out. Just be careful, because fallen zombies may only be wounded and continue to attack by crawling. You may not notice them until it is too late.
Dead Target: Zombie is a free game, available for Windows 10 Mobile. While it may qualify as an "oldie but goodie," Dead Target remains an entertaining time-waster of a game.
Download Dead Target: Zombie from the Windows Store (opens in new tab)
If you've tried any of these zombie games, let us know what you think in the comments. These games only scratch the surface of what is available in the Windows Store, and if we overlooked your favorite game featuring the walking dead, feel free to toss out a recommendation in the comments.
George is the Reviews Editor at Windows Central, concentrating on Windows 10 PC and Mobile apps. He's been a supporter of the platform since the days of Windows CE and uses his current Windows 10 Mobile phone daily to keep up with life and enjoy a game during down time.
My thoughts exactly, but its understandable since i think i read that its no longer available on the store.

Its not available in my store I have 640

Dead Target is an amazing game. Held me over until official support came from Dead Trigger but even then Dead Target held the flame.

I thought the game was rereleased based on the article's main photo

I also was drawn to the article because of the article's main photo.. Hehehe

I too fell for the click bait image. :-(
I would love to see Zombies Run to be released again on Windows Mobile...

no Zombie Tsunami? I love that game!

It's right in the article???

I understand the concept of the article, but not the rationale of utilizing a stock image of a game that was contentiously removed from the Windows ecosystem as the image. Was it a clickbait attempt, or just a lack of desire to create a new image? The article itself was a good one, and could be broadened upon or revisited later as a source of information for fans of the genre looking for a new game to play in a sea of bad apps in the Store only pandering to the motif. Either way, the pic seems like a poor journalistic choice that kind of diminishes the attempts of your peers on this site that are at least attempting to be ethical and newsworthy.

Agreed. It definitely baited me into reading it

Dead trigger is the best in my phone

I couldn't find dead trigger in the store.

Yes because madfinger remove the games they stop supporting windows phone.. If u download before u can still play this game

What about INTO THE DEAD? Why not mobile anymore??

Zombies Run dropped support for Windows / Windows Phone around 2012/2013.... Not sure why it's the main image of this article as it still thrives on other platforms. A little misleading because it was such a great app while we had it!

Dead Target Zombie is the most addictive zombie game 🎮

Windows phone isn't as boring as people want us to believe

Anyone know if there's any game in the Mobile Store that supports Xbox One BT controller?

I made a game with zombies in it is the best zombie game but not sure if you can get it on win10?

Dead trigger 2 and gun finger are my favorites. Into the dead is also fun

Zombie Anarchy is a great game...... Has great gameplay mechanics, does not have huge time consuming building updates like COC... No need to create or repair your team every time you complete a mission..... Which is a great feature.......and a great storyline too....

No Judge Dredd vs Zombies?
Windows Central Newsletter
Get the best of Windows Central in in your inbox, every day!
Thank you for signing up to Windows Central. You will receive a verification email shortly.
There was a problem. Please refresh the page and try again.