Bring back Windows Phone Marketplace in Zune with simple registry addition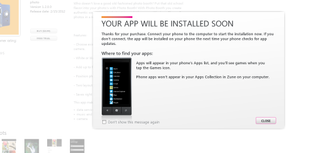 Microsoft removed the ability to browse or purchase new apps for Windows Phone in the Zune Desktop app last week causing a stir amongst users. While Windows Phone users can still get podcasts, videos and music, the only apps available are for Zune HD users (who have no other method to get apps). Instead, users are instructed to use the Web Marketplace or the store on their phone, which is how most users are doing it anyway.
We reported on an interesting hack the other day to bring back the Marketplace but it was a bit convoluted requiring a server intercept of a config file.
Today though, reader Thomas W. sent us a simple registry trick on your PC that can instantly bring back the Marketplace. All it requires is adding a new Key with a new DWORD and you'll be good to go. If you have a registry editor on your PC, simply do this:
HKEY_CURRENT_USER\Software\

Microsoft\Zune

Create KEY: FeaturesOverride
DWORD: Apps = 1
Now restart Zune Desktop and in a flash, your Marketplace is back. Of course such a trick will disappear when Microsoft updates Zune or they somehow permanently disable the feature. But for now, we were able to successfully trial and purchase apps just as before.
While we personally have little use for this method of purchasing apps, you're needs may be different, so here you go!
Thanks, Thomas, for the tip!
Daniel Rubino is the Editor-in-chief of Windows Central, head reviewer, podcast co-host, and analyst. He has been here covering Microsoft since 2007 when this site was called WMExperts (and later Windows Phone Central). His interests include Windows, Microsoft Surface, laptops, next-gen computing, and for some reason, watches. Before all this tech stuff, he worked on a Ph.D. in linguistics and ran the projectors at movie theaters, which has done absolutely nothing for his career.
I don't see y the removed it anyway ?

I imagine it's because they're getting rid of Zune, and announcing a successor at E3 that will (probably) not be connecting to the marketplace at all. They have some sort of overall vision I guess, and this wouldn't fit in with it.

That and they probably don't want to support a method of accessing the marketplace that they've determined not many people use.

Maybe in Windows 8 they've decided to create a dedicated Windows Phone marketplace app? Or maybe integrate it into the already existing Marketplace app on Windows 8? We should have the answers later this year.

I didn't use it anyway doesn't bother me.

Wasn't this covered in a previous post?

Yeah. This is just a new/different way someone sent in to get the marketplace back.

"Simple registry addition". Oxymoron?

Fair enough. But generally registry editing is tedious. I'm wondering how long this registry "fix" will actually work...?

Its not the end of the world. As you said there are 2 other ways to brose apps/games. People should just move on instead of trying to hack it back. I'm sure they disabled it for a reason...

I still don't understand why the podcast marketplace is US-exclusive. Blows my mind.

I agree that it could at least easily be available in the UK. But I'm sure there are reasons.

In UK here, I get PODCAST Marketplace on my Zune.

You might need to add the new DWORD
Podcasts 1

In your registry (same place as article), but as the BBC is showing as one of the top hits it looks like UK users should get that by default.



I've done this already and even though some of the artwork doesn't show up it works quite well, the BBC podcast directory has links to the Zune software anyway though.

Hi. I know this is completely off topic, but I don't know where else to ask something like that. So i have a problem with a search button. When i click it, it only open bing in IE and as I know, this isn't supposed to be like that. Am I in unssuported market or something? Also, I incidently deleted local scout and don't know how to get it back. It's not in the marketplace :(

Just change your local config to en us or something like that. Its the last option in the locale config on your WinPhone

Local scout is pretty hard to delete. Press search, then local scout.

To get Local Scout to come back on you have to allow location services in your search settings.

Thank you guys. I had to change browser & search language and it works nice now. Too bad that local scout doesn't find any places in my country :(

Getting apps through Zune was never available in South Africa. All you could do is browse.

"IF you have a registry editor on your PC"? Start -> Run -> Regedit.

@cimperski To get local scout back on your start screen simply hit the search button on the bottom of your phone, tap the local scout icon and you should then see the pin icon at the bottom of the screen. Tap that and it will pin local scout back your start screen.

*edit* once you tap the local scout icon you'll need to tap the ellipses button (the three dots bottom right of screen) to see the pin icon.

yay! it works thanks glad to have it back and i do use it too for wp more so than the web marketplace hear that MSFT?

I preferred using Zune to browse the Marketplace. It was just easier than going through the phone or scanning via the website. The registry tweak took all of 1 minute after I remembered it was the regedit and not MSConfig used to gain access to the registry. I've only ever used it a few times since the days of DOS3.3 when I used it alot.

Thank You for the info. It was greatly appreciated.

How did you use regedit before there was a registry to edit?

How did you use regedit before there was a registry to edit?

I used regedit to edit the HKEY registry point in Windows Desktop OS, not the WP OS.

Go under the WIndows Icon, then in the search area, type in regedit and the program will initialize and show you the registry. Search for the actual regisrty entry and add the info that it talks about in the article.

Hey, this worked, cool. I used the marketplace in zune time to time...it's nice to have it back...for now.

Why not just search/get apps on your phone? Why would I want to turn on my computer and get apps?

The Zune Desktop can auto-install apps previously purchased through Zune to a new device.

Nd is their any way to use pirated apps?

That's working fine .. But now , I more problem .. When ever I am trying to download free apps from the market ,asking me username password for my Live Id !!! ( I can't change my E-mail Id option ) .

Telling me error ( http://postimage.org/image/yvb0nycpv/ )
I did change my regional & language option in my laptop ... & I did change my laptop time zone but still not allowing me to logging .. ..... Please advise :)
Thanks,

Hey, Zune folder is not there in registry...Someone please help me out

you can try this out
1- Click Windows+R
2- Type intl.cpl then Press Enter.
3- Set Language to ENGLISH (UNITED STATES) & LOCATION to UNITED STATES
4- restart the Zune.

Appear Apps menu, but couldn't result the apps

you can try this out
1- Click Windows+R
2- Type intl.cpl then Press Enter.
3- Set Language to ENGLISH (UNITED STATES) & LOCATION to UNITED STATES
4- restart the Zune.
Windows Central Newsletter
Thank you for signing up to Windows Central. You will receive a verification email shortly.
There was a problem. Please refresh the page and try again.