The Haunting event returns to Call of Duty Black Ops Cold War and Warzone
New gameplay modes and Operator skins crank up the creepy factor in Cold War and Warzone.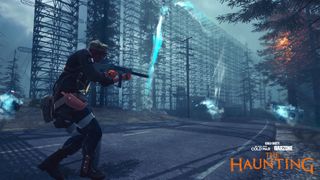 (Image credit: Activision)
Season 6 marks the end for Call of Duty: Black Ops Cold War as the final battle pass before the release of Call of Duty: Vanguard. Black Ops Cold War isn't dead just yet, however, and there's no better way to drive that home to the playerbase than to blend the Season 6 event with the upcoming Halloween festivities. Oct. 19 marks the return of Call of Duty's The Haunting event for the second year in a row. The event will bring with it a variety of new modes and Operator skins to up the scare factor.
Call of Duty: Black Ops Cold War gets the Halloween treatment
Call of Duty: Black Ops Cold War's most popular map, Nuketown, gets a temporary festive makeover for The Haunting. Nuketown Halloween is a nighttime variant of Nuketown, complete with orange string lights and a host of other themed props scattered about. The new map will be available in both the limited-time modes and your usual favorite playlists. Care packages have also been given a facelift, and the newly named "Scare Packages" will come along with tricks and treats for those who dare open them.
The limited-time modes being added to Cold War include Infected, Prop Hunt, and Scream Deathmatch. Both Infected and Prop Hunt are returns of popular modes with additional Halloween elements thrown in. Infected play mode pits a normal team of Operators against a team of Zombies who will attempt to turn the Operators into one of their own with the zombies winning if they succeed, and the Operators winning if they run out the clock. In a new twist, surviving Operators will earn new perks to reload, slide, movement, and ADS speed with each infected they kill. Prop Hunt is the same classic mode most players are already familiar with but will include Halloween friendly props such as black cats and pumpkins.
Scream Deathmatch is the newest mode to be added to Black Ops Cold War. Two players will become Ghostface killers, and will be tasked with finding the other players who have chosen hiding spots throughout the map. While the survivors do not have any weapons, they can take a risk to defend themselves and win for their team if they can defeat the killers, or they can hide and hope the clock runs out before the killers eliminate them all.
Multiplayer doesn't get to have all the fun. Zombies mode will see some changes as a result of the Halloween event, as well. Outbreak will see a new challenge titled "You'll Never Get Out Alive" where a team will need to survive a 10-minute round in a single region. Every two minutes the zombies will ramp up in difficulty with increases in health and horde numbers. The exfil point will spawn as far as the map allows away from the players and every zombie on the map will be fully aware of players' location. If that's not enough to stress you out, there will also be Ordas lurking around, ready to single-handedly end a run.
Round-based players will be greeted by Scare Packages every five rounds that have the potential to offer high value rewards, and zombies will begin dropping a new item — the Jack-O'-Lantern — which can be used for weapons, support, mods, and more. Some zombies will also show up with pumpkin heads that will serve as bonus point targets.
Call of Duty: Warzone goes dark
Much like 2020's Haunting event for Warzone, Verdansk will be going dark as the map enters nighttime. A new mode, Ghosts of Verdansk, will also be introduced. There are a lot of similarities between the previous zombie-themed Haunting mode Warzone players enjoyed, but this new take will see dead players become ghosts instead of spawning in the gulag. Ghostly players will meet some unique challenges.
Ghosts are weaponless, naturally, but they will have special abilities such as super jumps, teleportation, and a Spectral Blast that can act as an EMP. They will be able to melee living Operators, and if they're lucky enough to eliminate a survivor they will receive a piece of soul. Three soul pieces can allow a ghost to rejoin their squadmates as a living player once again. Should a ghost be skilled enough to take out a living Operator with a finishing move and without interruption, then they will be able to respawn automatically.
Ghosts of Verdansk does throw in some changes to the formula to keep the mode fresh for those who previously experienced the zombie variant of the mode in 2020. One new element is the Fear meter. A player's fear meter will increase naturally over time and can be exacerbated by events occurring near the player such as being shot at or seeing a ghost or corpse. Showing cowardice by camping will also rank up that fear meter. Fear can be decreased by eliminating other players and ghosts and reviving teammates. Should your fear levels get above 50%, players can expect to start experiencing hallucinations. What happens at 100% remains to be seen.
Fear can be reduced by spending time within Sacred Ground, a new game element added with The Haunting event. Sacred Ground is a blue circle that will move around Verdansk and provide safety from the supernatural elements of the mode. Be warned, however, that enough ghosts throwing their bodies at the circle can destroy it.
Operator bundles
While Call of Duty: Black Ops Cold War is rooted in the '80s and has featured classic movie crossovers as Operator skins in the past with the likes of John McClane and Rambo, The Haunting event will feature more modern Halloween cult classic characters. The first of these bundles, the limited-time SCREAM Operator Bundle, will add Ghostface from the Scream movie franchise as a standalone Operator — as opposed to being a skin — that can be accessed in Multiplayer, Zombies, and Warzone.
In addition to the standalone Operator, the SCREAM bundle will include a finishing move that can be accessed by all in game Operators as well as a "Ghost Blade" blueprint to recreate the killer's signature weapon from the movies. There will also be three legendary weapon blueprints and two additional ranged weapon blueprints featuring tracer fire. Last but not least, players can expect to find the standard flair in the bundle, including wristwear and an animated emblem.
If you'd rather hop around Verdansk, then you'll be happy to know that on Oct. 24 "Frank the Rabbit" will launch as an Operator skin for Baker with the rest of the Tracer Pack: Donnie Darko limited-time bundle. Like the Scream Bundle, the Donnie Darko bundle will include a finishing movie that will be available for all Operators and skins, not just Frank the Rabbit. The bundle will also include your standard flair and three legendary weapon blueprints equipped with purple electric tracer fire.
If you're looking to add a little creep to your Operators but aren't interested in cult classic thrillers, there are still options as three separate Operator bundles will drop in the Call of Duty franchise store closer to Halloween. Portnova fans can pick up the Necro Queen Reactive Mastercraft bundle complete with the Necro Queen Operator skin and the reactive mastercraft "Void Monster" assault rifle blueprint. The Disciple of Mayhem Ultra Bundle is packaged up with an Operator mission to unlock COD points as well as a "Disciple of Mayhem" skin — inspired by the Disciple from Zombies — for Weaver and new lobby companion, Klaus, from "Mauer der Toten."
The Haunting event may be the beginning of the end of Black Ops Cold War, but there will still be at least one more weapon bundle, Split Personality, to be released before all eyes turn toward Call of Duty: Vanguard, which could become one of the best Xbox shooters. Split Personality will feature a duel wielded Hammer & Sickle tool set. The bundle will include two operator skins for Antonov and other items, and will be available Nov. 2.
Get the Windows Central Newsletter
All the latest news, reviews, and guides for Windows and Xbox diehards.
Cole is the resident Call of Duty know-it-all and indie game enthusiast for Windows Central. She's a lifelong artist with two decades of experience in digital painting, and she will happily talk your ear off about budget pen displays.