Can you watch Disney Plus on a desktop?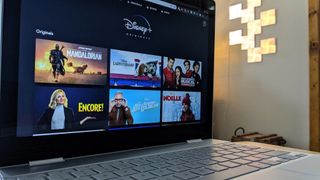 (Image credit: Chris Wedel/Android Central)
Can you watch Disney Plus on a desktop?
Best answer: Yes, you can watch Disney Plus (Disney+) on your computer through a browser like Chrome, Internet Explorer, and Safari. You can also use your browser to cast to something like a Chromecast.In a galaxy not so far away: Disney+ (From $7/mo at Disney+)
Waves of Disney are upon us
Disney+ is finally here, and for years Disney content has been spread across various streaming services; even then, everything wasn't out there. There was what DIsney called the Disney Vault, which is where it would put movies for some time, then bring them out for a while and then put them back.
Thankfully with Disney+ much of that is going away, and we now get access to what we love via streaming. While there is way more available now than there ever has been before, everything isn't going to be available right away. Disney+ will have hundreds of movies and TV shows available ranging from decades-old classics to recent releases like Moana. The goal is to have at least 500 movies and 7,500 episodes of TV available to stream through Disney+ by the end of 2019. There are even going to be some new original series and films that will be exclusive to Disney+, such as the live-action Lady and the Tramp.
Original movies and television series that will be exclusive to Disney+ like Noelle, Dolphin Reef, Stargirl, Loki, and many more. There will also be plenty of Disney characters like Mickey and Goofy, Woody and Buzz, and most of the other classics. That's not to mention the offerings from Marvel, Star Wars, 20th Century Fox, and National Geographic.
Maybe you want to P'See' it (get it?)
While the number of devices that have direct access to Disney+ via an app is a relatively comprehensive one, sometimes you just want to use a good ol' fashioned computer. While there isn't a UWP app for Windows yet and Mac computers haven't gotten a dedicated app either, desktop browsers will be able to stream Disney+. Now that the service is live, Disney has provided us a comprehensive list of browsers and requirements:
Windows
Chrome 73+ is supported on Windows 7 and later
Edge is supported on Windows 10 and later
Firefox 68+ is supported on Windows 7 and later
Internet Explorer 11 is supported on Windows 8.1 and later
macOS
Safari 11+ is supported on macOS 10.12 (Sierra) and later
Chrome 73+ is supported on macOS 10.10 and later
Firefox 68+ is supported on macOS 10.9 and later
Other Operating Systems
Mobile browser playback is not supported (please install the Android or iOS app)
Browsers on Smart TVs, game consoles, and other devices are not supported
Browsers on ChromeOS are not currently supported, including Chromebook
Linux is not currently supported
Any operating systems not listed are not supported
While Disney says that viewing through the ChromeOS browser isn't available, we have found that it can be done. Though there are a few hiccups still around when it comes to streaming Disney+ in a browser on a Chromebook, it can be done.
Here's the complete list of devices available for streaming Disney+:
Android Mobile Devices
Android TV
Chromecast
iPhone
iPad
Apple TV
Xbox One
PlayStation 4
Desktop web browsers (plugins are unknown)
Android TV-based Sony TVs
Roku streaming players
Roku TV
Amazon Fire TV
LG WebOS smart TVs (2016 or newer)
Samsung Tizen smart TVs (2016 or newer)
Are you ready?
Then let's get the stream flowing

Disney is releasing classics like 101 Dalmations to incredible shows from Marvel, Star Wars, Pixar, and others for our entertainment on Disney+. So what are you waiting for?
Get the Windows Central Newsletter
All the latest news, reviews, and guides for Windows and Xbox diehards.