CD Projekt Red says Cyberpunk 2077 isn't coming to Xbox Game Pass at launch
Don't expect to see this blockbuster in Microsoft's gaming service immediately.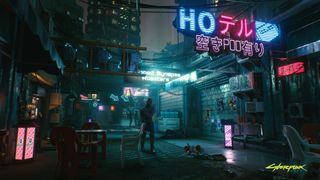 (Image credit: CD Projekt Red)
What you need to know
Jeff Grubb from VentureBeat suggested on Twitter that Cyberpunk 2077 was the kind of big third-party game Xbox might try to bring to Xbox Game Pass.
Radek Grabowski from CD Projekt Red, was quick to respond, saying Cyberpunk 2077 wasn't coming to Xbox Game Pass at launch.
Cyberpunk 2077 is set to release on November 19, 2020.
In a Tweet, Jeff Grubb, a swell dude and a journalist at VentureBeat, used Cyberpunk 2077 as an example of a big game that Xbox would be willing to pay to get into Xbox Game Pass at launch. While Grubb was hardly making any strong indication it would happen, Radek Grabowski, Lead PR Manager for CD Projekt Red, stepped in to clarify anyways.
"You have to pick another example, Jeff. No Game Pass plans for Cyberpunk 2077," Grabowski wrote. Obviously, this doesn't rule out the possibility of Cyberpunk 2077 coming to Xbox Game Pass at some point after launch but it's very clear you shouldn't expect an announcement happening any time soon.
Xbox Game Pass continues to grow, reaching over 10 million subscribers earlier this year. Xbox brings all of its first-party titles into the service at launch, such as the upcoming Halo Infinite. Third-party publishers however, do not put their games in at launch as a general rule, though there are of course exceptions.
Cyberpunk 2077 is set to release on November 19, 2020 on Xbox One, PS4, PC and Stadia. When it does, players on Xbox Series X and PS5 will be able to get the upgraded version for free once it is available. This next-generation upgrade is currently expected at some point in 2021. In the meanwhile, for more on Cyberpunk 2077, you can take a look at some Braindancing gameplay that was recently released.
Night City
(opens in new tab)
There's a city to burn

Cyberpunk 2077 aims to be CD Projekt RED's most ambitious game yet, with a mature story set in the corrupt yet thriving Night City. As V, track down the secrets to digital immortality however you see best.
Xbox Series X/S
Main
What is the Xbox Series X release date?
How much does Xbox Series X cost?
Why you can't preorder Xbox Series X yet
Windows Central Newsletter
Get the best of Windows Central in in your inbox, every day!
Samuel Tolbert is a freelance writer covering gaming news, previews, reviews, interviews and different aspects of the gaming industry, specifically focusing on Xbox and PC gaming on Windows Central. You can find him on Twitter @SamuelTolbert.
I'm a Game Pass subscriber, but you know what? This is the game I am most excited about, and I have no problem with rewarding the developer by making a full-price purchase.

Same here. Is there a character minimum to the comments? It wouldn't let me write only, "Same here".

While it would have been awesome. The chance of Xbox locking down a game with a large amount of guaranteed sales on day one is minimal at best.

I'm 34. This is going to be the first time that I'll be playing a new game on the day of the launch. I'm that hyped.

This is great. Studios who makes quality games like this needs to make as much money from sales. And that means it should not go to game pass or PSNow anytime soon.
Even a rumour that it's coming can be bad for sales. When Spencer lied about Control coming to Gamepass just before last year's holiday season, this could have been very bad for sales number of that game. I think the game hasn't gone to game pass since... Putting a game on day one means it will probably get a lot less revenue than if it was only available through sales. To make up for this loss in revenue, game publishers might push for free2play economics, adding microtransactions, boost packs, exclusive advantages to limited editions, change the gameplay/progression to make it more frustrating and focus on how to make more money after initial "sale"...
Basically making their game more of a free2play game. And that's where I've got a problem with these type of renting services.

It's normal for a brand new AAA game not to come to gamepass at launch

Im guessing it will come to gamepass by 2022 like rdr2

Big games coming the same day to gamepass doesn't make financial sense, unless Microsoft pays them.

Well it said that in the article, "...as an example of a big game that Xbox would be willing to pay to get into Xbox Game Pass at launch."

Why would the most anticipated game of 2020 be offered on Game Pass immediately? This is not even a story.

Article per day quota perhaps.

Not even remotely. Cyberpunk 2077 has been used an example of a "bombshell" announcement for Game Pass frequently, not just by Grubb. When PR feels the need to step in and clarify something for a game this big, it's worth our attention.

It's not great when PR and devs need to come out and say their game isn't coming to game pass (or PSNow) because of the potential drop in revenue. I would like to know how many people have just slowed down from buying new games at launch because they hope that the game would come little later on game pass.
How many people didn't buy Control because Spencer said it would come to game pass?
Compare sales numbers of QB sold on XB vs Control on XB. Or more in general how many new games were sold in the past vs now with game pass.
I would say it's probably been a loss in revenue.
Loss in revenue that for the gaming industry but probably gain for MS. When Spencer said Control was coming to game pass last December, this would only help sell more game pass subscription and less sales of control on XB. Some say Spencer just did a mistake or wasn't sure; I think he knew exactly what he was doing...

I bought Control, I sold it when I finished it, if and when it comes to Game Pass, I will buy the DLC's. Win for everyone.

Let's be honest who really thought a 3rd party AAA cross platform game would be on game pass day 1? This is not what gamepass is about. It would of been massive news if it was. I never see anything outside if xbox exclusives going into game pass on day 1.

It's pretty much expected from third-party games. That's the way it should be.

I can eventually see Microsoft Game Studios buying CD Projekt Red, and adding to their list of game studios.

Not a chance in Hell, CD Projekt owns GoG and are worth more than Ubisoft, no way they would sell, it wouldn't be financially viable, especially given their stance on gaming and game distribution. It is directly opposite to that of Microsoft.
Windows Central Newsletter
Thank you for signing up to Windows Central. You will receive a verification email shortly.
There was a problem. Please refresh the page and try again.