CES 2014 – Our favorite Windows 8 announcements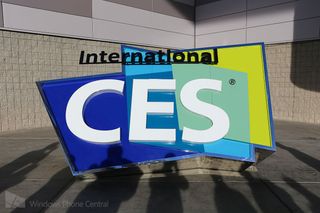 CES 2014 came to a close on Friday. Featuring everything from Parrot drone copters to resonance charging from Qi to smart mirrors and of course, giant ultra HD TVs, the largest consumer electronics event was loaded with excitement.
There were also quite a few Windows 8.1 devices revealed from some big players like LG, Sony, Toshiba, Lenovo and even some smaller brands. Here's what most impressed us.
When it comes to tablets, 8-inch devices are ideal for that quick fix. They're small enough to pocket around in your backpack or purse, and with Windows 8.1, powerful enough to do just about everything a full PC can do. That's why I liked the Lenovo ThinkPad 8.
I've highlighted a few 8-inch tablets here on Windows Phone Central but the Lenovo is the one I've been really waiting for. The reason? It's packed full of great tech, including a 1080P IPS display. Combined with its thin body, impressive 8 MP camera and a minimum of 64 GB in storage, it's just a super powerful, fast and well-designed tablet. Heck, Lenovo even surprised me with the magnetic cover and the flip cover for the camera (which also turns it on automatically).
The ThinkPad 8 should go on sale by the end of the month and I can't wait to get one.
Runner Up – LG's Ultra PC – Even though it lacks a touchscreen, the super sharp IPS display and the fact that it only weighs 2.16 lbs (seriously, it's ridiculously light), I'm sold on this lightweight Ultrabook.
Favorite non-PC technology – When it comes to non-Microsoft gear, I think the 4K TVs – pretty much all of them – are next on my list of tech I want. Granted, there's still very little 4K content, but between all the curved displays and sheer sizes, TVs are entering
There was a plethora of amazing Windows 8 devices at this year's Consumer Electronics Show in Las Vegas, but out of all of the machines the Mobile Nations team was able to lay their hands on I have to give my personal "Best of CES" award to Gigabyte's Aorus X7 gaming PC.
Gigabyte was able to take a brand with nothing special, Aorus, and deliver a razor thin gaming laptop with enough power under the hood to satisfy any hardcore gamer. The 0.9 inch notebook is able to pack the power of dual NVIDIA GeForce GTX 765M 4GB graphic cards, Intel's Haswell quad core i7 processor, 32GB of RAM and up to 2TB of storage by utilizing dual 512GB Solid State Drives and a 1TB Hard Disk Drive.
The unbelievable power, which Aorus describes as a "powerplant on your lap" is accompanied by a superb cooling system with five different thermal pipes, 4 vents, and 2 fans – you'll never have to worry about your machine dropping out any time soon. Include the programmable macro key hub, 802.11ac wireless internet, a "zero latency" LAN chip, and a backlit keyboard to get ready for "noob pwning" in Counter Strike.
When you are ready to take a break from the games in your Steam library, you can take advantage of the unit's stealth mode cooling mode, 72% color gamut 1080p full HD display, and built in subwoofers for a killer movie watching experience. And no, there is no Blu-ray or any available disk media on this system, so you will be streaming from Xbox Movies, Amazon, and Netflix.
The Aorus X7 will be available this February at a starting price of $2,099; if you want to make the machine out, it will run you around $2,799. It stands out as a thin, portable, high power machine in a world of chunky and thick gaming notebooks.
Sam Sabri –Lenovo ThinkPad 8
This week we saw dozens and dozens and dozens of gadgets at CES. We did our best to avoid all these new Android handsets and tablets, instead focusing our effort on some killer hardware running Windows Phone or Windows 8. As expected, there weren't any new Windows Phone devices announced or shown off this week. But we did see some killer Windows tablets, ultrabooks, and desktops. My favorite device this week? By a longshot it's the Lenovo ThinkPad 8.
This 8-inch ThinkPad 8 tablet is phenomenal. It's not perfect, but it's the best Windows 8 "mini" tablet yet. It has a gorgeous 8.3-inch display and a 1920 x 1200 resolution. Its build quality is superb and the optional cover is one of the smartest we've seen. The ThinkPad 8 knows when the cover is on or off and will power up or down accordingly. There's a little red LED dot over the 'i' in ThinkPad on the back that tells you whether or not your machine is on. The cover will even fold back just at the corner so you can still use the camera without needing to completely detach the cover.
The ThinkPad 8 goes on sale later this month. You can bet I'll be ordering one of them the second the page goes live.
CES isn't big for Windows Phone, but it's a great place for OEMs to showcase their latest and greatest PCs. What was your favorite new machine this week?
Windows Central Newsletter
Get the best of Windows Central in in your inbox, every day!
Daniel Rubino is the Editor-in-chief of Windows Central, head reviewer, podcast co-host, and analyst. He has been covering Microsoft since 2007 when this site was called WMExperts (and later Windows Phone Central). His interests include Windows, laptops, next-gen computing, and for some reason, watches. Before all this tech stuff, he worked on a Ph.D. in linguistics, watched people sleep (for medical purposes!), and ran the projectors at movie theaters because it was fun.
My favorites: Thinkpad 8 (wish it has wacom), ASUS Note 8, Miix 2 10.

Hoping they bring the thinkpad to the UK asap as in buying one.

I hope it also swaps over to Germany as well with build in 3/4G support.

I agree with Sam and Daniel.

My favorite is the Asus VivoTab Note 8, the Wacom digitizer makes it a great all rounder. The runner up is the Thinkpad 8, solid device to represent Windows 8 mini tablets.

I'm a guy who likes to build his own PC so none of the things that were presented PC-wise actually is something I intend to buy.
So CES wasn't particularly interesting to me. The only thing I liked and will consider to buy from there was Sony's Xperia Z1 Compact. Apart from that...meh.

You're going to have a difficult future.

I completely agree when it comes to desktops... But you're kinda stuck when it comes to laptops and tablets ;)

The more and more I read and look at the ThinkPad 8. The more I want it. I'll probably pick one up when it is available.

I believe the ThinkPad 8 starts at $399.

Did they talk about availability outside USA?

I really liked:
Thinkpad
Razer Nabu & Christine
Lenovo Y50
Gigabyte Aorus X7

My question about the Thinkpad 8 is whether or not it is stuck with 2GB of memory. If it has a 4GB option I will be hard pressed not to order it right away. Memory, storage and resolution are the main complaints I have about the Dell Venue 8 Pro that I got at the MS store during the 12 days sale, and the Lenovo addresses two of those items. Any word on memory configurations?

I don't know. But most (if not all) Atom-based netbook/tablet doesn't have memory any higher than 2GB. Until now I think it's because to lowering the price. Atom is 32bit only, and as far as I know, it support ram up to 4GB theoretically. Maybe the processor will just became a bottleneck when you pair it with ram higher than 2GB? Would love to see this tablet in person though. I just need wacom support, and this will become my primary tablet... unless there will be Surface 8" coming out, then I need to reconsider the options.

Same here, just waiting on the wacom support confirmation. To be honest if it did, Daniel would have mentioned it. However i hope its a configurable extra if its not available as standard (as it should be).

I know what you are saying, but I am running Windows 8.1 Professional on a five year old Gateway laptop with 2 GB RAM (and a 1.6 HZ CPU) and it runs fine. Not as fast as my I7 16 GB RAM Desktop with an SSD of course, but fine for a secondary machine.

ThinkPad would be ideal if have something like touch cover. *Sigh*.. Almost ideal tablet, almost..

Thinkpad, but lenovo products are nowhere to be found.

Not sure if that was your favorite or its just because that's pretty much the only thing that was present at CES

Did they ever announce the Lumia 929 for Verizon? I've been patiently waiting since November. Is it going to happen or not?

They didn't officially annouce it, but it kinda got leaked: http://www.wpcentral.com/nokia-lumia-icon-case-spotted-ces-actual-phone-nowhere-be-found

The design of he LG tab book 2 looked fantastic!
...and I've been a fan of anything from Lenovo for a while!

Its not available on the website yet (checked both uk & us sites), unless im going blind lol.

Gaming laptop with no DVD? Why does everything need to be seen from the cloud? At least provide the option to have a disk drive.

Once installed, do games for PCs still require the disc to start? If no, then wouldn't a USB DVD drive work? BTW, I agree with your sentiment about the cloud. I don't want it to be a part of everything I do either.

My favorite is the Lenovo ThinkPad 8 and the update version of the ThinkPad X1 Carbon

Since I can't find Surface Pro 2 anywhere in Dubai, I am ok settling to Lenovo Think Pad. I hope it will be avaialble here.

I have the Lenovo 8" tab that was just released and I have to say it is very well built. I got the 32 gig version for $299. Highly recommended.
Windows Central Newsletter
Thank you for signing up to Windows Central. You will receive a verification email shortly.
There was a problem. Please refresh the page and try again.