Hands-on with LG's Ultra PC and its stunning display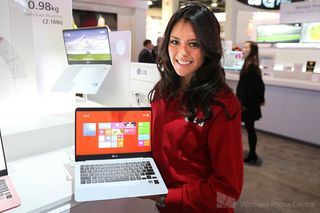 We just stopped by the LG booth here at CES and we're surprised by their latest ultrabook. It's called the Ultra PC (model 13Z940) and we we're actually blown away by the little machine. It's super light, has a gorgeous display, and looks great. It's only knock is that it lacks a touch screen, but that could easily be seen as a bonus by some (We're looking at you Mary Jo). Here's our hands-on with this interesting ultrabook.
Surprisingly, LG didn't have too many details to share about the Ultra PC just yet. For example, we don't know what markets it will be available in or when it will be available. We also don't have a price yet. We do know that it weighs just 2.16 lbs (0.98kg) and features a stunning 13.3-inch IPS display (1920 x 1080). Since it isn't a touchscreen, you don't need a bezel to support your fingers when using the gestures found in Windows 8. Which means it has a bezel that measures just 4.4 mm on the sides. The display is great, colors were bright and saturated (the good kind of saturation) and the screen tech featured a "reading mode". This reading mode from LG will dim the display and feature some other display magic to make it easier to read and save battery life. Inside you have Haswell-based Intel Core processors, so we're hoping for some good battery life when that gets announced. Why? Haswell is kind to batteries and there's no touchscreen sucking up juice.
Usually you'll find PC OEMs making ultrabooks, tablets and phones in either white or black. LG takes a note out of Nokia's playbook and makes the Ultra PC in a few interesting colors. You can get it in either Misty Rose, Baby Blue, Powder White and Glam Metal.
We really walked away with a positive first impression from this ultrabook. We can't wait for LG to share more information on the PC.
Windows Central Newsletter
Get the best of Windows Central in your inbox, every day!
You are both talking about a girl, right? Lol

You are still talking about a girl, right? ;)

That's what I took from "stunning display!"

I sure would love to have a "hands-on" moment with her ;)

I came here expecting the first comments to be about the girl. Now I can die in peace

Lol me too!! I'd take the girl over the laptop hahaha

Nah. Clearly talking about the devishly handsome Daniel Rabino. And no, I'm not gay..."not that there's anything wrong with that". lol

IMO no touchscreen = FAIL

No matter how good the screen may be, the simple fact that it isn't touch makes it a non starter. After using windows 8 with touch its impossible to go back to a track pad.

I agree and disagree. It's the absolute best ultrabook by far for anyone looking for a nontouch PC. It may be a small market, but it's def a market. If you want touch on your laptop you already have great options - ATIV 9 Book Plus / Yoga 2 Pro / etc. Different strokes for different folks.

Eh. I use my Surface Pro 2 for work plugged into a monitor. When I do, I rarely touch the screen. The screen only gets loving when I use it as a tablet without the keyboard. So, people using this as a laptop may not care. I know I won't.

LOL, I find myself going to other people's laptops trying to scroll the screen with my finger. Takes me a minute to remember that not all non desktops are touch based these days. LOL, kind of funny.

Same here. Makes me look like a retard XD.

Hahahaha, you and me both... Have been teaching kids to use the mouse and track pad to use the pc. Now i have to back track with windows 8, but its more confusing now as some have touch screen aios/laptops and some don't lol, i may as well just teach them the short cut keys lol along with how to distinguish between each one...

Same here. I sometimes do it on desktop monitors too though I have not even seen a desktop touch monitor in real life.

My 2.5 year old is accustomed to touch screens due to my WP and surface that he goes and tries to touch my television when Xbox is displaying same metro interface. I will not only want a ultra HD tv in future but also with a touch probably, seeing him fail and looking towards me on why his gesture did not work on the tv.

Exactly, my 2.5 year old kid is very used to the surface rt interface and how to use it. When he fails scrolling the start screen at my old laptop running Windows 8.1, he says "dad: don't work, fix it", he always makes me laugh. The real fix will be an upgrade to a touchscreen laptop, but wow what resolution for that screen !!

I also often use my surface pro plugged into a monitor, but whenever Im on the move and am browsing the net, doing simple file management or simply navigating somewhere on the screen, using touch makes it so much easier and faster I cant imagine not having it.

I have this touchpad thing for my desktop by Logitech. It works well for me. Amd this way I don't have to reach up to the monitors.

This looks like the best ultrabook at CES this year. However, I hope they also announce a touch enabled version.

I thought touch screen was one of intel's requirements in order to use the ultrabook name on a haswell machine

I dunno what's better. The girl or the PC

Let me help you, it's the girl. The girl is better.

The display sure is stunning.

Windows 8 (assuming youre not just using desktop mode) is made for touchscreen, enough said.

Yup, windows 8 IS for touch, so far. I wouldn't have it as a non touch desktop, I've had both. Gotta have touch.

I think touch is good for getting into Windows 8. It certainly helps to "get" the UX. Once you know it though (and assuming it has a good trackpad), I don't see touch as being a requirement for the OS. Neither does Microsoft. Really though, it's about user choice, price points and variation for consumers.

To each his own. I have a laptop upgraded to 8.1 from 7 without touch and it works just fine for me. Life doesn't revolve around touch screens. I know several people that have touch screen AI1's and I always see them using their keyboards instead. The only reason I would buy a touch screen is to hands on test apps I develop.

M+K for desktop, touch for metro

I think Sam has a crush on MJ.;)

I'd like a hands-on with her!

I have a lot of touchscreen devices--desktop, tablets, laptops...honestly, if it reduces weight, price and gives great visual acuity, I'm fine with it. Truth be told, on my desktop and laptop, the touchscreen is a bonus, not a necessity. I'll be ordering one of these up as soon as they're available, assuming the cost is right. It's a really nice machine.

+1
I don't need a touch screen on my laptop.

She's 29.95 buy one get one 50% off. Separate shipping and handling though, of course.

LG tends to launch Korea only ultrabooks, or Asia only, at least so far. I doubt they'd go further but it would be interesting to say the least.

Who cares about the laptop. But the girl...........!

Reading mode is not such unique, I have this function, in my Asus Transformer Book T100

I use Windows 8 on a laptop and desktop, neither of which are touch enables, and I'n completely satisfied.

Absolutely the same here.

Welcome to the club! The crazy 2%s.;-)

Great looking ultrabook so it's a nice addition to the choices people have who don't want/need touch screens. It'll probably cost an arm and a leg though. I want touch screens so this is not a choice for me.

I'm sorry Sam & Daniel. I only clicked on this link because of the girl. Mother of god, I need to go to CES at least once. Nice laptop tho. There should at least be an option to upgrade to touchscreen.

It's fine, she was a sweet and nice girl.

I think shes the one guys hook me up with her

Looks like a MacBook Air o.Oa ... the keyboard that is :3

Funny, I thought the MBA looked like a PC.

Well ... MBA's keyboard design definitely different with PC keyboard. Which part of the design that you thought look alike? Even Lenovo's Miix 2 10 and 11 inchers, which also have similar design, still have their difference at some place (albeit the grand design of the keyboard still resemble MB design). But this LG is sporting an exactly same keyboard design :P

Different design or not, the macbook is a pc (personal computer) :p. Same applies to a tablet, i guess by extension you could include smartphones as well given the amount computing power they have now as opposed to say a decade ago. Along with the fact that some of us actually just use our phones to work on the go. In laymen terms Office + internet explorer + phone = mobile office lol. Thankfully the director of my company still uses blackberries and doesn't realises how capable a smartphone is these days, otherwise he'd be sending emails to attend to all hours of the day. Even sent me work on Xmas and boxing day, while up Florida on holiday.. the nerve! Lol

Wow ... I just mentioning about the keyboard's physical appearance and suddenly the topic shifted to every computing device is somewhat a PC. Come on ... I'm just wondering here, does designer at LG really can't do anything to the point that they need to blatantly copying other's design? Even Lenovo can make their own tweak to make it slightly different (-_-)a

If it doesn't have a touch screen, it is not an "ultrabook". This is one of Intel's requirements to use the "Ultrabook" title.

Good point. Looks like WPCentral might have gotten a bit PC happy here since the LG press release doesn't mention ultrabook anywhere. Might want to get that looked into since Intel does have a pretty specific set of requirements for an ultrabook. Press release in case anyone actually cares: http://lgnewsroom.com/newsroom/contents/64076

This, the Sammy ativ 9 and the lenovo x1 haswell refresh... Choices are hard!

Indeed, but that's a good thing! Lol.

Nah ... Looks way to generic to me. If it wasn't for the title and the obvious Metro start screen, I would have confused it with a MacBook-something.

The hot girl saying 'you can't touch me'

Stunning display
Thin and light
Slick and curvy
Nice to hold BTW, the laptop looks nice too.

Hot...I'd like my hands on that hardware... Hehehe

Looks neat aside from the different names for the colors. Powder White? Glam Metal? Seriously, you'd think we're talking iPhone 5C color choices here...

I'm just not a fan of how these new laptops resemble the MacBook so damn much.

I feel the same about that, a friend of mine just bought a toshiba laptop and it had the same "problem"... I want a great resolution screen but with touch and with a keyboard that is not a ressemblance of a macbook.

Don't really care about touch sensitivity, but.. That display would definitely give pleasure to use on lap w/ that thin bezel.. Looks like a nice performer =)

Let's see, no touch screen. Only 1920 x 1080 (pretty pedestrian). Compared to Samsung's Ativ Book 9 Plus, this thing is a joke.