Changelog for Windows 10 Mobile 10586.63 reveals small but useful fixes including Band and Cortana usage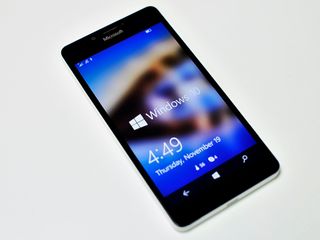 After a bit of a misstep on deployment Microsoft was finally able to get Windows 10 Mobile build 10586.63 out to users in the Fast Ring for the Insider program.
The OS update is considered cumulative and, therefore, does not add new features, but instead focuses on fixes and improvements. Microsoft's Gabriel Aul, in fact, noted that theses updates are "very targeted changes to fix specific issues" and "Mostly upgrade fixes and other corner-case things per device model."
However, for those looking for even more detail a Microsoft employee the name of 'jenmsft' on Reddit has posted a small changelog. She posted the following information about today's update:
" Wow, what a busy day... Just wanted to stop in to let you know that, other than the general reliability, battery and perf improvements that come with each of these revisions, there are also a few things that you've reached out to me about that should be improved:"
Typing on Polish keyboard in Outlook Mail
Turn by turn directions over Bluetooth in car
Battery usage with Iris Recognition
Reliability of quick actions settings page
MS Band use with Cortana
Users have been able to confirm that the Band – especially Band 1 – is working better with the update. We even noted on Twitter that the Windows Hello login actions also appear to be quicker in addition to the noted improved battery usage.
It will be interesting to see over the next few days what user experiences are from the new build. Gabriel Aul has confirmed that they will "…evaluate this build in the Fast ring for a few days" and if no issues are found they will promote to the Slow Ring for Insiders.
Let us know in comments your thoughts on the .63 update and whether things have improved.
Source: Reddit
Daniel Rubino is the Editor-in-chief of Windows Central, head reviewer, podcast co-host, and analyst. He has been here covering Microsoft since 2007 when this site was called WMExperts (and later Windows Phone Central). His interests include Windows, Microsoft Surface, laptops, next-gen computing, and for some reason, watches. Before all this tech stuff, he worked on a Ph.D. in linguistics and ran the projectors at movie theaters, which has done absolutely nothing for his career.
Navigation keys cannot be hidden with some apps, such as windowscentral. On L730

I'm sure they can only be hidden in recently updated apps.

Some wp8.1 apps don't allow the navigation bar to be hidden

Not at all. I don't know how apps work in other countries, but I can say that on WP8.1 some apps as Tubecast allows to hide the nav bar, but on WP10 the bar can't be hidden

The reasoning is that in Windows 10 Microsoft has yet allowed that capability to SILVERLIGHT apps. Hopefully they add it soon because it definitely is annoying in some apps like the aforementioned TubeCast

or the most hated of all messenger :P

@slentinvm, What Willima Stovall meant was that some apps originally written for WP8.1 don't allow the navigation bar to be hidden within Windows 10 Mobile, as the API changed slightly. It used to be part of the OS, now has to be called by the app. If the app isn't coded for it, then it would need to be updated.

That's the case for some older apps, but Windows Central is getting reworked, so just hold tight.

For that, app has to be updated.

Mytube app also didn't allow to hide to navigation bar earlier but one day an update arrived with support of Windows 10. After that I was able to hide the navigation bar. Still on windows central app I am unable to flick the nav bar.

I'm Experiencing This Problem From Last 2 Updates.. ( .29 & .36 )

The boot loop error if you have hard reset in the past is fixed or not ?

No, happened to me on my Lumia 1020 CV. Just had to soft reset once and then it rebooted normally.

hey vdamir78 , Did you get this new version 10586.63 in your L730?

Now that you mention it, happens to me too. I will check the other apps as well

Windows central need new fully function universal app first at all :)

Yap and other thing so surprise for example YouTube app should come with phone app, your not suppose to download YouTube in other smartphones, let's see iPhone their selfish but when you buy iPhone YouTube came with original apps and your not getting the trouble for finding YouTube app like windows mobile until right now they don't have officially YouTube app like android & iPhone.

That YouTube app is on a Google thing, and we aren't able to complain that.

I don't know why would everybody need the official youtube app preinstalled. As for not having one, well i like way more the perfect tube and tubecaset, for that matter

You know YouTube sucks on Android and iOS. My 930 had a accident and went to the great handy grave in the sky. So I got a note 4 as a replacement since my provider has no 930s anymore. Will upgrade back to a WP later in the year. YouTube sucks on Android, I can't run in the background. I can't download and use offline casting is flaky. Posted via the Windows Central App for Android

...not to mention any audio delays during the playback on some Android devices.

You can use the multi Windows function . But it's annoying to not have an app on fullcreen

Way back when, like last summer I remember that the navigation bar had a tiny little arrow on the left side to manually hide it. Am I wrong here? Who lost it?

Pretty sure anyone can have the arrow. You have to change the setting to lock the bar. So it can't be swiped. Then the arrow allows you to manually hide it... Without swiping.

Its becoz the app is not yet made for windows 10.I'm also a 730 user and I found that the apps made for windows 10 have navigation keys hiding feature.

Yeah that is one of the most annoying issues, that is one reason I went back to Win 8.1

That's a dev issues not a Microsoft issue. Universal apps can do this. Older ones cannot.

Can't hide navigation keys with Kindle app either. Not sure if this is the update or the firmware.

I don't use onedrive - if I upgrade and then hard reset and reinstall my games - will I lose my progress?

Unless the game has cloud save support you will loose them no matter what. Note that there is a couple of games that use backup copy feature, but they are few and far between

Go to backup scroll to the bottom those ate the apps that save your data

Are you opposed to OneDrive, for some reason? You could just use the free space they give you, to keep these backups.

I'm brand new to MS phone and windows 10 as of 1 week ago - so I just haven't set anything up becasue when setting up the phone it said it wanted to upload all my photos and videos i take to onedrive - and I don't want that at all - I like to only manage all my media locally - so - just need time to figure all this out.

you can turn that function off

@mcgilli, you can use drag and drop to back up your files on a PC or use settings to save everything onto a msd card automatically. Furthermore you can use Bluetooth to send files from your phone to your pc and backup that way, granted it will be some what slower.

Why would you not want One Drive or other off-site backups? Even with multiple copies onsite, one fire and your data is gone. Posted via the Windows Central App for Android

Why do a hard reset with this one? It's just a cumulative update. So if you don't have any other issues, you don't need it.

It's the beta tester in me :) Just love to make more work for myself!

With the last builds before 10586 I did that too. But like our friend I have a gazillion Hill Climb Racing coins I don't want to loose unless things start crashing.
The updates for 10586 haven't really had any problems....yet.

If you want the best chance of not carrying over any bugs / glitches you should always hard reset and reinstall fresh, rather than install over the top or even restore a backup. Especially with an Insider build. In my opinion. It would also be more helpful if people reporting bugs say whether they did a clean, fresh reinstall or not. In my opinion.

I think people are becoming obsessive about hard resets. I went from 8.1 to .29 and forward, on my 920. Not one hard reset, not one, apparent, bug.

Well if you start fresh you would be like damn this is so much quicker

yer very lucky every single update in 8.1 and every single insider update resorted in a complete rest on my 930 and then also rebuild without using restore as if i didnt i had some anoying issues and bugs happening. I hope one day the restore will actually alow me to restore instead of screen grabs and rebuilds.

The KEY word is "Hard reset" this will completely wipe out your phone back to factory.

Only for the "new" W10 devices. To go back to "Factory" you're talking about WDRT. With a hard reset you're getting a clean whatever you've just downloaded. What we need to know, at least for me, is the difference between a cumulative update and a complete new build.

Cumulative update seems to mean whatever the writer decides these days. It used to mean an update that included previous updates. So, if there updates 1, 2, 3, 4 and 5 was a cumulative update it include the changes in 1,2,3,4 as well as whatever 5 brought. If you installed 1 but hadn't installed 2 or 3 before 4 came out you would need to install 2 and 3 in order before applying 4. If 5 came out and you hadn't done the previous ones you could just do 5 and it would contain all the previous fixes/additions. In this case, it should mean that if you are on .29 and load .63, it should cover all the changes in .36 without having to do that first. That would be possible if you were on a non-insider device (.29) and then joined. You should just see .63, not have to go through multiple updates. Nothing to do with 'only fixes, not much new'.

If your phone has a micro SD card, you can save your games on it and be safe.

Lumia 520 so far so good.

I have a Lumia 520 as well but haven't installed the new build yet, how is performing on your 520?

Hi, very good really. Impressive performace, no bugs (till now), Edge is working fine. Apps don't close randomly and the battery isn't draining.

mine is lumia 525, downloading updates stuck at 25% from around 3 hours. anyone else having this issue??

I'm using whatssapp and bbm for daily use. Is it run good enough on WP10?

I wouldn't say W10 on Lumia 520 is as good as WP 8.1 as there are more frequent and visible lags here and there...as expected from a low RAM phone... The key is just to ensure to double check how many apps are running in the background, WP8.1 could've handled more

Hmm i have lumia 520 and i have windows 10 on it but it over heats a lot even on standby , how are you managing this ?

yeah you right. were same issue.

Hard reset fixed it on my test device

Ditto, a hard reset fixed the overheat issue on my L520

Thanks MS for finally addressing the windows hello issue! Pretty much every time I used it on my 950, my battery would go down almost a whole percent (edit: .36 update helped, but not much)

Hello is now much faster, but this aggravated the precision problem. Before you could move the phone one sec and it could rcognize you, now it is very hit or miss. They need to improve the precision of the algorithm, because if it is a precision problem of the camera (i.e. it has not enough resolution and you need to put it in front of the eyes) then it is kinda useless...

You know, Hello is kind of nifty, and I use it if I feel geeky. It is also convenient if I only have one hand free. (I find one handed PINing awkward). Most of the time I find just swipping up and entering a PIN just as fast as Hello. It certainly is more consistent. When Hello doesn't work, the time it takes to decide it isn't going to recognize you, then swipe up and PIN, is considerably longer than just swipe and PIN in the first place. It is fun to show off, but there is the stress of hoping it actually works when you are showing it off. For me, I'd just as soon they spent their time getting WordFlow working everywhere, as well as it did in WP8.1. I actually use that.

When she reaches that point of no return, she never never said oh Microsoft to me. She's always saying: Oh Gott, ja, ja, mach weiter...

You are nine, "she" does not reach that point!

When is the "Final" version coming?

Thanks, Daniel, that's great! Eastern time or GMT?

MT: Microsoft Time. It's like Valve Time ;)

"Coming Soon", and that's 6:45 Central time

Yea, but Half Life 3 is not even in beta.... Windows 10 Mobile always is...

Too soon, bruh. Posted via the Windows Central App for Android

lol. .you had me there ahahahahhaha Posted via the Windows Central App for Android

LIES! I heard it was 7:44pm.

Yeah you better be true there young man!

That's sums up everything about w10m. Agree or not it still it is still work in progress.

There is no final version its going to be updated every month

You're well aware what the OP meant. There's no need to repeat this unhelpful response.

The OP should know by now that Windows 10 is a SaaS and therefore will never be final. Can only point to the next build around the corner. Basically sometime soon he'll have to test out W10m and see if he encounters any issues if he doesn't then it's "final" if he does then he goes back and considers it still in beta. Should note any issues encountered and look for future build details to see if addressed. Then it would become "final" for him.

It's just playing semantic games and not answering the question. It's as bad as the spelling teachers.

So I guess this is going to be the standard excuse for the OS being a perpetual beta and things never actually working properly.....

Thats good, We can expect new features every month. Lol.

No OS is ever truly a "final" version.

XP is pretty much finished so if you want a finished OS, there you go. Even better, try dos.

Yes..finished as in obsolete...when they were still in support they were not finished / final.. (I'll exempt DOS from this though), that's why you had service packs and hotfixes. Even when the "official" version is rolled out to everyone it still won't be a "finished" product.

How long after releasing to slow ring, would it be released to non insiders?

Apparently, as Daniels sais. 2017

It has already been submitted to the carriers. But the final (by carriers officially approved) version is 10.0.10586.29, so if you're already on a newer insider build you won't get that update unless you are ging back to WP8.1 first.

Anyone thinking the 'final' release is on the 12th is dreaming!

I'm not sure what "final" release means. Current Lumias are shipping with 10586.0 and .29. Wouldn't shipping OS version numbers be "final"?

Well, not really. Windows 10 Mobile is still work in progress. Unless all usability bugs are fixed, apps are not randomly crashing and people can use the phone without the fear of something going wrong it's not a final release. At least this is my opinion. And I still can't use Wi-Fi access point on my Lumia 735.

Clearly the guy for what ever reason meant when is it available officially for older phones.

Even still, there is likely very little chance they will ship something as late a build as insider program. Carriers who started weeks ago testing the software are likely using the .29 update. So, once again, the discussion is meaningless. You will get a phone with .29 update and then likely get an OS OTA update when .63 goes to non-Insiders (or a higher build).

Okay, there is nothing like final but the software should Be usable to the end user. Atleast the browser must not restart the phone, phone app should dial numbers smoothly, updates 'must' not get stuck. Inconsistencies should be removed from the apps as in groove which provides me with and option to search music in my store even if we dont have the service here(India) and many more should be removed.

"Okay, there is nothing like final but the software should Be usable to the end user. Atleast the browser must not restart the phone, phone app should dial numbers smoothly, updates 'must' not get stuck. "

You are well aware that we all don't have those issues, right?

Go to reddit then you will find some.

And windows feedback app, must visit.

Even i have that issue of browser restarting the phone and updates getting stuck for no reason

Well, I've seen a lot of complaints starting with "didn't hard-reset after install". And some issues are chronic to that situation. Don't see any usability difference on my 735, compared to 8.1, to be honest.

My 950xl runs flawlessly, great phone

I don't think that's true. These are identical hardware running identical software. Most issues will be "across the board." That is, if they happen on one L950, odds are they will happen on many L950s. Besides, the list of bugs on W10M is so vast (I would say, "everything" since I am not aware of a single thing that works really reliably on my L950) every one will experience penty of oddities. The question is, are they worth it?

Phone dials smooth on the flagship devices, I did see that problem on my 640 tho

I have zero dialing problem on all 4 of my 640 in use in my family account.

The shipping version was .0 so there you have it anything after would be post "RTM"

Basically the .29 build will free you from the iron grip of your carrier allowing you to receive further updates straight from good ol' Microsoft.

There is no "final" release and software always has bugs. iO9 has a bugs. Android Marshmallow has bugs. Windows as a Service (Waas) literally means there will never be a final release. It's like asking when that circle is going to be a square. It makes no sense to talk about "final". Microsoft will update the OS once or even twice a month to add features and fix things just like your PC. All of these questions about 'beta' and 'final' are missing the point and just arbitrary labels.

So he meant: When will his older, non-Insider device get the wide release of Windows 10 for mobile. "Final" is just word efficient.

1984 while partying like it is 1999.

Daniel, we all know this. What we mean is when will it not be half-baked crap anymore.

Yes and everyone is so curious because it had been half baked crap for years. I started using wp8, it was the best for me because it had less features so less bugs. 8.1 started killing me.. resuming resuming etc. Wp10 insider has the biggest issue of update delivery, i am still stuck at 25% and that creates questions that are they even going in the right direction.

Look upgrade does not work very well I think this I'd a big reason it's not on older handsets yet
Notice though Gabe specified that of the few things this build addresses 1 was upgrades

I mean, that too is impossible to answer. For some, build .29 is fine, for others it is like the worst experience ever. I am not sure we'll all agree on what is 'final' or 'stable' or 'good enough'. Even your expression "half-baked crap" is something that we cannot agree on, so what's the point? Try it, judge yourself.

You know it. Its relative. Half baked crap as compared to some full baked cake.

Spot on some love the 950s never get reboots even with sd card in myself being one of those...others say they get reboots all the time go figure...i can you you I started with a clean slate.

Can I update .63 directly from 8.1?

Hy, I just did it on my wife's 640 directly from 8.1( update 2) to .63.
It works very smooth...

Did you restore your backup from 8.1?

My day one 950xl is near flawless, if ur having that many issues, you have a bad phone.

Does a half backed crap look this way to you?

It isn't half baked on my 1520 or 950 XL. Everything works as intended and is super smooth.

You seem you think you know to much! Their has to be a final version. Final means a version that can compete with today's standards. All systems on the world have buggs, the only problem is that is pretty much a beta. has more bugs then 8 ever had and in many cases, the phones like 950 are unusable. Now we all know they were released with half backed system. All systems start with a ground (also called as final) sadly, win 10 mobile has no ground to relly on!

There are so many people who read these posts over and over and over, but don't relate to them. It's like nothing could ever convince some folks that there are lots of people all over the world with reliable Microsoft products.

My 950 is great Posted via the Windows Central App for Android

No there doesn't have to be a final version, just like Windows 10 desktop.

I agree that W10M will never be finished. But I don't buy the Windows-as-a-service stuff, W10M is definitely not software-as-a-service.

Why isn't it? Tell me in your infinite wisdom.

The statement iOS has bugs tries to equivalize the unfinished state of W10M with iOS 9.2. That will only work with people who demonize Apple without knowing the facts. It's a form of bigotry. The Apple OS and ecosystem is something that Microsoft can dream about but they aren't even close. Continuum is one of the two so-called revolutionary features in W10M. It sucks with too many chords. Try AirPlay with a cheap Apple TV - wireless and no restrictions on what you can do. whatever your phone or tablet can do will show on the screen. Compare iTunes with Groove. Etc.

Please get over yourself... Hahahah I have used ios in its current 902 state and I can assure you there are plenty of bugs... It is not a finished os no more than windows is... The problem here is that people magically believe that anything apple does is gold while ms turns out turds .... How about go on the apple forums and see just how many things apple fans are complain ing about and the level of detail they are mentioning... Then you will see ... They have problems just like us... Yes airplay works.. Apple after all is a hardware based company so they are pretty adept to making their hardware work with their hardware...MS has issues but they are working on it and at the same time trying to address everything everyone wants.