Check out the full tour of Microsoft's Surface labs from today's livestream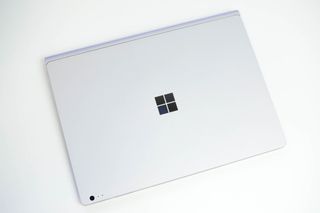 We have posted the full livestream video of today's Microsoft Surface labs tour, with Panos Panay and other members of the team showing how they create prototypes of products like the Surface Pro 4 tablet and Surface Book laptop.
The livestream was hosted by Microsoft ExpertZone's Ben Rudolph and runs nearly an hour. It is a really fascinating look at the lab and how the Surface engineering team uses a wide variety of machine tools to shape prototype cases, keyboards and more for the Surface lineup of products. Sadly, we didn't get any new product announcements during the tour; indeed, some of the lab was hidden from view so we couldn't see any future devices in the works. However, it's definitely worth some time to watch as we rarely get to see this kind of prototyping in tech products.
Windows Central Newsletter
Get the best of Windows Central in your inbox, every day!
I want the white band. Wonder if its the band 3?

White was used to identify models with a specific feature; that's actually an old unit at this point.

Do you know what specific features the white model has and the black model is currently missing? What is what is your source?

I hope a Microsoft Surface version of GearVR is in there somewhere. If Surface Phone doesn't support Oculus Home I'm going android in 2017.

People are already asking for a lot of this phone, but the ability to run VR? No phone can do that, I doubt fitting that kinda power into a phone is even close to realistic.

VR is already possible for high-end phones, heck even any phones with good gyroscope on it. The VR headset on phones are generally just the housing and lens, the phone are actuallu the one acting as a VR machine. As long as the phone screen have high pixel density (many high-end smartphones have this already), high-framerate, and more than average gyrocsope. It should be ready for VR. It just needs a headset that perfect fits on the phone and a proper software for VR navigation (a NFC-activated app will do). The Google Cardboard/Microsoft VR Kit (MS version of Cardboard) can be used also on at least 5 inch Windows phones. It's only Microsoft problem not pushing it and making it official so developers will experiment on VR.

Phone vr is meh to me to limited in graphics imo

Phone vr is meh to me to limited in graphics imo

The graphics can be improved overtime as we have more powerful GPU. We don't need to have realistic graphics to have good VR experience (based on my first-hand experience too), we just need good content and the hardware that actually doesn't lag, good gyroscope implementation, and high-resolution display paired with good lenses. They can also incorporate some HoloLens software technologies to phone VR. It's a matter of their creativity how they can make it useful. Not to mention the emerging trend if 360 videos which needs VR viewer for that, W10M currently short in terms of these solutions which further affects the ecosystem. VR apps on W10M are poor and next to non-existent of how few it is.

Basically we have to 'wait' for phone VR to be relevant. And yes it has to be good if you are cutting yourself off so much from the world. I tried it, more than once. Even the movie was very meh. This was on the free S7 and VR combo. Not to mention the 15min warning, the poor battery and overheating after longer periods. Not to mention Android flagships throttle the longer you play. So i get 15mins of VR...weeeeeeeee

Yeah, sorry, for some reason I was thinking solely of plug in VR like a rift... Whoops.

Really, that's what Project Daydream is bringing to Android phones.

Microsoft should already step up to this. They already have extensive experience on HoloLens that they can use the knowledge to similar or better implementation of VR on phones. They're letting others to saturate the market again. Fortunately for them, Apple also not doing anything about this space yet.

Samsung has been doing it for a while now: http://www.samsung.com/us/explore/gear-vr/?cid=ppc- I have an Oculus Rift and want to use the cross platform capabilities of Oculus Home with my phone. Right now Windows Phone has no GearVR-like hardware and also does not support Oculus Home store. If Microsoft can't compete with Samsung in this aspect it may be the one thing that actually gets me to switch to Android. GearVR graphics aren't as good as Rift, but with Oculus async timewarp it is still a good experience.

By 2017 the VR craze would have run its course.

I watched parts of this without audio (at work) hoping for a glimpse of the Surface Phone (if it exists), sadly they prepped the camera man very well or they have a few other rooms.... or it doesn't exist.

Can't touch my camera man skills.. Mark can though.

Panos said they did a bunch of covering up for the tour for obvious reasons. Doesn't mean the Unicorn Phone exists though ;)

There was one phone sized object panos looked at for two seconds he didn't recognize at first and than he said lets move on. I think we might have actually seen more of the new surface phone than we have recognized as such.

"Ben Randolph" Isn't he called Ben Rudolph?

How much would you guys wanna bet, that under the confidential 3D printer is possibly a Surface Phone? Fingures crossed! I would totally peak can't resist not knowing!

Yes ! I want to bet that it is possible

All this secrecies' and mystery was intentional to generate hype for the fans. I wonder what Microsoft has prepared for us when they want to show it to the world. A surface phone that puts the HP Elite X3 to shame in both design and features would be nice.

Absolutely loved this tour. It is easier for us to ask them to cram that much amount of power in a thin and light package with other usability and ergonomics but what we don't realize is how much engineering work, collaboration and hard work goes into it before the finished product. Incredible work from Surface team. What they have achieved particularly with Surface Pro 3&4 and Surface Book is nothing short of incredible. And I love Panos. The way he talks shows how much passion he has for his work and that explains the craftsmanship of Surface products that we all have come to love. So excited to see him oversee all of Microsoft's device portfolio. I'm sure there are great products to come from them.

yes but not crony capitalism!

This is so awesome , it makes me thrilled for next year's products line especially the rumored surface phone

What's in Panos wrist ?? Minute 8 something, is that a fitbit??

Ben's like "bro you never showed me that"​

surface kitchen. coming in 2017

Panos: "Kate.. absorb this colour.." haha.. wtf..

Anyone notice that blue Xbox one slim Posted via the Windows Central App for Android

On another note, who else wants the next X Box Scorpio to be branded as SurfX Box and next band as Surface Band? Because I totally do.

Looks like when they're talking in the room with the 3D printers that Panos realizes he has his sleeves pulled up exposing or perhaps purposely showing off what looks like a white or light grey Microsoft Band. Next gen? Then all of the sudden he pulls his sleeve down over the device to hide it then makes a quick gesture while pulling down his other sleeve as if to indicate to someone what had happened. Hmmmm.

Its just as he begins to talk about prototyping. Its as if he says prototype and realised he's wearing one on camera.

100% scripted. 100% international

Caitlyn (Katelin?) is the most perfect woman ever: smart, creative, beautiful AND works for Microsoft. Perfection

Man Im just hoping the new Surface Book comes with a Quad Core, than a Dual one. Cause that was a deal breaker comparing it to the Mac for the same price.

Around 6mins in you can see panos has on a light grey or white band on!!! Lol. I seen it! :)

And at 8:45 mark you can see the new band 3! As soon as he says prototypes he puts his sleeve back down. Hmmm lol. Caught ya!! Lol

Good to see new Band 3 being put to the test :P

all those big machines and nobody uses hearing protection

Seriously awesome insight into what goes on behind the scenes. Great to see lots of tactile prototyping especially love the enlarged lock mechanism model for the surface book! :-D
The fabric splitter machine is something I haven't come across before, would be interesting to see the result of a leather type cover.
Seeing the different stages of the magnesium billet was cool, a lot of thought gone into the structural integrity of the body, loved being able to see the ribs. Would be interesting to know their thoughts in the future of additive (3D printed) mass manufacturing.
Would also love to know how often they come up with a product idea that never see's the light of day, and how far in the product development process these items make it.

It could also be used on a Surface Phone or Band 3 for a more premium look.

So much frosted glass and electronic accessed doors!!! ;-P

That was a great livestream. Nice to see what goes on behind the scenes. Kaitlyn is hot wow!!! Those are the kind of girls working at Microsoft. Way to go Panos I see you must be part of the hiring process. He knows what he is doing no doubt. Ben was great as well. I bet the Surface phone is hiding under that 3D printer that is covered up LOL

I'm overjoyed Can't wait to hear what's actually under the covers. When is the first Microsoft event planned?