Check out Major Lazer's new album and watch Run All Night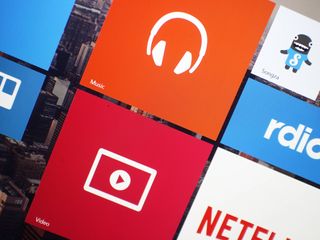 Every week, lots of new stuff drops on Xbox Music and Xbox Video, and it becomes hard to keep up. Well, that's where we come in. Every weekend we'll highlight some of the hottest albums and singles on Xbox Music.
We'll also let you know what movies and television shows just dropped on Xbox Video for your viewing pleasure. It's the weekend, and we'll help entertain you.
Xbox Music
Major Lazer - Peace Is The Mission
Major Lazer is an electronic music group created my DJ/producer Diplo. Peace Is The Mission is the group's third studio album and features nine original songs. The album plays host to a bunch of featured artists such as Ariana Grande, 2 Chainz, and Ellie Goulding.
Some of my favorite tracks on the album include Be Together, powerful, and Night Riders. Check out the album for yourselves and let us know what you think.
Listen on Xbox Music
Florence + The Machine - How Big, How Blue, How Beautiful
After a four-year absence, Florence is back with her bandmates for their third studio album entitled, How Big, How Blue, How Beautiful. After listening to the album, some of the songs that stick out to me are Ship to Wreck and Delilah. If you're a fan of the band's smooth, melodic sounds, then this album will be sure to please. Check it out!
Listen on Xbox Music
Xbox Video
Run All Night
One of the most renowned hit men of his time, Jimmy Cordon can't seem to outlive his past. With an investigator close to find out who he is and a rival mob after his son, he must choose to protect his mob family or his true family before it's too late.
Buy on Xbox Video - $14.99
Do you have plans to watch or listen to something else this weekend? Let us know in the comments below! Also, if you have any suggestions for next week's post you can always hit me up on Twitter @JonDollison. Have a great weekend!
Do people still buy a lot of music? I thought that was slowly dying off as more people streamed from sites like Pandora, R.dio, etc.

Yes. People still buy music.

I prefer buying music over a Subscriptions. Thats what she said

Streaming is the way to go

Nah bruh. Nothing like owning. This way you can listen to that song you haven't listened to in a while and you'll still have it vs streaming... In which case they may have taken it down due to contract obligations or whatnot. Though personally, I get 2 in 1 with my grandfathered music pass.

To each their own. Owning MSM is overrated. I do own a lot of mixtapes from relatively unknown and underground artists I find online. It is dying off. Streaming is set to overtake digital sales this year. http://consequenceofsound.net/2015/03/streaming-music-services-made-more... Most likely what is happening is that people aren't buying everything, because they don't have to like they used to. People are buying the music they really care about. Most music that is out there, people do not care about. It just isn't any good any more. It isn't inspiring or motivating people like it used to. But there are always a few good albums tha come out every once in a while that are worth listening to. Much better enjoyed than relying on the algorythms of some streaming service. So I do both. I download my music and upload it to Microsoft, and stream it from there.

There's more music out now and available than at any other time in history. If you're not finding what you like then you may need to dig deeper. Besides, what you find "good" or "inspiring" is very different than what someone would call "good" or "inspiring". Our subjective tastes are not not universal. I'm also not relying on an algorithm. I have an XBox Music Pass and subscribe to music, so I have the same listening experience, as if I bought each song or album individually.
I think streaming threatens radio and subscription threatens individual sales.

people who listen to music on the go still buy music. streaming buffers too much when you're underground on the subway or jogging through the park

I know I do still so yeah

Man, its while since last I heard Major Lazer ... I think it was in GTA IV Balled of Gay Tony

I just cant get into his music.

Run All Night is an 'okay' movie. 5.6/10.

Lean On is a good song, but it's been played WAY too much for me to even like it now. I'll check PITM out though.

Major lazer influenced beyonce's Who Run The World song. He's an amazing Jamaican technopop guy

That song is fkn annoying though. XD

Major Lazer is great! Not for everyone, but I love it!!!

i agree, not everyone love it, they're influenced by reggae fusion, lean on is great, i like mø's voice, its weird but lovely, maybe im hypnotized lol

I just checked it out and I like it. I'm always looking for new stuff to add to my Spin class playlists.
Windows Central Newsletter
Thank you for signing up to Windows Central. You will receive a verification email shortly.
There was a problem. Please refresh the page and try again.