Cooler Master's Cosmos II 25th Anniversary case is over $100 off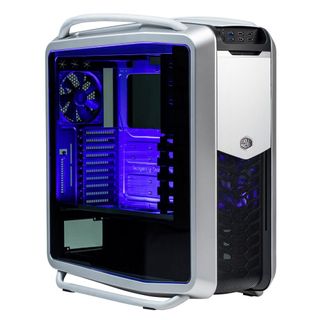 When building a custom desktop, you'll quickly notice two things: one, cases can get really expensive, and two, if you want spacious one that looks cool you're probably going to have to pay a ton of money. Get the best of both worlds by heading to Amazon and getting the Cooler Master Cosmos II 25th Anniversary Edition XL-ATX Full Tower Computer Case for $179.99. That price saves you $120 off the average cost and gets you in on a deal we've seen just once before. Shipping is free, and so far reviews are overall positive too.
This special-edition case features dual curved tempered glass side panels and a hybrid metal structure. The aluminum motherboard tray and partition plate look sleek, and the solid brushed aluminum handles add to the aesthetic while remaining sturdy. The case was designed for airflow optimization, so it looks sweet without sacrificing performance. There's plenty of space for airflow. This case also features blue LED ambient lighting for an even cooler appearance.
The case supports up to eight fans and 13 hard drives. There's also support for four-way SLI/CF, XL-ATX boards, and more. This case won't restrict you. There's room for liquid cooling, additional LED lights, and did I mention 13 hard drives?
If you're in the market for a desktop case, that means you're probably entering the often-confusing world of building your own computer. We have a step-by-step guide to building your own PC that's definitely worth checking out. From picking the right parts to assembly instructions, the guide will help you out every step of the way. We can also help you figure out what case is best for your custom PC. The Cooler Master Cosmos II has tons of features, but they aren't necessary for every user, so check out our guide to determine whether or not it's the case for you.
Get the Windows Central Newsletter
All the latest news, reviews, and guides for Windows and Xbox diehards.
Louryn was seven when her shopping obsession began. It started with eBay and quickly escalated to Black Friday. Now she's a shopaholic -- no day is complete without a pile of packages on her front porch. She justifies it by refusing to pay full price. She also loves Skyrim, makeup, and beer. Find her on Twitter @lourynstrampe