Corsair VOID Surround headset review: Solid comfort and sound for Xbox One and PC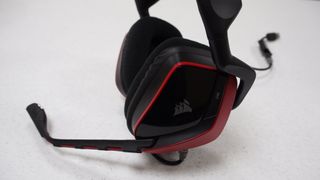 Last year we reviewed the Corsair VOID Wireless, a PC gaming headset with great wireless support but a subpar microphone. This year, Corsair has followed up with an $80 wired headset for Xbox One and PC called the VOID Surround. Does the Corsair VOID Surround improve on its predecessor's shortcomings? Read our detailed review to find out!
Corsair VOID Surround at a glance
The VOID Surround is a hybrid stereo gaming headset. It provides stereo sound when used with Xbox One or PlayStation 4, and stereo or Dolby Surround when used with Windows PCs and tablets.
Package contents:
VOID Surround wired headset
Dolby 7.1 USB Adapter
Frame and ear cups
Corsair's VOID Surround shares the same physical build as last year's lineup of VOID headsets, including the Corsair VOID Wireless.
These headsets are held together by a sturdy plastic frame lined with interior padding. Both sides of the frame can be adjusted to accommodate a variety of head sizes. The left and right sides are clearly marked by the engraved letters L and R on their interiors.
Each ear cup attaches via a separate rotatable piece. In addition to rotating the horizontally where that part meets the frame, the cups themselves rotate vertically to a small extent. You can tilt the cup up to allow more outside sound to reach your ear or tilt it down to completely cover the ear.
The VOID Surround's ear cups are filled with memory foam and covered in a microfiber mesh. The texture of the microfiber mesh is more noticeable to fingers than ears, but it helps create a bit of traction to help keep the ear cups in place. Inside the cup, a separate layer of textured mesh covers the actual speakers. All told, they feel great on the ears.
Controls
All of the VOID Surround's controls are found on the left earcup, along with the microphone. On the bottom-left of the cup, you'll find the volume control. The VOID Surround uses a notched wheel for volume adjustments, as opposed to the VOID Wireless, which has a digital dial instead. The dial felt a little better to push than rolling a wheel, but the VOID Surround's wheel works just fine.
A large vertically shaped microphone Mute button occupies the left side of the cup. The button works fine, but it feels pretty much the same whether it's pushed in or out – the difference is only a millimeter of depth. This headset doesn't have a mute light or play a mute tone, so it can be difficult to tell whether or not you're muted without asking someone.
Corsair should've either included a mute light on the microphone or used a sliding mute switch rather than a push button. Also, the panel next to the Mute switch is made of glossy plastic, so you're likely to smudge it a bit when reaching for Mute.
Microphone
Last year's VOID Wireless was a tough recommendation because its microphone simply didn't pick up sound adequately. People could hear you, but at a far quieter level than normal. The problem was so severe that Corsair recommended users bend the not-particularly-flexible arm of the microphone to place it closer to their mouths.
Apparently the maker took that experience to heart, as the VOID Surround has no microphone volume issues at all. Once again, the microphone is housed in a solid arm that rotates up at a 110-degree angle when not in use. When pulled downward, it clicks into place at a variety of angles. This lets you position the mic at a comfortable distance from your mouth. That's all the adjustment the microphone will need – no bending the arm here.
Xbox One use
The VOID Surround uses a 3.5mm audio cable by default, making it compatible with official Xbox One controllers made after June 2015. To use it with official controllers that don't have 3.5 headset jacks, you'll need to use the Xbox One Stereo Headset Adapter or the far superior Xbox One Chatpad, which doubles as a stereo headset adapter.
Assuming you have the proper headset jack on your Xbox One controller, the headset is simply plug-and-play. You won't get a surround sound effect on consoles because that feature requires the use of a USB dongle and PC software.
You can also use the VOID Surround with PlayStation 4 consoles, although I didn't test it with that system.
PC Use and Surround
To use the VOID Surround with a Windows PC or tablet, you'll plug the 3.5 mm cable into the included Dolby 7.1 Adapter – a USB dongle. The dongle bears the Corsair and Dolby logos, as well as a white LED that lights up when the Dolby Surround effect is activated.
To enable that Dolby Surround, you'll need to download the Corsair Utility Engine (CUE) software. Clicking the Dolby Surround button activates the effect and makes the on-screen button turn from white to blue.
The Dolby Surround effect is easily noticeable when activated. The sound immediately takes on a richer quality, increasing in volume. It really is like a bunch of additional tiny speakers have come on inside the headset, although I don't think that's how headset surround sound actually works. But if you want affordable headset surround sound for PC gaming, music, or movies, the VOID Surround certainly should do the trick.
Corsair Utility Engine and sound options
Before accessing the headset's sound options, CUE required me to install a firmware update on the device – a painless process.
CUE has four menus: Profiles, Actions, Lighting, and Settings. Only the Profiles and Settings menus actually offer relevant options for the VOID Surround though. Actions and Lighting are blank, the latter because the VOID Surround doesn't have lighting features. Corsair should hide the redundant menus when using the Surround. Looking at the competition, Razer's Synapse software hides unnecessary menus and looks prettier too.
The Profiles menu is where you'll toggle surround sound and adjust various sound settings. Users can modify the default profile or create specific profiles for different purposes.
Two basic audio levels can be adjusted: Microphone volume and Sidetone. CUE should define Sidetone for us, because I'd never heard that word before. Wikipedia says it's "the effect of sound picked up by the [mouthpiece] and instantly introduced at a low electronic signal level into the [earpiece] of the same [headset], a form of feedback." In other words, you can adjust how much of your own voice comes through the headset when you speak.
Users can further customize their sound by choosing between five equalizer presets: Pure Direct (default), bass Boost, FPS Competition, Clear Chat, and Movie Theater. Each of these settings can be disabled (which basically does nothing since this headset has no EQ toggle button) or customized.
Overall Impression
The Corsair VOID Surround shows that Corsair is making great strides with its relatively young line of gaming headsets. This headset boasts a quality microphone, robust sound, and excellent comfort. Its only real weaknesses are the Mute button and the CUE software's clunky UI.
Right now the VOID Surround sells for $79.99. That's a good price for a headset that works with Xbox One, PlayStation 4, and PC. And when you use it with PC, you'll get a rich surround sound effect to boot.
Get the Windows Central Newsletter
All the latest news, reviews, and guides for Windows and Xbox diehards.
Paul Acevedo is the Games Editor at Windows Central. A lifelong gamer, he has written about videogames for over 15 years and reviewed over 350 games for our site. Follow him on Twitter @PaulRAcevedo. Don't hate. Appreciate!