Costco gets ready to sell Surface Pro 3 Core i5 bundle in its stores and online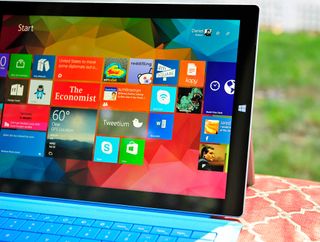 (Image credit: Daniel Rubino/Windows Central)
Everyone has their favorite brick and mortar stores for buying things, and for some, it is mass-seller Costco and its chain stores. Even though Microsoft is out of the Core i5 Surface Pro 3 with 128 GB of storage, Costco is ready to sell them next week.
Heading to the Costco site, and you can find the Core i5 version up for preorder at $1,149.99. If that sounds more expensive compared to the $999 Microsoft Store version, it is only because Costco is selling the Surface as a bundle, complete with a black Type Cover and one-year of Microsoft Office 365 Personal. With the 365 inclusion, you also get an extra 1 TB of OneDrive storage and 60-minutes of free Skype calls per month.
So far, the Surface Pro 3 appears to be selling well, or rather, Microsoft's stock is often running low. Presumably that is a result of keeping production in check, but there may be some movement here too in terms of actual demand.
Regardless, if you are eying a Surface Pro 3 and you have a Costco card, here is your chance.
Read my full Surface Pro 3 review here for more details.
Source: Costco; Thanks, Kishore, for the tip
Windows Central Newsletter
Get the best of Windows Central in your inbox, every day!
Daniel Rubino is the Editor-in-chief of Windows Central, head reviewer, podcast co-host, and analyst. He has been covering Microsoft since 2007 when this site was called WMExperts (and later Windows Phone Central). His interests include Windows, laptops, next-gen computing, and for some reason, watches. Before all this tech stuff, he worked on a Ph.D. in linguistics, watched people sleep (for medical purposes!), and ran the projectors at movie theaters because it was fun.
Daniel Rubino on a roll haha:)

woohoo Costco onboard. I have started seeing dedicated Apple space in Costco lately with lots of demo items. Hope MS can pull something similar. Heck even Samsung Galaxy displays and demo units are prominent. This might be a good sign and hopefully more MS item can see the day light in Costco instore and online. Its a good exposure. On a side note: this reddit like upvote downvote system hasnt really caught up in WPCentral. Also if you accidentally vote there is no way to undo it. You can either downvote or upvote and leave it at that. Whose bright idea was that?

None of these features light up on WP app, which by far has the best interface and where I like reading.

I agree with all of your points, about Costco and the strange voting system!

Re: voting, it doesn't count the votes, obviously. Maybe later.

Costco also gives you an additional year of warranty, and a 3 month return policy on PCs, not to mention their free concierge service for electronics.

And cash back at the end of the year.

if you have the executive member costco acct and use the american express costco card you get cash back twice!

So the year of 365 would stack on top of an existing active subscription, like Xbox Live does, right? Assuming so, this isn't a bad deal at all...

Yes it does as long as you match it with the correct Office, i.e. Home with Home, Personal with Personal.

That's a really good deal. Wish I had the cash and the need for it. My original surface is sufficient for now

Can we have some sales no. Plz MS?

Meh. I don't need another subscription and for what I do office wise my rt and office online does it well enough. Also to me a bundle should be priced less than each item individually combined. So what's the cost of just the keyboard?

So you save $20 bucks. Eh ok. Thanks.

Sp3 (1000) + Type Cover (130) + Office 365 (100) = 1230 which means you save $80. Or $60 if its just Office 365 personal.

Not for me. Office doesn't mean anything to me. Because I don't need it. So for me it would only be a $20 savings. But if your someone who wants 365 as well then maybe. It's just not for me so I not spending to get it in anyway.

If you don't need 365, then you wouldn't be saving $20....you would be spending an additional $20. If you just need device+cover it would be $1130 from other retailers.

Actually if you've no need for Office, it would be $20 more. $1149 (bundle) - $1000 (SP3) - $129 (Type) = $20 extra. Of course, if you need Office, it turns into a decent deal.

$1149.99 for Costco, $1000 surface + $129 keyboard = 1130. No office needed as office online works for my needs the few times I need it. But for others who may need it it might be ok for them.

That's my dream machine!!! Salivating!!!

A bundle including the dock would have been better. I've got the SP3 with the rich and it's such a joy.

Costco is the best retailer in America. They treat their employees well and they offer low prices. Love buying from them.

I think that we are seeing a boom of SP3. If this really continues i am hoping that it will spill over to wp. C'mon Msft make a Surface phone already. Of course with the same build and quality as the SP3. What do you think guys?

Surface phone= bad idea. MSFT needs to get Lumia line "right" first.. Right in the sense.. More sales and more innovations.

While the Office 365 offering doesn't work for me since my company already has the Enterprise version of Office 365... It's not about ME. (Something a lot of folks these days need to get a grip on). It's about Microsoft delivering a premier consumer experience with loads of value. This inclusion of Office 365 is the perfect fit for the end user wanting to see why this combo beats the Mac experience. The value is great as well. Those who think that the Surface line is "overpriced" have missed the value offered by these slick tablet/laptop hybrids... The first of it's kind. Expect to pay what you would for a midrange laptop, only it's also sexy as hell. Now I can point people to their nearest Costco for a true "out-of-box" experience, complete with Costco concierge "hand-holding" without text and phone calls for free IT Support from friends. Love that it's the i5 variant. The average end user will have to work hard to slow that down. ;-)

Not a bad deal, but if I'm buying it, I'm buying it at a Microsoft store and getting the complete coverage. No better option than with complete. I would definitely recommend this at Costco, but I prefer complete.

What does "complete coverage" mean? Is that the insurance aganist damaging it?

Yes!!!!!! I have been hoping for this. Now, get some Windows Phones in there too!!!

Bingo. Folks talk about wp aint sellin but there are not many if at all accessible in retail.

Yeah, you walk into a costco and check out the phone booth they have ATT, Verizon and TMobil (I believe?) and all are selling either Andriod or feature phones. And now they have iPhones. NO WP.

Call Costco corporate and tell them you want them to start selling MS phones. There isn't enough demand yet, but if enough members call and request it they will.

University of Bern, Switzerland - Business Administration: 400 students, 200 with laptop, 18 or more Surface Pro 3 + about 10 older Surface models. Microsoft 3rd most popular after Apple and HP.

That's a rather impressive number.

I'm taking some math class at University of Phoenix, the actual building, and there are two students in the class with Surface Rt and they love them. I was rather surprised to see the devices on their desks when I walked in.

Students, whip out your iPads!

I'll be able to get the Surface Pro 3 bundle in about 5 years when it's $299

This version is available for $999 at the MS store. The type cover is $129. SP3's are preloaded with Office if I'm not mistaken. So what exactly is the 'deal' in this?

Office 365 does not come with it by default, so you're getting it for $20. For me, the main aspect is buying at Costco. They are awesome about their return and warranty policies, and it's the best place to shop for anything. IMO.

Only the trial version of Office. The full version is with Windows RT.

I hope it doesn't have the special COSTCO-style screen resolution, like most of their laptops. Maybe 1280x1024 for this aspect ratio.

Daniel, sorry being off topic y I am not able to comment in phone case news article? Is there any chance of getting 1520 type of cover for 520 I loved the blue one a lot....

That's crap. Go to Microsoft Retail instead and get the Complete Bundle. It includes a type cover of any color, Office, 2 years of accidental damage coverage, and a sleeve for $299.

So $1300 instead of $1150. Which means you're paying $150 for the sleeve and accidental damage. I don't know if that's better... not for me at least.

Had three people ask me about the surface in the doctors office this morning (they know I write api's and work on computers). It basically turned into a big discussion and everyone had said that they looked at the surface and generally liked it. The big draw back for everyone was the price. Everyone wants a computer/tablet for$99.00... I told them good luck and you really do get what you pay for. Surface is definitely a high-end premium device.

Yet these same people turn around and buy an iPad for $800.

Next time show them the $120 Toshiba 7" one. ;)

Point them to 7-8in tabs that cost 299 or so. As well let them know its far more than a tablet.

This is great news and, as Daniel hints, is a sign that Costco has confidence in the unit which means they believe it is appealing to either their consumer or business customers or both. We will be spared the usual nonsense that appearing at Costco is a sign the SP3 is not selling and is moving to closeout status because the beloved Apple has large displays of iPads there and Samsung is pushing one tablet or another (I honestly can't keep them straight). And as someone else noted if you are interested in or just have questions about the SP3, the customer experience at Costco won't be at the Microsoft Store level but it will be whole lot better than Best Buy.

Costco has no people in electronics. It's a ghost land.

Not universally true, but even still, better than Best Buy.

I prefer no people to the know-nothings at Best Buy. Actually, the few people I have asked at Costco have been more knowledgeable. Maybe because they have so few items. And yes, having an item for sale at Costco is not a sign of close-out status at all. Now, Big Lots... THAT would've been that sign. :)

YASSS BISH YAAASS!!! now target and wal-mart needs to do this. They are leading at Samsung and Apple products right now.

Weird strategy to sell a premium device at Costco. Feel it may erode the brand. Does Apple sell the Macbook Air there? Honest question. If they do, then nevermind.

Costco is a premium brand store not like Sams Clubt that sells WalMart items in bulk.

The average household income of Costco members is $250k annually. They've been selling high end laptops there for years. No risk for brand erosion.

I'm just blown away at that price, Office isn't included for free. Damn!!!!

Damn, wish they had the 8GB/256GB model.

Darn I already used my Costco cash back check for something all else.

Costco members will certainly know that they don't carry WP and the only reason they don't is because there isn't enough demand. I strongly encourage all Costco & WPC members to call Costco corporate and tell them you want them to start carrying WP.

Does it have the pen included in the package?

all pros come with dual digitizers and stylus

I like Costco, but the issue I have with buying from them is having to either user my debit card or get an Amex Card. After working for the green giant, the last thing I want is one of their cards. Not getting airline miles for my major purchases at Costco is a huge deterrent for me. I understand the reasoning behind their policy, but it just doesn't work for me. I'd rather buy the same package through Best Buy at 0% APR over 18 months for $20 more.

So what about Costco in Canada? We getting them here as well? --- wow I misspelled Costco and my WP corrected it---- no crapple would do that!

Yeah it would. And that all depends on Costco Canada.

all pros come with dual digitizers and stylus.