Costco stores also getting Nokia Lumia 710 for $269.99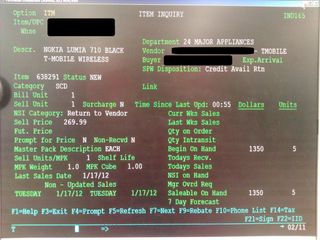 The other day we covered Costco selling the Lumia 710 (review) for a pretty great price, specifically $0.01 on contract. The fine print also revealed at the time that the "retail price" was $269.99, which is a lot cheaper than the $350 most other places are offering it for.
Now we have an inventory screen shot showing that the 710 will be sold at select Costco brick-n-mortar stores (your guess is as good as ours as to which ones) for that very low price of $269.99. That's a heck of a deal for an off-contract phone, especially for that Nokia-quality. In addition, you can expect a free carrying case and a car charger.
Downside? Well, besides limited store-availability, you can only get black. And while black is kewl, we prefer the white one ourselves just to be a bit different. Hopefully if you're in the market for a new phone, you'll be able to find one of these stores offering this deal.
Thanks, Peter M., for the info!
Daniel Rubino is the Editor-in-chief of Windows Central, head reviewer, podcast co-host, and analyst. He has been here covering Microsoft since 2007 when this site was called WMExperts (and later Windows Phone Central). His interests include Windows, Microsoft Surface, laptops, next-gen computing, and for some reason, watches. Before all this tech stuff, he worked on a Ph.D. in linguistics and ran the projectors at movie theaters, which has done absolutely nothing for his career.
Even though Bland Black is less likely to be people's color choice, don't forget about the interchangeable back covers of different colors.

I guess my question is, it's off contract but is it still vendor locked?

That is a good question. I might get it if I can use it on ATT.

The phone supports gsm1900 so I assume you could use this on AT&T without a problem.

Unfortunatly its not a question of "can" it work technically on different networks its a question of "will" it work without having to pay extra to vendor unlock it.

Manny US carriers will 'lock' the phones they sell to their network so you will not be able to take the phone and use it on a different network even if you buy it off contract
The argument is that manny times they will provide a minor discount on the MSRP price of the phone and they dont want you to just buy it and go somewhere else and not get thier $$ back from that minor discount.

Really its just the carriers colluding together to make more $$.

If I want to switch to a different carrier, I have to buy a new phone, so even off contract there is a penalty for me to switch.
And I cannot sell my existing phone for a reasonable price to buy a new one because it's vendor locked to my existing carrier, check out ebay etc... the vendor unlocked phones always sell for significantly more than the locked ones.

Getting a phone unlocked isn't nearly as difficult as it is to determine if said phone supports the proper frequencies in one's area for a different carrier.

My original point is, the Costco price is a good price only if its vendor unlocked,
if I have to spend $50,$80 or $100 to unlock it the price isn't that great.

As a CincinnatiBell customer I know that if I can find a phone with WCDMA on the AWS(1700/2100) band 4 frequencies it will work for me.
Which means an unlocked TMobile phone will work.

The whole vendor lock thing really bugs the <explative> out of me as I have 3 Motorolla Razors a Sony-Ericson w580i and a Nokia 5800 all gathering dust, because its not worth the time and effort to try and sell them vendor locked to CincinnatiBell.
I can have the Motorolla's unlocked but it will cost more than I will get for them. and locked they probably wont even sell for $5 if at all.
Everyone I have asked has said they won't even try to unlock the SE.
And it will cost me $80 to unlock attempt the 5800 and there is no guarantee that it will work.

So for me the question of is it vendor unlocked is just as important as can it work.

You can't sell products in Costco stores unless they are priced at least 10% below MSRP.

Sadly, I called my local CostCo and asked if I could buy it and they said "we only sell a phone with a contract/upgrade."

A quick look on Costco.com turns up this device as well... and when clicking for more info you are dropped at the page with all of the terms with the seemingly good price of just 1 penny, though the fine print is very telling:
*A New 2 Year Activation or 2 Year Qualified Upgrade is required for all handset purchases.
If one could be had for $270... I'd be tempted to pick one up to use as a secondary development device. Oh well...

This is a big important step for WP and rounds off the already well received Office hub. If you are using OCS 2007 then you are right Lync is not compatable as it runs off the 2010 technology. In fact install Lync on your computer running OCS 2007 and you will find a nice spangly copy of Lync but no way of using it.
Windows Central Newsletter
Thank you for signing up to Windows Central. You will receive a verification email shortly.
There was a problem. Please refresh the page and try again.