Microsoft pushes Creators Update cumulative patch 15063.11 for all Insider rings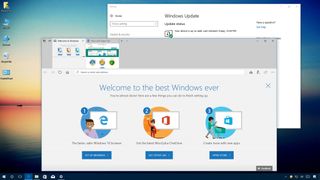 In anticipation of the April 11th release of the Windows 10 Creators Update, Microsoft is pushing out a new cumulative update patch for those on Release Preview, Slow and Fast Insider rings today.
The patch will bump the OS from build 15063.0 to 15063.11 and is listed under the KB4016250 update.
Not much is fixed with this cumulative patch, but here is the changelog, which is important for Surface users:
We fixed an issue where on Surface devices, Bluetooth radio fails to re-enumerate during hibernate/resume.
We fixed an issue with McAfee Enterprise to prevent a system crash when the product driver is installed on build 15060 configured with Device Guard.
As usual, Microsoft asks for any feedback on build 15063 and today's cumulative update to help make the April 11 rollout smoother for customers.
For Windows 10 Mobile a cumulative update went out a few days ago, to bring the OS to 15063.2. Microsoft also announced an April 25 release for the Creators Update for Mobile users.
If you're not already part of the Insider program, you can read our deep dive review of the Windows 10 Creators Update to learn about what is coming on April 11.
Windows Central Newsletter
Get the best of Windows Central in your inbox, every day!
Daniel Rubino is the Editor-in-chief of Windows Central, head reviewer, podcast co-host, and analyst. He has been covering Microsoft since 2007 when this site was called WMExperts (and later Windows Phone Central). His interests include Windows, laptops, next-gen computing, and for some reason, watches. Before all this tech stuff, he worked on a Ph.D. in linguistics, watched people sleep (for medical purposes!), and ran the projectors at movie theaters because it was fun.
Who here wants to vote we'll get 2 new Cumulative Updates in Fast Ring before April 11th launch?

Not RS3, but minor updates

ah, thought you said Release

We can definitely use 2 cumulative updates.

Are you counting the .2 for mobile, and .11 for PC as two? I'm sure there will be more. It actually feels like the Fast Ring releases have slowed, now that we hit the RTM build. The week of the 15063 release, we saw three Fast Ring releases.

Nope. I'm saying another two besides .11.

looks good so far... looks like you are unable to add a Microsoft account to a domain joined PC in order to sync settings(edge favorites, theme)...

For a few builds now I don't think you can switch a local account to a MS Account either. Think you need to create a whole new account instead

Blows my mind how the same old things continue to be an issue build after build... Dan: Hey, how's that new Windows 1K?
Akira: Its pretty good, syncing favorites doesn't work so good though....

That's odd.. I haven't tried the PC version, but it's odd if that's an issue

After up-date, what needs to be re-installed?

The Connect app isn't working for me anymore. Any tips?

Complain about it in the feedback app. Mine seems to work fine as long as I'm using laptps/desktops. Windows Phones, not so much. Maybe MS isn't all that concerned about WP anymore.

this update is also available to me and i have not enabled insider perview


on fast slow release rings

So like you are on RS2, but you ain't on Insider?

yes i just registered my account for insider so i can download the iso and i have opted out of insider

You're still an insider even though your settings say you're not!

Just switched to the slow ring on my 950XL from the production anniversary update and I'm shocked by how much smoother everything is plus my phone no longer crashes occasionally!

Receiving it on Release Preview as well.

Nice! And i only clean installed the ISO 20 mins before!

Not only Insider in Fast and Slow do receive this update. Also non Insider registered systems that have been upgraded using the latest ISO.

So it's basically Production

Yes it's got to be, insider release preview has the update too.

Keyboard will still not wake up my SP4. This is driving me absolutely crazy.

The update was damn quick hardly took 10 mins

It's a patch, not a whole build

I upgraded to this build with the leaked Upgrade Advisor a few days ago, and now while being on production ring, I got this update too. This means that this update is for everyone in this build at the moment.

Yes, the same here. I have a Surface Book and after the 10563 build I had some issues when resuming from stand by. I hope that these issues were resolved with this fix. Overall the creator's update is really good. It is not the new features, but the way the OS works in general. Everything feels much faster, and Edge is great. Very happy overall.

I agree with you, the best thing this update offers is making the OS feel more complete and polished. Some new features like game mode and night shift are pretty cool, but they're nothing major :P I hope the issues you're facing with stand by get fixed. They could be specific to the Surface Book, because my laptop didn't have any issues at all. Microsoft will probably fix them soon :)

I wouldn't be so optimistic. Original release on SP4 had broken sleep for over 6 months, and as soon as they fixed it the AU came and it was broken again for another 4 or 5 months. Now that it works pretty good they give us Creators Update. I can bet you it will cause serious problems with sleep/stand by and it won't be fixed within the first month.

I'm baffled. How does the OS feel more polished? On my Surface Pro 3 all I get are choppier UI elements and bugs with live tiles missing graphics. Try opening a few apps and try your start menu. I would be amazed if it doesn't slow to a crawl the more you open.

Despite all of the things you said being true, these are not features of the update, they're just bugs that are going to be fixed sooner or later with a cumulative update. We're the ones who downloaded the update before it's official release, so it's not fair to complain about bugs and performance. If months pass and the situation is still like this, the yeah I'll agree with you that this wasn't a good update. But, because I'm 100% sure that they're going to fix those issues, that's why I didn't mentioned them in my comment.

These are major issues that affect the general usability of the OS and they haven't been fixed in the past 3 or 4 builds. What are the chances a cumulative update this close to release will fix them? Why do users have to put up with potentially months of this jank? It's almost the most basic foundation of the OS.

The last 3 or 4 builds have been insider PREVIEW builds... Regular people didn't experienced any of the "major issues" that you're not even mentioning... And, as I mentioned before, I understand that the latest build is not totally fluid and perfect. It has some bugs, and the performance of the start menu sucks. But in the beginning I thought that I was probably experiencing those issues because I'm running Windows 10 on a Windows Vista era laptop. I didn't thought that it could be a Windows issue, I believed that it was because of my old cpu ... But, judging by the absolutely great performance this laptop had and the 0 problems in the Anniversary Update, I want to believe that with some small updates the Creators Update will become stable and fast too. We can only wait and hope ...

There is more going on than those two items. Everything is snappier, specifically start menu and scrolling and loading in Edge.

Open up a few Windows apps and see how snappy the start menu is...

Yea that Surface and Bluetooth bug would've wound me up. I'll update when it's ready. There's other things to consider too. Is your anti-virus ready for the update? It may need a patch for CU or a new version. Kaspersky are well known for this.

Valid point. For my test systems, Windows' first party Defender is sufficient. But I understand that there's a need for those AV developers to test on the Insider releases. I remember having to reinstall Windows multiple times until I released my AV didn't support it and was causing BSODs.

After updating to w10, highest connection speed is missing in lumia 830.( RS1 update 14393.953) need some help...

4G is missing from SIM settings?

These fixes never seem to be for the most important issues. Namely the terrible performance of transparent UI elements when more than a couple of Windows apps are open, and the random disappearing graphics on live tiles. They've basically made the UI feel even more clunky and buggy than ever and it wasn't great to begin with.

It's shocking that they are releasing a build this bad. My SP4 has all the problems you list plus the screen brightness stops working. This is THEIR tablet and there's no question what hardware is in it. I'm done wasting my time with this.

So, with so many bugs they decide to release this small useless updates?

Still don't get why this is a headline release. Its biggest feature is a new paint app! WOW! Why isn't this just another update and actually have a named update when there are actually some new features. When the last few major updates came out I wanted them ASAP, I don't actually care when this comes. My 950 is a hot mess and hasn't seen a worthwhile update in months. Meanwhile MS spend their time pre downloading apps on to Galaxy S8s. I like Microsoft and try to use their services when I can but they are just not as good as the competition. Groove isn't as good as Spotify or apple music. Outlook isn't as good as Gmail. Cortana? Great on W10 laptops, crap everywhere else. I can't even sync my Outlook calendar with Cortana on Android it will only use Google calendar. Microsoft's software is so fragmented especially if you don't live in the US.