Crunchyroll, MoviePlex Play and Encore Play apps are now available for US Xbox One users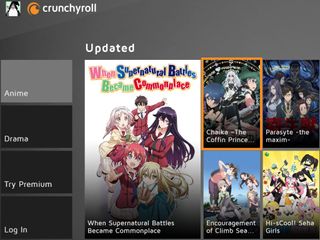 US Xbox One owners are able to download three more apps that have been added to its library of streaming video services: Crunchyroll, MoviePlex Play and Encore Play.
Here's what you can expect when you download and view Crunchyroll which is also available today in a number of other Xbox One markets:
MoviePlex Play and Encore Play are US-exclusive apps for the Xbox One and offer users who already have a paid subscription to those two cable TV networks a chance to check out their current library of movies and TV shows anytime. MoviePlex Play's film lineup is older while Encore Play not only has more recent movies but also repeats of older TV shows like Night Court, Murphy Brown and Magnum P.I.
What's your current favorite app for the Xbox One?
Source: Xbox Wire (opens in new tab)
Its WP app needs some serious updating.

I agree. I have the 1520 and Crunchyroll doesn't fit the screen.

Sweet! Now bring on HBOGo please.

+whatever is necessary to get this on X1

Supposedly it is coming soon. It looks like the promo video was accidentally published and subsequently made private. See here. http://www.polygon.com/2014/11/18/7241671/hbo-go-xbox-one-release-imminent

I actually watched the HBOGo video and was on my way home to download the app and when i got there no app and no video anymore :( I still have the video in my Metrotube history so it did happen. So lets get that straighten out and released please and thank you.

Finaly. Now they have to update the WP app they haven't since 2012

Crunchyroll is weird Japanese tentacle hentei stuff right?

no, it's not.....well, not the hentai stuff. There have been tentacles though...

Lol, I don't think that's what Crunchyroll is, but I won't judge if that's what your into.... And there has been hentai, considering that the general definition is that of "perverted" which most anime seem to have a lot of...

HBO Go. Where is it? That's the app we care about.

When is FUNimation coming or anime network

Prefer FUNimation, don't have time to read subtitles when multitasking

Cool.... But I'll be more excited when the UFC app comes out.

Finally I can subscribe to a prenium Crunchyroll account and start watching Animes on my XBO :D

ok, the crunchyroll app, while visually better than the PS4 version, gets on my nerves. no easy way to jump to the next or previous episode. From My Queue you can't take a look at the episode listing. If you were to loose your conection, it jumps to the next episode. taking the LONG way to reselect the episode i was watching (search, series name, season) it jumped to the next episode from the same spot! Jumping on my ps3, ps4, vita, windows phone AND pc, this wasn't the case. yes, i loaded the same episode across multiple devices to try this. Happy to have the app, but not happy that feature parity against other versions isn't there.
Windows Central Newsletter
Get the best of Windows Central in in your inbox, every day!
Thank you for signing up to Windows Central. You will receive a verification email shortly.
There was a problem. Please refresh the page and try again.