Cyan and Yellow Lumia 920 back in stock at Amazon and AT&T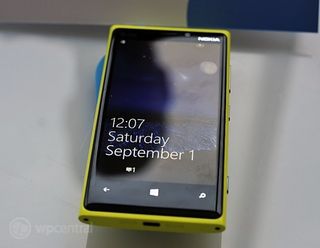 The cyan and yellow Lumia 920 is now back in stock at both Amazon Wireless and AT&T. Cyan is exclusive to the US mobile operator and has proven to be limited in numbers, much like other versions of the Windows Phone, including yellow, which is always hard to find.
We've previously covered the black and cyan variants of the Lumia 920 being unavailable through AT&T, which is a familiar experience across the globe.
As well as the handset, AT&T and Nokia have extended the free wireless charging plate offer to the end of February. Yet another reason why now is the time to pick one up.
The AT&T website reports all colours of the Lumia 920 in stock, except cyan. While AT&T website still shows the colour being out of stock, we're told by a Windows Phone Central reader that should you contact customer services, the cyan Lumia 920 is indeed available for order. Amazon Wireless does have the cyan Lumia 920 listed as available, which is always a second option.
Source: Amazon Wireless (opens in new tab); thanks, Seth, for the tip!
Windows Central Newsletter
Get the best of Windows Central in in your inbox, every day!
Rich Edmonds is Senior Editor of PC hardware at Windows Central, covering everything related to PC components and NAS. He's been involved in technology for more than a decade and knows a thing or two about the magic inside a PC chassis. You can follow him over on Twitter at @RichEdmonds.
Too late for me, but good news for those who were still waiting.

Want the cyan one for the UK.

I know I could get a cyan case but I would rather have a cyan phone and put a black case on it when needed

Of subject, but important to point out.. Did anyone notice that BB10 commercial during the Super Bowl last night? I have to admit that I was really pissed of at MS for not only not having any WP advertising, or maybe I missed it, but the fact that BB seems to already be getting a better start with marketing than WP did when it was released a few years ago. That's something to be concerned about when you think of these two companies fighting for the same user base. I always said that WP's problem was marketing, and I still think it needs improvement.. Did anybody see a WP commercial last night during the Super Bowl??

i know i didn't. I also thought this was a missed opportunity for both WP and surface rt.

I don't recall seeing one. I was going to say that since there was hardly anything new to announce on the Windows Phone camp then it probably wasn't necessary for MS to have a SB commercial, however Samsung had what it seemed like a 1.5min commercial at the 2-minute warning of the 4th quarter! I mean, Seth Rogen and Paul Rudd -- how much money does Samsung have? I believe I heard it was $4m for a 30-second spot. Imagine that. A Super Bowl commercial was definitely a MUST for BB since it pretty much coincided with BB10.

Also, if you think about it, WP was released in November 2010 right before the SB. It was a must that WP be advertised during the SB at the time to.. But, maybe its a good think they didn't because their marketing direction turned out to be all wrong.. Lol!

Yeah I remember back then I had an awesome ad idea for the 2010/11 superbowl. It would parody the Mac 1984 ad. You see the face of Jobs telling his audience "One phone. One color. One carrier. One choice" (Remember this was back when it was AT&T and white only). Then Steve Balmer would come runing down, wearing the same skimpy shorts from the original ad. He would throw the hammer at the screen and out come multiple windows phones on multiple carriers in multiple designs. Funny, hard to ignore, and would hammer in a good point. Ofcoarse by that time Android was taking off so MS may not have been able to steal the mantel of Choice. But oh what could have been...

Given you can't even purchase a BB10 device in the US the commericial has little impact. I think most people that haven't been following BB over the past couple of months will wonder even what BB is at this point. In the US BB has really been kind of out of the market. Sure you could get one, but I don't know a lot people that would buy one outside of a work need.

So WP and BB are competing with each other but not necessarily directly. It is critical for BB to win some major business users. If they fail at that then they have failed in general. Because if they can't win their core what does BB10 really offer the none business user that can't be found elsewhere on a more established platform?

On the other hand WP never has to have 30% of the general consumer smartphone marketshare to be successful. I think if WP ever makes it to 15% it would be a huge win for MS. I also think MS only has to get to 5 - 7% worldwide marketshare to cause the growth to 15% to become a lot easier. At the 5-7% it becomes large enough that you can't ignore it if your a developer and your more likely to see one out.

I still think MS should've advertised WP as a whole during the SB. It was a missed opportunity no matter how we look at it. With the position WP is in it couldn't hurt to display the OS during the largest TV event if the year.. This was a loss.

I disagree. The Gwen, Cam, etc. commercials shown over a longer period of time, along with the product placements on various TV shows has a better chance of keeping WP on the forefront, than one Superbowl ad - Superbowl ads aren't that memorable and are easily forgetable right after they air or shortly thereafter.



That's why I think Microsoft and Nokia are doomed if they continue their venture. Microsoft is a dinosaur, and Nokia is on its last leg, and needs to make the leap over to Android if it wants survive and stay relevant.

First of all you're crazy.. Second, Android Sucks! This is why Nokia sticks by WP. You know that Nokia chose WP because its higher quality than Android, and the potential for a much more vast ecosystem is greater. The question is with you knowing how low quality Android is why would you continue your venture with it? Buying a phone and having to "tinker" with it to get it to perform to your satisfaction is not customization, a good buy, or cool. Its just stupid. Some people want to buy things that just work very well out the box.. The others are just fooling themselves..

@phasar o please stop with the talk of android. its vomit inducing its people that constantly cry for android that halt competition and therefore innovation. im glad nokia went with microsoft im glad there is a bb10 im glad that theres a tizen im glad theres ubuntu im glad theres mozilla. android is old and id rather not bet my future on a 2 horse race. its a waste of time and quite frankly boring. it amazes me how closed minded the world has become to new things and new ideas. for goodness sake and these are the people who call themselves technology lovers...

In my ideal future, the market is split 5 ways. 40% WP, 30% Android, 15%BB, 10% iOS, and 5% other. I want WP to be dominant so that developers target it first, but not soo much that MS rests on its ass like they did with XP and IE6. Ah but given the last few years of missteps by MS, that dream seems to be getting more and more distant.

One in the UK would be very very very nice!!!!!

Wait. AT&T didn't have the black one? I guess Rogers took the world's supply of black 920s. Haha!

AT&T has always had the Black and White 920s available, and red more recently, only now the Cyan and Yellow are available again since they've been out of stock almost since launch.

I've got the Cyan one two weeks ago.

This annoys me a bit. I just upgraded last Saturday, and wanted the yellow for myself and the cyan for my girlfriend (she had the cyan 900) and I couldn't get my hands on either.

Aren't you able to return the devices within 14 days?

I wanted a yellow or cyan but got stuck with black

I hope some providers in Canada pick up the cyan and yellow models. I just picked up a Red from Rogers and although its one of the nicest looking phones ever, I wish the red came in the matte finish as the black, it seems to slip a bit in the hands.

I wanted the yellow one, but now I think I will just be able to wait until "EOS" or "Catwalk" devices, since I've waited this long. With the 7.8 update, I'm happy again and back to no being able to put my phone down.

Nice congrats, yes those new phones will be amazing

Frustrated was my feeling, just like waited for 2 months for it. First it couldn't open all my PDF books. Second it couldn't connect to my corporate network. Thrid, the battery was a drag. I have since learned to live with those. But really, the OS is not ready and MS is dragging it's feet.

That is a drag. Can't comment on items 1 and 2, but battery life on my Lumia is amazing. Have you contacted Nokia customer support? I have a portico cyan Lumia on att.

As much as I really like this phone, its too similar to my l900.. I will wait and what nokia have to announce this month

I was able to get mine in early Jan. Thanks to Nokias great customer service.

I already cancelled an order after showing the 920 in stock, and later notifying that it wasn't. The only way I'll get a 920 three months after release is if I just sing the contract, zero down. I'm waiting for the next batch of Windows Phones now.

Nokia, Y U NO bring Cyan to Australia!? There was AFAIK no cyan L800 or L900 - and so far no cyan L920. PLEEEEZ we wants it, precioussss!

I was on the phone witah at&t customer service to order the yellow 920 and come to find out, the web site and the phone support ship from different warehouses. The phone rep did nit have the yellow in stock. So I upgraded my wife's line over the phone and ordered my yellow 920 on the web. It should be here tomorrow or Wednesday.

I already have email confirmation that my Cyan phone and the free charging plate have shipped and should be here by tomorrow!

Looks like cyan is out of stock again at AT&T website.

Windows Central Newsletter
Thank you for signing up to Windows Central. You will receive a verification email shortly.
There was a problem. Please refresh the page and try again.