Best Cyber Monday PC parts deals 2021: Crazy sales you don't want to miss on motherboards, SSDs & more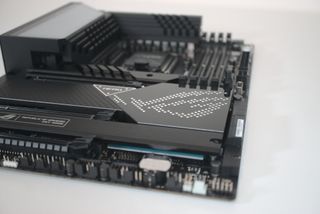 (Image credit: Rich Edmonds / Windows Central)
Today's Cyber Monday PC parts deals are an excellent opportunity to upgrade your PC for less. For sure, finding the best graphics card on sale, or even in stock will be tough, but most other elements of building or improving your PC are much cheaper today. If you are tempting to dive into something ready-made tohugh, we have a guide to the best Cyber Monday pre-built gaming PC deals.
Whether you're in the market for a new motherboard, some storage, or everything in between, we've rounded up some killer deals right here for you to consider. As always, it's best to decide on what to upgrade inside your PC and what will be the best upgrade to go for.
Choosing the right PC components doesn't just depend on the price. For instance, you'll need to make sure a discounted motherboard will work with your CPU, likewise with a CPU deal to your existing motherboard.
Where to find the best Cyber Monday PC part deals
Cyber Monday will likely see plenty of deals on PC parts, from graphics cards to processors. If the deals haven't started already, we'll be keeping tabs on any new ones as they pop up right here. But where can you go and find some deals? Amazon is one of the more popular destinations, but you must be wary of third-party listings and inflated prices.
Best Cyber Monday PC part deals: Processors
The central processing unit (or CPU for short) is the brain of the PC and handles all the tasks that need processing. It's what determines whether you'll be able to run software and games with little issue. The more powerful (and expensive) the CPU, the fewer restrictions will be in place. It's best to spend as much as you can here to save upgrading sooner rather than later.
Best Cyber Monday PC part deals: RAM
RAM is what's used by the system to store data for quicker access. Even the fastest SSDs aren't as quick as RAM. 8GB is recommended as the minimum for Windows and Linux, though we'd recommend 16GB if you plan to play games. Your CPU will have the maximum speed it can support. Modern CPUs may work with 3200MHz DDR4 or 4800MHz DDR5 modules, so double-check before buying.
Best Cyber Monday PC part deals: Storage
You're going to need a place to store not only the OS but also software and games. We'd recommend using the fastest SSD your motherboard supports. If it's a new motherboard, you'll likely be able to install an NVMe PCIe SSD with speeds of up to 7,000MB/s. Say farewell to loading screens.
Best Cyber Monday PC part deals: Cases
There's no point in spending all the money in the world on fancy hardware if you don't have a PC case in which to install it all. This is where our shortlist of chassis comes into play. Mid-tower size is best suited for most PC builds. ITX cases require Mini-TIX motherboards, which are usually more expensive, while full-tower covers your large behemoth cases.
Best Cyber Monday PC part deals: Motherboards
The motherboard is the heart of a PC, acting as the bridge between all your installed hardware. This is one of the most important parts of the PC, and it's easy to mess things up if you choose the wrong one. If you already have a CPU at the ready, choose a motherboard that supports it. If not, go with whichever supports the CPU you plan on purchasing.