Cyberpunk 2077 discounted to $50 on Amazon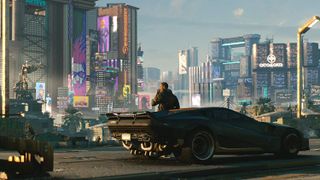 (Image credit: CD Projekt RED)
What you need to know
Cyberpunk 2077 now has a release date of April 16, 2020.
The release date comes alongside a new trailer and word that actor Keanu Reeves is part of the game.
You can also venture outside of Night City into a desolate region.
Cyberpunk 2077 is available to preorder for $50 on Amazon

(opens in new tab)

.
Cyberpunk 2077 is probably one of the most anticipated games coming next year from The Witcher developer CD Projekt RED. At Microsoft's E3 2019 press conference, the team debuted a new trailer along with the April 16, 2020 release date.
Usually, the game retails for $60, but it has been discounted to $50 for the time being. It's unclear how long this discount will last, so if you're interested in the title, be sure to pick it up right now.
According to the Microsoft Store, Cyberpunk 2077 runs at 4K resolution on Xbox One X. Oddly enough, "HDR 10" and other enhancements are missing from the list. Hopefully, CD Projekt RED will provide further details closer to launch.
Night City calls
(opens in new tab)
Cyberpunk 2077 takes players to the gritty, neon-lit streets of Night City. The latest opus from The Witcher developer CD Projekt RED is set to launch on April 16, 2020.
Xbox accessories you'll love
Every one of these quality accessories is guaranteed to enhance your Xbox experience.
PowerA Enhanced Wired Controller for Xbox One (opens in new tab) ($20 at Amazon)
PowerA's take on the Xbox One controller is an attractive pickup for budget-conscious gamers that nails all the basics.
Talon PDP Xbox media remote (opens in new tab) ($20 at Amazon)
The Talon PDP Xbox media remote is great for watching shows on your console.
Xbox One S vertical stand (opens in new tab) ($10 at Amazon)
Stand your console upright with this accessory.
Asher Madan handles gaming news for Windows Central. Before joining Windows Central in 2017, Asher worked for a number of different gaming outlets. He has a background in medical science and is passionate about all forms of entertainment, cooking, and antiquing.
Pre-ordered. Hopefully I will have time to play it around the release time.

Sick! Thanks for saving me $10!

$50 is still too much to pay for a game we've yet to see a single second of actual gameplay footage. The devs themselves have stated that last year's closed-door demo looks nothing like the game as it is now, despite it still being unfinished with a release date of just 10 months away. I'll bet that gets delayed at least once.

You aren't paying it now, so when you get to see game footage and you don't like it, then you cancel. $50 is also not too much to pay for a game if you are going to play around the release date regardless or trailers/footage.

Then just don't pay for it? I don't pre-order games either

@Brad
While I agree about not pre-ordering for a game.
You got to consider the reputation of the studio and a price reduction.
I'll never pre-order a digital game because that is stupid. A collector edition that could be impossible to get at launch, maybe. In this case there is a price reduction where the game may be more expensive at launch. I won't pre-order this so early even to save 10 bucks because I know it'll probably cheaper at launch.
Also when you were talking about last year's closed door demo, I don't know if you were talking of this:
https://www.youtube.com/watch?v=RfmB1eoyzwY We see quite a bit of gameplay and I don't think it'll change massively from this. I mean the Witcher 3 didn't change massively from what they showed.

@Guest What makes you say it will be cheaper at launch? I thought that's when prices we where the highest? I don't buy games new too often, but the big ones I do never seem to be discounted. Also, if the price drops between now and then Amazon will refund or charge you the lower price. While I usually don't buy games digitally that aren't on sale there is a small advantage to pre-ordering them, the ability to install the game early. While this only makes a huge difference if you plan on playing it midnight (or whenever it becomes playable), it is nice to not have to wait to play it when you are ready. I wish they would let you do this with games that you pre-order physically or plan to buy in the store.

I say it'll probably be cheaper than what it is now here in Europe. For all major games it's usually the case. I'm speaking of my case and my past experience. For example, I got RDR2 for less than 45 bucks, Far Cry 5 Gold edition for about 40 bucks, Shadow of Tomb Raider for 40 or Spider-man + steelbook for 50.
I guess this is because they optimise the price with respect to the demand and the stock that they are trying to sell off. Usually the game after goes back to 60 bucks, but comes down after sometime thanks to the used games market. Yes, playing it early could be a reason but it's not a good thing to pre-order. Gamers shouldn't let these devs think that they can sell their games based on nothing but marketing. Meaning they would invest more on marketing than on the actual games. Also it doesn't protect you from broken, incomplete or bad games. We've seen so many of these recently...
Also it encouraged the exclusive pre-order bonus content or even retailer exclusive content.

Dunno about the US but in Australia places like Target and JB HiFi and the like always sell new release games cheap, around 60-70 bucks instead of $100.

That's totally not the case in the US. We get $59.99 out the gate, or it might be $54.99 in some cases. It doesn't tend to fall to $50 for a few months and may just skip over that to the $45 dollar range (the current price of RDR2 new at Walmart). The only good thing is that games fall here faster for physical compared to digital due to the used market or lack of demand due to new games. I tend to think of the latter because the big retailers care little about used game prices online. Gamestop is a great example of this. I tend to agree with marketing being too much, but this is what publishers care about and feel it makes them money. It does, especially here. I don't feel however that pre ordering encourages broken games, I tend to think that quarterly deadlines do that by themselves for the most part. Again I reference the book I have mentioned a few times as evidence on this. The day one patch that the internet has bestowed upon us has also encouraged this, and combined with publisher pressures has forced some devs to release crap. I don't think most developers if given the choice would release unfinished games just to get the Pre-ordered cash. Maybe some big publishers have forced this, but I don't think it's widespread.

Search YouTube. They've had actual game play about Cyberpunk 2077 for over a year now. There's a 27 min video of actual game play. It's Alpha but there's not going to be that much of a change.

I will have to take a pass on this deal because it doesn't look to be digital. I'll pre-order it from the Microsoft store about a week before release unless someone else has a deal for a digital download.
Windows Central Newsletter
Thank you for signing up to Windows Central. You will receive a verification email shortly.
There was a problem. Please refresh the page and try again.