Dell Venue Pro now available on AT&T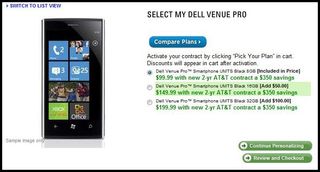 AT&T has added a fourth Windows Phone to their product line-up, the Dell Venue Pro. The Venue Pro joins the Samsung Focus, LG Quantum and HTC Surround (and hopefully the HD7S will soon follow).
Dell is offering the 8gb Venue Pro for $99.99, the 16gb Venue Pro for $149.99, and the 32gb version for $199.99. Prices are after two year contractual discounts. An unlocked 16gb Venue Pro on the AT&T Network will run $499.99. Last check with Dell's website (opens in new tab) indicates preliminary ship date for the Venue Pro is May 3, 2011.
Any takers?
via: Pocketnow
Windows Central Newsletter
Get the best of Windows Central in in your inbox, every day!
George is the Reviews Editor at Windows Central, concentrating on Windows 10 PC and Mobile apps. He's been a supporter of the platform since the days of Windows CE and uses his current Windows 10 Mobile phone daily to keep up with life and enjoy a game during down time.
This is great news. I just switched to T-Mobile from Verizon on December 24 when my Venue Pro arrived. I was concerned that Dell would be slow to provide one for AT&Ts network cause I love my Venue Pro. So, if AT&T gets T-Mo (which im sure they will) I won't have to be concerned about losing my phone. Yippeeeeeeee

FIXED THAT FIRMWARE (and then we can talk)

Im waiting for the HD7S to replace my surround.

Ha Ha Dell Problems with firmware with att bad updates...ill pass

AT&T was slow to release an update, sure, but the addition on WISPr technology and the fact they "fixed" the behavior where sliding your finger off the screen and onto one of the buttons activated the buttons were worth the wait to me.

Sigh, I want the HD7S because it has a 4.3 screen. But I don't want to use my upgrade if new hardware is coming. Decisions..decisions.

It wouldn't make sense if Dell released this without the necessary updates, so I'm inclined to think that this will come with NoDo and the firmware update. T-Mobile users were definitely beta testers, even though not all users had issues with the device. Based on the looks of the device alone, and given that it will actually be in the ATT stores so that people can 'touch and feel' it, this unit will sell well.

It was fun beta testing the DVP for at&t users, however I think they will also join the program, even with the updated firmware some are still reporting freezes, the phone is just a lemon, period.

Ive had a 8gb DVP for 2 months. Not a single major issue with it. From browsing the internet there seems to be 2 major issues, and a few minor ones that plagued it.1) Wifi issues at release, were later fixed, but looks like Dell might have resent out those phones again to not have to truely eat the cost of them. Any phones shipped this year dont have this issue.2)Unreliable SD cards causing crashes (affects the 16gb only). Probably very similar to the Samsung Focus's issues, except samsung released a firmware upgrade to fix that now, while dell probably is just cherry picking high quality SD cards that dont cause the bug.Both of these are non issues now basically, so cosidering the hardware is absolutely great, I wouldnt let these stop you. Dell's horrible customer support / buggy website/ and even purchasing support was a big turn off when i bought the phone, almost made me not get it.

It's great that AT&T is getting a great phone with wider availability to consumers, and to the everyday Joe, having a "Dell Phone" may mean something to them, haha. I hope those AT&T customers enjoy the (possibly) hassle-free DVPs. brb, taking out my battery to reset mine. :| I love/hate my DVP so much, lol.

Well I've had my Venue Pro since Dec 24 with T-Mo and I have not had any serious issues. Outside of the occasional lock-ups; I love this phone.

I just ordered the 8 gig version.I'll give it a try for a few days and see what happens. I'm tired of the iPhone, tried the Samsung focus and loved it. hopefully the venue pro will be just as good.

I would have given it a good look if it came out 4 months ago when I got my Focus.

sold, I'll miss my surround but I'll love the keyboard

I want a Dell Venue Pro on Verizon.

I got the Venue Pro via T-Mobile a couple of weeks ago and I'm really impressed. I had a BB Storm 9550 and I miss a few of the features, but the super fast phone, excellent touch screen, slick os and great native web browser more than make up for it.

I always liked the way the DVP looked. Glad to see AT&T proving their commitment to WP7. Hopefully, other carriers can follow suit soon to help get some momentum.

Just got my update on my Unlocked DVP At&t back here in India. Very impressed by the commitment shown by Dell....
Windows Central Newsletter
Thank you for signing up to Windows Central. You will receive a verification email shortly.
There was a problem. Please refresh the page and try again.