Dell XPS 15 2-in-1 vs. HP Spectre x360 15: AMD graphics and Intel CPUs
By Cale Hunt last updated
Big Ultrabooks, big power.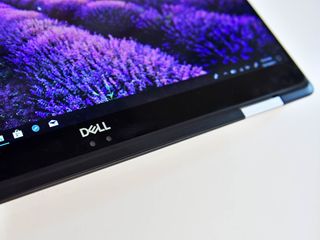 HP's Spectre x360 lineup has proven itself as one of the finest 2-in-1 Ultrabooks on the market, but it doesn't exist without some competition. Whereas Dell's XPS lineup was for a couple of years strictly a clamshell notebook series, there are now 2-in-1 options for both the XPS 13 and XPS 15. Let's take a look at the larger Dell laptop and see how well it compares to the tried and true (and refreshed for 2018!) Spectre x360 15.
Dell XPS 15 2-in-1 vs. HP Spectre x360 specifications
Image 1 of 2
Image 2 of 2
Category
Dell XPS 15 2-in-1
HP Spectre x360
Processor
8th Gen Intel Core i5-8305G
8th Gen Intel Core i7-8705G
8th Gen Intel Core i7-8550U
8th Gen Intel Core i7-8705G
RAM
8GB/16GB DDR4-2400MHz
8GB/16GB DDR4-2400MHz
Graphics
AMD Radeon RX Vega M (4GB)
NVIDIA GeForce MX150 (2GB)
AMD Radeon RX Vega M (4GB)
Storage
256GB/512GB/1TB PCIe SSD
256GB/360GB/512GB/1TB/2TB PCIe SSD
Display size
15.6 inches (touch)
15.6 inches (touch)
Display resolution
1,920 x 1,080 (FHD)
3,840 x 2,160 (4K UHD)
3,840 x 2,160 (4K UHD)
Wireless
Killer 1435
802.11ac (2 x 2)
Bluetooth 4.1
Intel 802.11ac (2 x 2)
Bluetooth 4.1
Bluetooth 5.0
Camera
Front-facing 720p
IR camera for Windows Hello
Front-facing HD 1080p
IR camera for Windows Hello
Biometrics
Fingerprint reader (optional)
IR camera
Fingerprint reader
IR camera
Pen
Dell Premium Active Pen (not included)
HP Pen (included)
HP Tilt Pen (optional)
Ports
Two Thunderbolt 3
Two USB-C 3.1
3.5mm audio
Intel Core i7-8550U model:
Thunderbolt 3
USB-C 3.1
USB-A 3.1
HDMI 2.0
3.5mm audio
Intel Core i7-8705G model:
Two Thunderbolt 3
USB-A 3.1
HDMI 2.0
3.5mm audio
Battery
Six-cell 75Wh
Six-cell 84Wh
Dimensions
13.9 in x 9.2 in x 0.36-0.63 in
(354 mm x 235 mm x 9-16 mm)
14.13 in x 9.84 in x 0.76 in (358.9 mm x 249.9 mm x 19.3 mm)
Weight
Starts at 4.36 pounds (2 kg)
4.59 pounds (2.08 kg)
Price
Starting at $1,500
Starting at $1,370
Dell XPS 15 2-in-1 vs. HP Spectre x360 design and features
HP has refined the Spectre lineup's design, and the 15.6-inch x360 is something to behold. The chassis hasn't changed much since the early 2017 version we reviewed, though the early-2018 refresh brought new hardware inside as well as a few new ports. The dark ash finish with copper accents is still as attractive as ever, giving this laptop an executive air. At 0.76 inches (19.3 mm) thick and weighing in at 4.59 pounds (2.08 kg), this isn't the most mobile laptop out there, though you can excuse it when you see how well it performs.
The XPS 15 2-in-1 is a bit smaller and lighter. The wedge shape has a thickness between 0.36 and 0.63 inches (9-16 mm), and its starting weight is 4.36 pounds. The chassis has a classic silver finish on the outside and a soft carbon fiber inside. Like the Spectre x360, it uses a dual-hinge system to convert into stand, tent, or tablet modes.
Both laptops are available with fingerprint readers and IR cameras for Windows Hello logins, and both have sizable touchpads below a backlit keyboard. Either laptop offers up a satisfying typing experience, though only the Spectre x360 has a full keyboard with number pad.
As for ports, both devices come well stocked. All XPS 15 2-in-1 models are future-proofed with two Thunderbolt 3 (40Gbps), two USB-C 3.1, and a 3.5mm audio jack, while the Spectre x360 has a couple of different options depending on which processor (CPU) you choose. The Core i7-8550U model has a single Thunderbolt 3 (40Gbps), one USB-C 3.1, one USB-A 3.1, HDMI 2.0, and a 3.5mm audio jack, while the Core i7-8705G model has two Thunderbolt 3 (40Gbps), one USB-A 3.1, HDMI 2.0, and 3.5mm audio. If you hate dealing with adapters, you'll no doubt have better luck with the Spectre x360.
Bottom line
The XPS 15 2-in-1 is thinner and lighter, though some will love the darker color of the Spectre x360. As for functionality, the number pad on HP's laptop will be indispensable to some, while the future-proofed ports on the XPS 15 2-in-1 might make more sense for others. Either way, you're getting a laptop with a premium build.
Dell XPS 15 2-in-1 vs. HP Spectre x360 display
Available only in 4K, the Spectre x360's 15.6-inch IPS touch display offers up near-perfect color and contrast, with the added bonus of having HP's Active Pen included. The XPS 15 2-in-1 can be had in a 4K configuration as well, though you could save some money by opting for the 1080p touch display instead. No matter which laptop you choose you'll be getting a quality display, but if you dislike bezels, Dell's laptop beats out the Spectre x360.
The XPS 15 2-in-1 does not have an included pen, though you can purchase Dell's Premium Active Pen (about $100) separately. This pen does have tilt support for easy and effective shading. If you'd like to take advantage of tilt support with the Spectre x360, a separate Tilt Pen (about $90) is available for purchase.
Bottom line
Either way you're getting a stellar touch display with pen support, but only the Spectre x360 comes with an included pen. Likewise, the Spectre x360 can only be had in 4K, while the XPS 15 2-in-1's 1080p option will no doubt appeal to a lot of people.
Dell XPS 15 2-in-1 vs. HP Spectre x360 performance
Both laptops take advantage of Intel G-series CPUs coupled with Radeon graphics chips (GPU) for some impressive all-around performance. The 8th Gen Intel Core i7-8705G CPU available in either laptop has four cores and a clock speed up to 4.1GHz, and in both devices it's coupled with a 4GB AMD Radeon RX Vega M GPU. You won't be able to play demanding modern games on ultra settings, but you should nevertheless be able to get a decent amount of power for a lot of popular titles and even some multimedia editing. Realistically, this GPU should sit somewhere between an NVIDIA GTX 1050 and GTX 1060.
As a second option, the XPS 15 2-in-1 has an Intel Core i5-8305G CPU with four cores and a clock speed up to 3.8GHz. This CPU is likewise coupled with a 4GB AMD Radeon RX Vega M GPU. Instead of a Core i5, the Spectre x360 has a secondary Core i7-8550U option with a 2GB NVIDIA MX150 GPU. It doesn't offer quite as much power as the RX Vega M, but it's still a contender.
Battery life in both laptops will differ depending on what hardware you choose, but both should offer up at least a full workday of life from a single charge. RAM options are basically identical with 8GB or 16GB configurations, and while the XPS 15 2-in-1 has PCIe solid-state drives (SSD) up to 1TB, the Spectre x360 has way more options all the way up to 2TB in size.
Bottom line
The Spectre x360 has more configurations overall, including more storage and two GPU options, but the XPS 15 2-in-1 does offer a Core i5 model that will appeal to those who don't quite need a Core i7's performance.
Dell XPS 15 2-in-1 vs. HP Spectre x360 price
The newer XPS 15 2-in-1 starts at about $1,500 for a Core i5 CPU, Radeon RX Vega M GPU, 8GB of RAM, and a 256GB SSD, and that's with a 1080p display. Cranking up the specs, a model with a Core i7-8705G CPU, 16GB of RAM, a 256GB SSD, RX Vega M GPU, and 4K display costs about $2,200. Adding more storage (256GB isn't much these days) can add up to $550 if you want 1TB, bringing the total price close to $2,750.
The Spectre x360 starts at about $1,370 for a Core i7-8550U CPU, 8GB of RAM, 256GB PCIe SSD, and NVIDIA MX150 GPU, plus you're getting a 4K display. Scaling up the hardware, a configuration with Core i7-8705G CPU and AMD Radeon RX Vega M GPU, 16GB of RAM, and a 1TB PCIe SSD costs about $1,970, which is considerably lower than the XPS 15 2-in-1.
Bottom line
These two devices are similarly priced to start, though all models of the Spectre x360 come with a 4K display and included pen. As you begin to add better hardware, prices become quite skewed, with the XPS 15 2-in-1 costing almost $1,000 more than a Spectre x360 with similar hardware.
Dell XPS 15 2-in-1 vs. HP Spectre x360 conclusion
There are a few main features that set these apart ― like thickness and weight, included pen, full number pad, and port selection ― but I think the biggest deciding factor will remain price or loyalty to either manufacturer.
These two convertibles are pretty evenly matched when it comes to hardware inside, and you should be happy in the long run choosing either. However, you can buy a high-end Spectre x360 for far less than a high-end XPS 15 2-in-1.
Cale Hunt is a Senior Editor at Windows Central. He focuses mainly on laptop reviews, news, and accessory coverage. He is an avid PC gamer and multi-platform user, and spends most of his time either tinkering with or writing about tech.
I went for the Spectre. There were a few reasons, but as stated in this comparison the biggest factor was price. The top spec models were basically identical, but the Spectre was a full £600 cheaper than the XPS. And it includes a stylus and sleeve in the box. There was just no way to justify the XPS... it was just a bad deal in comparison.

Oh yeah, I'd forgotten it also came with a 3 year warranty... The equivalent from Dell is another £170!

The Spectre is a very nice well built machine...I tried one for a while....
Two things that nixed it for me:
1. Bang & Awfulson Speaker are extremely tinny sounding...despite their branding. I spent way too much time trying to get them to right. I expect the Dell has More Normal Decent Laptop Speakers.
2. Immaturity of High Resolution High DPI Apps. When Running the Ultra High Resolution Display I was always bumping into issues when docking with the HP Dock to lower res displays or using Remote Desktop to lower res displays. Here again the Dell would offer the lower res FHD option at 1920 x 1080 to alleviate the headaches UHD creates.

Your link to the spectre is a 404 not found, searching suggests that model isn't yet on their web site, and I've been waiting in vain since mid March for their email telling me it is available to buy. Why have you shown the Dell with BOTH thunderbolt and USB-C ports, but the HP with only the thunderbolt? They are the same ports.

That's odd that they aren't on the US site... Here's a link to the UK site, maybe it'll redirect you... Or maybe given your posting time and the fact that you miss your Psion you're in the UK as well: http://www.windowscentral.com/e?link=http%3A%2F%2Fwww.awin1.com%2Fcread.... USB-C and thunderbolt 3 aren't the same. They share a physical connector, but thunderbolt 3 is much faster and capable of much more than USB-C.

Ok that was weird... Let's try again... https://www.windowscentral.com/e?link=https%3A%2F%2Fwww.awin1.com%2Fcrea... If they break it again go to the HP store and search for "ch004na".

What about the digitizers? What pen technology do they use? HP Spectre x360 2-in-1 from 2016 had Snaptics. Dell has classically used Wacom. Are they updated??? TELL MEEEEE!!!

They both use Wacom compatible. The Dell's new stylus has more pressure sensitivity but uses a AAAA battery. The Spectre pen has a rechargeable battery which plugs into the computer to be charged.

The Spectre x360 uses NTRIG technology ( the same as one used in the Surface Book and Surface Pro). The XPS on the other hand uses a modification of the Wacom technology, Dell calls it AES. Both technologies however are capable of tilt pen support and upto 4096 levels of pressure sensitivity.

which wallpaper or theme is used in the display pic?

I am impatiently waiting for a 32gb configuration of the xps 15 2 in 1 and then I'm pouncing. I hope they release a white 13 2 in 1 as well for my wife. Mobile connect is an awesome feature on dell as well. That really should be baked into windows at this point.

Thank you Cale for the informative article. I totally agree with the comments about the beauty of the Spectre 360. The Dell is no slouch for looks but the design is 3 years old now for the XPS line. One major point which might be helpful concerns the question of price. If you purchase direct from HP online, the price you see is what you will pay (in my experience). Dell however tends to list prices before their discount (which can be large if you work with a sales rep). Also, I originally thought that the two systems were near identical since their component specs are so much the same. The XPS line is one of the top Business machines Dell sells. The Latitudes are their standard line, XPS is top of that. The very best are their Precision mobile workstations. And you can of course get a full business warranty--3 or 4 years of next day on-site repair--when needed. I spoke with an HP rep yesterday and they will not warranty the Spectre with Business quality support. You can only get "mail in" which means that if the system needs repair, you must ship it to them and after repair they ship it back. This is a no-go for Business. You can't exist for 5-7 days w/o your computer and the critical work on the drive. One other point is that the Dell really has some superior refined qualities which I think the Specre x360 lacks. One is the keyboard, which on the Dell has mag-lev keys. Also the deck on the Dell (surrounding the keys) is made of beautiful soft carbon fiber which is not only light but feels wonderful under your wrists besides looking so good. If you look at the size of the two you will see that the Dell is actually smaller, thinner and a touch lighter. In some senses comparing these two is like comparing a new Mazda to a BMW. Both look fantastic but they are not really the same level of quality. If HP were building the Spectre as a Business Class quality machine, they wouldn't hesitate to give it a Business warranty. If you think that is a minor point, please look at HP ZBooks and Elite line of laptops. They are all Business class and have the highest warranty but they cost WAY more!
Windows Central Newsletter
Get the best of Windows Central in in your inbox, every day!
Thank you for signing up to Windows Central. You will receive a verification email shortly.
There was a problem. Please refresh the page and try again.