Dell's Inspiron 15 7559 gets new entry-level model with 256GB SSD for $809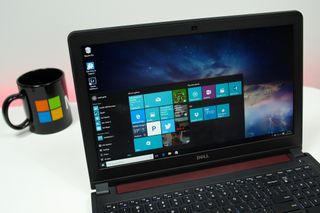 Dell has outed a new configuration for its gaming-centric Inspiron 15 7559 that addresses the one big complaint we had about the laptop in our review: loading times. With this new entry-level configuration, Dell has supplanted the 5400 rpm 1TB hard drive that comes in the base model with a 256GB Solid State Drive (SSD), which should mean much faster speeds and significantly faster loading times.
While the base model we reviewed comes in at $799, Dell says that the new configuration comes in at just $50 more at $849. However, interested buyers can check out Amazon, where the retailer is selling the new configuration for just $809 (opens in new tab).
Aside from the new SSD, the rest of the laptop's specs remain the same as the base model, including 8GB of RAM and an NVIDIA GeForce GTX 960M graphics card. For your money, you'll also get a 2.3GHz Intel i5 processor and a 15.6-inch FHD display.
Are you planning to pick up the Inspiron 15 7559 now that Dell has bumped up the specs at the entry-level? Let us know what you think in the comments below!
See at Amazon (opens in new tab)
Dan Thorp-Lancaster is the Editor in Chief for Windows Central. He began working with Windows Central as a news writer in 2014 and is obsessed with tech of all sorts. You can follow Dan on Twitter @DthorpL and Instagram @heyitsdtl. Got a hot tip? Send it to daniel.thorp-lancaster@futurenet.com.
It seems like a pretty solid deal. Although I wish the display was FHD. The Windows Central Universal Application for Windows 10 Mobile on a Nokia Lumia 830

It is full HD. Says it in the article. There is also a 4K model that looks amazing.

The article says HD. Unless I misread.

Dunno if it was edited, but it is written FHD in the article now.

Ah it must've been edited right after I posted my comment. I'm certain it said HD which just didn't make sense to me. Any $800 laptop should have a FHD display.

Lol, so that is what happened.

Not just FHD, but IPS as well. It is a fricking joke that they still sell laptops with freaking TN panels, let alone high-end ones.

The price seems not too entry level. Cheers.

No, I feel it's okay for the price :-)

Dang, looking to pick one of these up, but the i7 for $840
Wish they would ship the base i7 model with an SSD Posted via the Windows Central App for Android

Quad i5 runs better for games than i7. i7 works too hard and ends up overheating then bogs down. It's proven. I now choose i5 but it HAS TO BE THE QUAD ONE. Dual i5 sucks balls

Thanks, might look into this i5 after all then maybe
We'll see Posted via the Windows Central App for Android

Picked up this computer just a few weeks ago to replace an aging work computer. The i7 model with 1TB hdd and 8gb ram had a ridiculously good sale and I got it for just $700. I don't use it for gaming but hook up an external monitor and do my web design on it. It's a fantastic machine and I regularly work with photoshop, illustrator, dreamweaver, Word, Excel, Chrome, Spotify and a couple other random programs all open simultaneously. The only thing slowing this machine down is the spinning disk hard drive, but it's super easy to take off the bottom panel and add a new SSD and double the ram from 8 to 16 gb. I've read some people complain about the trackpad, but it's treated me fine. I use a mouse through most of the work day, but when I undock the computer from its monitors and power supply and wacom tablet, I use the trackpad in the evening and I find it works fine. I'm using it right now and have no commplaints. The keyboard isn't going to win awards but I'm happy with it. Keys have a very shallow travel but the spacing is nice and I love having the full numbers keypad. The build is definitely plasticky and flexible in parts. The matte plastic is a serious grease collector, so if you're self-conscious of people staring at your computer in public places, you may find yourself cleaning it quite a bit. So there are drawbacks, but this computer delivers where I think it matters most - the performance per price ratio is possibly the best thing on the market right now. I think trading in the build quality of a surface or Mac device is worth keeping this amount of computing power at this reasonable a proce. I am very happy with my purchase and recommend it highly.

I would like to have a touchscreen with 1080p. It's good to see that they are bringing more options, though.

This is pretty old news. I know because I got mine a month ago.

Trust Me...
No Deal is better than this ASUS K501...
http://store.asus.com/us/item/201601AM120000367

So is this version has only the SSD and not the 1TB hard drive?

OFF TOPIC: Can anybody tell me if official win10m update includes firmware for selected phones like Lumia 930 ? Sorry for asking here, my comment didn't get noticed in the comment and I am a bit lazy to post on forums.

But you had enough time to post it here? Seems legit and off-road

Why didn't they put a 1TB SSD in the device? Isn't there such a thing yet? That is a loss in storage. I admit It would hopefully give a faster response, but if it was me I'd also need the added storage, plus the possible added speed. I have this problem with my ASUS Transformer Pad TF700T. Not enough working, and storage memory availability. This makes it to start, and run slowly, and often times it will stop waiting for everything to do a catch up. During this time I can't do anything with the device. Sometimes this can take up to an hour. This includes updating of Apps on the device. Thanks for Listening.

Upgrading both mass and RAM storage on this computer is a cinch. Check the video WIndows Central made for it. It's a great machine and an amazing value. There are some shortcomings on build quality but they keep the price down and I find them very worthwhile tradeoffs.

The entry model of inspiron 7559 costs $1220 in India......... :-(

Has anyone tried going beyond the 16gb RAM maximum per the specs now that 16gb sticks are coming down in price. I know some will say why bother future proofing so far ahead given RAM prices fall over time, but the other way of looking at it is you save spending money on an unnecessary (and soon to be wasted) 8gb RAM stick. In the end I got impatient though and just bought another 8gb stick for SGD$48. ps. Thumbs up to the Windows Central video on the upgrade. It helped convince me to get this model and then do the upgrades to 250gb SSD and 16gb ram :)
Windows Central Newsletter
Get the best of Windows Central in in your inbox, every day!
Thank you for signing up to Windows Central. You will receive a verification email shortly.
There was a problem. Please refresh the page and try again.