Don't install the Windows 10 preview on the Surface 3, says Microsoft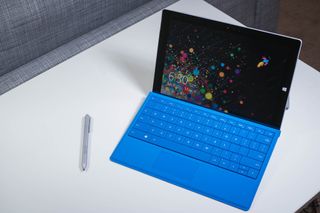 Microsoft has a warning to all those new Surface 3 owners who might want to download and install the Windows 10 Insider Preview on the 10.8-inch tablet: don't do it yet.
Microsoft Community Moderator Barb Bowman posted word on the Microsoft Community support forums on the reason for this call:
Since Windows 10 itself is still heavily in development, we can expect issues like this to occur before it reaches its RTM status. Hopefully, Surface 3 owners will get the go-ahead to install Windows 10 before it reaches that point.
Source: Microsoft Community (opens in new tab); Via: WinBeta (opens in new tab)
Get the Windows Central Newsletter
All the latest news, reviews, and guides for Windows and Xbox diehards.
Probably the first thing many people did

But then they wouldn't have lost anything

Why would u put prerelease OS on my brand new surface? Ppphshh

Agreed. I'm fine cruising with 8 on this until the bugs are worked out. Maybe people aren't stupid, but short sighted.

MS is proving they are listening to feedback from uservoice and the insider preview feedback app. So if you want to help shape your experience and things to come go for it.

How exacty does that make me stupid?

Probably because that would void your warranty!

A) If I'm willing to void my warranty, how does that make me stupid? B) It would seem like a poor way to get help testing their product (Windows 10) if Microsoft void the warranty of one of their other products (Surface 3) if you install it. I doubt they would stick to their guns too much on that and their "may void your warranty" talk is more likely in regards to not guaranteeing other manufacturers will honor their own warranties if somebody bricks their device from installing it. Regardless, I don't care. I tried it and it didn't work very well so I rolled back to 8.1. No big deal. Again, how does that make me stupid?

Well I wouldn't call you stupid because I have my free upgrade 930 with the tech preview on it. Having not had an error rolling back to 8.1 I would think that depending on which retailer you purchased the surface with would not look too kindly with the reason that it broke because you messed around with the OS, that would be in the small print of the company itself. So to sum up, if you paid however many pounds/dollars/rupees/euros/rand/ shirt buttons on a piece of hardware and then the next thing you did was install an unstable OS onto it could possibly be construed as a stupid decision, when knowingly it could could void your warranty!

There is no warranty on software, never was. Warranty pertains to material defects only. I installed W10 on my SP3 and I haven't found anything that doesn't work. I can use my Wi-Fi printers. I run Lightroom and Photoshop (with graphics processor enabled). I run Office 2016 Preview. I can use keyboard, touch and pen. Mind you I did an upgrade, not a clean install.

It should be obvious to everyone that that was about the final product, not the tech preview...

Unified launch? When did they ever say that Windows 10 will be available for PC, tablet, phone, Xbox, Hololens, Surface Hub and IoT all on the same day??? If they said that, then they should definitely be held accountable, if not, then you're speculating.

They haven't and it's already known that the phones version won't be out until a couple months later and the Xbox release is definitely unknown.

Trust me, there will be a person that will try to install it on a Surface 3 and blame Microsoft for it not working...mark my words.

I won't, because my SP3 is running perfectly, but can someone kindly tell me how to roll out back to 8.1?

What's the difference between them? Just wondering, thanks Posted via the Windows Central App for Android

Common on! Really? I think you are joking, right?

Tons of differences, but primarily the power of the machines: Intel i3/i5/i7 on the Surface Pro 3 vs Intel Atom on the Surface 3.

Surface Pro 3 is the older, bigger (12"), more powerful flagship Windows tablet. Surface 3 is the newer, smaller (10.5"), less powerful Windows tablet. Posted via the Windows Central App for Android

Here you go http://lmgtfy.com/?q=Surface+3+vs+surface+pro+3

Surface Pro 3 doesn't has an Intel Atom processor.

Search this site or the Internet for the post that explains exactly how to do that.

Its under update and recovery. Took 5-10 minutes for me to roll back so really not that painful at all.

Easy stuff. Settings l, update and recovery, rollback to W8.1 without loosing bits. But for sure backup Outlook and some others in Onedrive:)

Its the main characteristic feature of Homo Sapiens

I just installed windows 10 on my s3 to try it out and now everytime I boot my surface I get a bsod.

My ATiv S rolled itself back eventually. Now I know it was because of the Intel atom. Nice to know.

There's already someone on the forums here who blamed Microsoft for him installing Windows 10 on a Surface Pro 3.... and it was his only computing device....

Do you have the link please? That would be a nice read ;)

I think it got deleted since I couldn't find it in my participated subscriptions. Makes sense too since it made no sense what the original poster did.

But Windows 10 works perfectly well on the Surface Pro 3, what was he complaining about?

I can confirm that it works smoothly.


I did. Works as expected. I ahve the same problems others with PCs have, but everthing works perfectly. Even the upgarde went without a hitch.

Another large but thick brick.

Guess sone people will have installed it haha

It's to late for me as I've been running it quiet a while without issue. Can someone post a link on how to roll it back to 8.1. Also really without installing it, how will they get feedback? Oh, and I know you can run it in a VM, but I'd prefer not to so I just want to roll my system back to 8.1

Surface 3, not Surface Pro 3.

You've been running it on a Surface 3 for awhile? It just came out... Do you mean a PRO 3? Either way if you've been running it without issues why go back?

You installed it on the Surface 3 or Surface PRO 3?

You can rollback with Settings app I think.

Seems reasonable. What process would someone have to go thru if they did? What happens?

Couldn't people just install the 8 drivers?

Don't do a clean install but rather do an upgrade. All drivers will be preserved intact. Works like a charm.

Drivers for a CPU.. Sounds like AMD

You don't see them, doesn't mean drivers don't exist for your Intel processor.

That's normal because new Atom processor is System on Chip that include GPU and Chipset logics, however CPU have drivers to enable some of their feature

Every single piece of hardware in a PC requires some sort of driver in order for it to work.

If that's what it sounds like to you, you don't understand PC hardware. Every CPU needs a driver for the OS to use it to its full power; there's a basic driver that all CPUs will work with (just like there is for graphics cards so your display works even before the proper drivers are installed), but using that only allows access to the CPU's basic functions. If I remember correctly the original Pentium's with MMX were the first ones to need their own driver, basically for anything beyond access to the core instruction set (that is extended instruction sets like MMX or SSE) requires a dedicated driver.

Good advice, not happy with it on my Dell Venue 11 Pro (Atom, 5130). Tablet mode is buggy, apps disappear, and at times I have to hard power off when tablet mode really shits the bed. Win10 on lap/desktop is much better, I may reinstall Win8.1 on this.

It's not a released product. No point complaining.

Maybe no use 'complaining', but it is worth providing this 'feedback' as it will make the product better and is the whole point of the preview. Posted via the Windows Central App for Android

Pointing out bugs in drivers/software isn't "complaining", it's useful feedback that the makers need to get things right. This is especially true of anything pre-release, hell that's the whole reason companies release beta versionsin the first place!

No, its complaining. Bug fixes and stuff like this are the last thing that go into making an OS. It's useless to talk about it at this stage.

I agree. I hope they get the tablet parts of the is together soon.

I'd like to know how to do that rollback.

Why??? **Sent from W10 Surface 3**

Incoming "too late" comments.

Apparently you're too late XD

I say don't install Windows 10 on ANYTHING, personally. I have it on a test machine only. And I hate it.

Well, to each it's own. Edit: I personally love it!

Runs like a champ on the HP Spectre x360.

Runs like a champ on SP3 too.

I love windows 10 some peopleare never happy

Robert take your hate elsewhere, its spewed all over twitter anyway. It's obvious to anyone that you hate it. Email someone that cares. Personally like W10, and like the direction that Microsoft is moving as a company. ​

I like it a lot on my desktop, but it's been a disaster on my tablet.

yeah, Microsoft took away every good thing W8 introduced for tablets, it's like going back to Windows 7 touch edition. Swipes are meaningless now for quickly switching apps and going back and forward in the browser, the apps are no longer fullscreen by default and tablet mode is a complete mess.

You're clearly in the minority.

Well you seem to be in the minority, most think it's a great step forward. If I had to guess though I'd say you were a Mac user and just posting here to be a prick, your profile picture certainly suggests that.

There are parts of it that I like, parts that I don't, and parts that still have bugs (not really a surprise). Biggest problem, as ever with new Windows(es?) is the lack of drivers from 3rd party (not a surprise either).

It's been great on my desktop for months now

Do you think an average user coming from Windows 7 should holdoff till Surface 3 is available with Windows 10 or do you think the learning curve between 8.1 and 10 is minimal?

Really there isn't much of a learning cover, essentially it is just like using Windows 7. But with live tiles and Windows Store Apps. It is however very different from 8.x as charms have been replaced by the notification centre, search evolved to include Cortana, there are no hot zones to bring up multitasking, a left swipe (from the left hand side) brings up task view etc etc.

Thanks. I think I'll wait before gifting my wife a Surface 3.

It will be much more easy to use Windows 10 if you came from Windows 7 than to learn to use Windows 8 or 8.1 if you came from Windows 7, the Start Menu is back and if you don't need the metro apps you can just hide them and your PC will behave the same as in Windows 7.

If you got used to Windows 8 for tablets, you will hate Windows 10 as it is now, went back on everything good for touch interfaces and tablet mode is a joke.

Did it on my hp stream 7 and bricked it

Wish I'd heard this before I loaded it on my Atom powered Toshiba Encoure 2 8". Windows 10 has made it almost unusable.

I think it's specificially the new x5/x7 Atom processors that don't have drivers because they're so new (Surface 3 is the first device with it I believe). Older Atom processors should have compatible drivers but I guess that doesn't mean they're any good.

My advice would be to avoid installing Windows 10 Preview on Atom Clover Trail (Atom 3rd generation - before BayTrail ) devices.
These are the first devices that came installed with Windows 8. Windows 8.1 worked well on these, but Windows 10 preview didn't and I got my device bricked.

So how would I do that? I've searched for a way to do that, but couldn't find anything.

If you didn't removed your recovery partition, you should be able to restore your device to factory settings. I hope I had done this on my Acer Iconia W510 after the 1st Windows 10 preview, but I didn't and my device got bricked about 3 weeks ago.

But your Toshiba doesn't have an x5/x7 Atom though. You have some other issues.

How were you able to install W10 TP? I've tried twice on my Toshiba Encore 2 8 inch tablet and I keep getting can't install because of "compress OS" error.

Runs like ass on Pro 3 too

I came to the comment section but didn't find it.sooo ... Rollback coming?When in India?

The thing that surprises me the most is there's no "is the current processor supported" checks. Or, rather, it sounds like the check is against a blacklist instead of white. Either way, they couldn't update the list before the S3 went on sale? Seems like a no brainer...

Windows 10 is currently in beta and you run it at your own risk. If you're not intelligent enough to check an OS that's in beta's compatability with a brand new CPU then you probably shouldn't be testing a beta version of an OS in the first place.

And how exactly would one check to see if Windows 10 was compatible with the CPU or not? Is there a list? If there is please link it because I haven't seen it. Yes it is a beta OS, but seeing as said beta OS is updated fairly frequently it would not be entirely unreasonable to think one of those updates included support for the Surface 3, especially setting as they are the same company and all.

Intel makes the Surface 3? The problem is with the CPU.

Why would they include that? It's a technical preview for a reason. Even if a CPU isn't supported, what if someone wanted to install it anyways on a test machine?

I hate to say this, but the Windows 10 preview bricked my Acer Iconia W510, its not able to boot anymore. I went to Acer support and they said the hard drive was damaged and the motherboard required a replacement. They charged me $560 (US dollars) for a repair and I say no. Its my last Acer purchase forever, I won't purchase Acer again. And is also my last Windows preview I install.

I find it hard to believe that the Windows preview 'damaged' your hard drive and mother board so that it had to be replaced.

If it's bricked then just try to repair it yourself...

There is no way that installing an OS physically damaged your hardware, that simply cannot happen. If it's just bricked then you can easily fix it yourself, but if some piece of hardware in it has actually gone then it must just have been bad timing. Software can make a compnent work hard and that can cause a failure, but the fault must have already existed in the hardware; software alone can't physically damage a piece of hardware. Unfortunately Acer make shit hardware and that's the most likely cause; they're cheap, but you get what you pay for.

actually it is possible though highly unlikely to cause physical damage using wrong / faulty software. a whole host of things have to go wrong but it is not impossible per se. there does not need to be a fault in the hardware either, the firmware accepting incorrect input e.g. could do the trick. one scenario would be the firmware through an oversightm (or the usual code reuse) accepting settings from the os designed for another chipset of a similar series. this could lead to all kinds of problems, e.g. setting power parameters too high. this can actually physically brick your device. however it is very very unlikely so 99% i would call bs if a manufacturer tries to put the blame for a hardware fault on the user installing a preview os with incorrect drivers. if nothing else the system should catch and handle the error before it causes damage.

Software destroys hardware? Give me a break. W10 doesn't alter the firmware at all.

I was also wondering about that. Has nobody else see this?

My guess is that knowing they don't have proper drivers available the Windows team are attempting to prevent receiving a lot of needless feedback (noise) about problems they already know will not exist in the future, hopefully soon, when the missing parts are ready--eliminating the need to discern that type of issue and more effectively using their resources. They're not saying it won't work at all, just requesting Surface 3 Insiders to leave it alone for now.

Just install it on a separate partition. But make a recovery disk before it anyway.

Dont tell me what to do Microsoft....

They only tell you what not to do.

The only reason why i was to purvhase it as a win10 play around machine , thank god i was lazy to put in an order last night

Why woud I want to install Windows 10 on a brand new machine costing €729.99?

What's the cost got to do with anything, or the age of the machine for that matter? I spent over £1,000 on a new desktop a few weeks ago and immediately put Windows 10 in it, are you saying I should have because it's not a cheap PC? There are perfectly good reasons for not running Windows 10 on a tablet (or possibly even a laptop) at the moment, but it has nothing to do with the cost or age of the machine. Tablets (and to a lesser extent laptops) contain a lot more specialist hardware than a desktop does, hardware that require their own drivers and that means they're more likely to be incompatible with a new OS. The cost of the device really isn't relevant though.

If everything would go bad, isnt it easier to lose a £100 machine than a £1000 machime?

So there actually are drivers availible from Microsoft directly here: https://www.microsoft.com/en-us/download/details.aspx?id=38826 You just click download and Select Surface3.msi or Surface 3.zip. I have personally tested this and it worked great for me on Windows 10 build 10074. I installed Windows 10 as a VHD boot so i did not have to partition the physical disk and I can dual boot 8.1 and W10. Previously i just used DoubleDriver to copy the drivers straight from the 8.1 Installation the ships with the Surface. Your milage may vary but I have fully working drivers using the offical Microsoft link above. Don't blame me if it bricks your devices ;-) I reccomend making a USB Recovery key first! If you already installed W10 than you can download the Surface 3 Factory Recovery Image from Surface.com/Support Here is a write up about Dual Boot with VHD: http://www.nextofwindows.com/native-vhd-boot-to-windows-10-technical-pre... FYI you will need to make sure that Device Encrytion is turned off or you will not be able to boot into Windows 10. Disk Encrytion is enabled by default when you sign in with a Microsoft Account.

Why would you drunk your new Surface 3 with a preview OS, that's like using money to lite cigars like an idiot.

Barb Bowman? Interesting having her represent part of Microsoft's tech group. Since when did she become a moderator?

Yeup, three nights ago the first thing I did was try to install windows 10 on my new surface 3.... after installing windows 10 and noticing that the GPU preformance was basically shot because it was using a generic driver.... I reinstalled windows 8. At the time of purchase of my surface 3, I was un aware of the fact that it was using a BRAND new chipset.... Which im excited for personally.