Pre-order DOOM for Xbox One and get the original games for free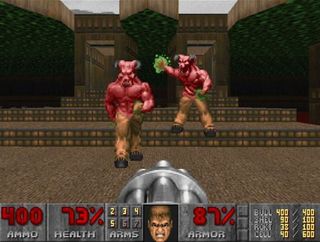 Fans of the DOOM franchise can now pre-order the upcoming revamp of the first person shooter franchise now on the Xbox Store for Microsoft's Xbox One console. If you do pre-order the game from developer id Software and publisher Bethesda Softworks, you will be able to get the original DOOM I and DOOM II for free.
These versions of id Software's first DOOM titles were made available for the Xbox 360, but are now playable on the Xbox One via its backwards compatibility feature. Both games normally cost $4.99 each. In addition, DOOM pre-orders also get access to the Demon Multiplayer Pack, which includes a new armor set with three different skins, along with six Hack Modules, six metallic paint colors, and three versions of id Software's logo that can be applied to the game's weapons and armour. DOOM is scheduled for release on May 13.
See at Xbox Store (opens in new tab)
Related: Our full DOOM Eternal Xbox One review
Mah birthday! Whoo! Great news

Damn. I own both of them already. It'd be nice to be able to get them as codes to give to someone else. My free Just Cause 2 was a code, so I might be in luck.

I thought that too. Doom 1 and 2 aren't enough to make me pre-order after the bad taste 3 left in my mouth

Axmantim: What didn't you like about doom 3? LOVED that game... Bought a gaming PC just for it back in the day.

To me, in my humble opinion, it didnt have the essence of the old doom games. It was like a darkness simulator that was just trying to startle you when things pop out. On it's own as something other than a doom game, I don't think it was done bad, but slapping the doom name on it just didn't fit in my eyes.

If you didnt like Doom 3, why are you bothered then? o_O

I could not finish Doom 3 because it scared the sh** out me with those jump scares and satanic whispers.

What an awkward game! Yuck!!

I think I've had Doom on every system I've owned since the SNES. I even had Doom RPG on my old flip phone.

Shame we never got Doom RPG on Windows Phone.

Or in fact, any good games :(

Didn't even know the originals were available on there. I will go for this.

Awesome.. Doom games scared the hell outta me as a kid..

For me DOOM = PC Gaming. Not sure I can break that line of thinking and get this for the One.

I hope they come out with it for PC. Doom 1 & 2 with new graphics would be cool

Pre-order? I've learned my lesson from the SimCity and Aliens: Colonial Marines days.

You're forgetting Duke Nukem as well. As you should. Lol

Yup. Never went for Duke Nukem Forever because...Duke Nukem.

Ugh don't remind me lol. Posted via the Windows Central App for Nexus 5x

would be nice to have the same promo as Quantum Break, buy xbox one version get PC for free but I know this is not a first party game like QB but still would be sweet.

I have a PS4, do I get it too?

This is an Xbox promotion, so no.

and you forgot the "o" between the 'P' & 'S4'.

LOL!!!!! Now that's Funny!!!! :p

Why can't we have DOOM for WP :(
Windows Central Newsletter
Get the best of Windows Central in in your inbox, every day!
Thank you for signing up to Windows Central. You will receive a verification email shortly.
There was a problem. Please refresh the page and try again.