Dragon Mania Legends Revisited – Updates add Shadow and Light elements to the mix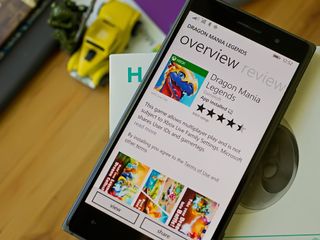 For those not familiar with Dragon Mania Legends, it is a Windows Phone game where your breed and train dragons. Dragons that will help you defend the homeland of Draonlandia from a pesky band of Vikings and their dragons.
The game has elements of a city builder where you build and manage habitats, farms and temples that are used to develop your dragons. It also has turn-based combat element where you can battle not only the Vikings but other Dragon Mania Legends players as well.
Available for both Windows Phones and Windows devices, Dragon Mania Legends has been a staple gaming title on my Windows Phone for some time now. A recent update to the Xbox game has delivered a host of new features to the game, such as two new dragon types, new islands to conquer and new structures to manage. In many ways, this latest update has breathed new life into what was already a very entertaining gaming title.
There is a lot to Dragon Mania Legends and before we touch on the updated features, here is a general overview of the game. We won't touch on all the aspects of the game. However, it is not a difficult game to pick up plus there is a host of tutorials and a hefty help section to guide you through game play.
Dragon Mania Legends is set in the mythical land of Dragonlandia. A land that has been scarred by Viking invasions and it is your job to rebuild the land and fight off the Vikings in a series of island campaigns. You do so by breeding and training dragons and the game has over 200 species of dragons to raise. Each dragon has a unique set of elemental powers that will be used in the combat sequences. The elemental powers include the likes of fire, earth, wind, water, electricity, metal and more. Each element has their own strengths and weaknesses against other elements.
Here are a few of the key gaming features of Dragon Mania Legends:
Raising dragons will require you to build and manage habitats, farms and temples. The breeding center is where all the action takes place, which results in eggs being available for the hatchery. You can mix/match the different dragon types to spawn new dragons.
Dragons generate gold that can be collected throughout the day and fund new buildings, upgrades on existing structures, buying seeds for the farms and in some cases buy new dragons. You also have gems that are earned during game play that can be used to speed up time or buy new dragons.
Farms have the ability to generate food, which is used to feed your dragons and build their experience level. The dragon will begin its life as a small pup and around level four, will transform into an adult dragon. The higher the level dragon, the better odds it will breed a unique or rare dragon.
There is a combat element to Dragon Mania Legends. You have opportunities to battle the Vikings and their dragons in the island campaigns, as well as battle your friends or other Dragon Mania Legends players in the Dragon League. You can use up to three of your dragons in combat and the battle is played out in turn-based fashion. You choose your dragon's element and a power meter appears that will determine the strength of your attack.
Along with your building management duties and tackling the island campaigns, Dragon Mania Legends also has a series of quests. These quests are based on managing structures, breeding dragons, training dragons and a few combat goals. For example, one quest may call on you to build a specific number of farms or one may call on you to defeat a number of earth dragons. These side quests help add to the amount of gaming involved with Dragon Mania Legends and an easy way to earn experience and gold.
There is a time management element with the game in that every task requires a little time to complete. From breeding dragons to building a farm to waiting for the dragon egg to hatch, it will take time to accomplish these tasks.
Update Delivers New Adventures and New Dragons
While Dragon Mania Legends was an outstanding game to begin with, the recent update delivers a host of new features that increases the appeal the game has. The update takes Dragon Mania Legends to version 1.5.0z and includes the following new features:
Two new dragon types: The number of species of dragons seems to grow weekly with Dragon Mania Legends, but the elemental types of dragons have remained constant. The updated game introduces you to two new elemental types of dragons, the shadow and light elements. The shadow elemental dragons include 17 new species and the light elemental dragons includes 12 new species of dragons. Each has one pure elemental dragon species while the others are hybrids possessing a combination of elements.
Two new island campaigns: Along with the two new types of dragons, the update delivers two new island campaigns that are modeled after these dragons. There is the shadowy island of Gloamis to conquer and the lighter island of Illumina to visit.
New Legendary Elemental awakening: The more advanced or higher level dragons are considered Legendary and possess stronger attacks and are equally as difficult to defeat in battle. With the update, once you advance your Legendary Dragons to level 20 and then at level 30, you will unlock hidden elemental powers. While formidable as is, this will make them more valuable to the fight against the Vikings.
Book of Dragons: The Book of Dragons is a new feature that documents the entire dragon collection. You can compare dragons, view the dragons you own and the dragons you may want to pursue. The dragon listing will show the cost of the dragon, what elemental powers the dragon possesses, a snippet on the dragon's background, how much gold it will generate in an hour and the starting health points. Unfortunately, it will not show the breeding lineage.
Tranquil Garden Island: Real estate is at a premium in Dragon Mania Legends with only a few islands to purchase and develop. I believe the original version five islands and a sixth island was added a few updates ago. The latest update includes a seventh island, the Tranquil Garden, to offer a little more room for expanding your habitats, farms and temples. You'll need to own all the additional islands before you can buy Tranquil Island and while the cost is not available until you are eligible to buy, my guess is that it is north of 25 million gold coins.
You also have a new Dungeon Token Multiplier that will give you a temporary boost to double the number of tokens received after each Dungeon battle. Dungeon battles are available from the island campaign screens and are daily battles to help train your dragons. The tokens you earn during the Dungeon battles can be used in the Dungeon shop for exclusive dragons and other rewards.
Revisiting the Game – Is it still worth the investment?
One of the bonuses that Dragon Mania Legends offers is a daily reward for playing. These bonuses include extra coins, food, scrolls for training and gems. I have been enjoying the Windows Phone version of the game for a little over 220 days now and still find the game to be an enjoyable way to pass the time. I can spend a few minutes here or there battling dragons, managing my farms or breeding new dragons. The game is also strong enough to pull you into things for longer periods of time.
I wasn't a fan of the increase in the amount of food and scrolls required to level up or train your dragon that happened earlier this year, but continued to find the game itself entertaining. The graphics are nicely drawn up and the animations for the dragons give each of them a personality of sorts. The time management aspect of the game helps give game play a little more longevity and the battles offers challenges not only in strategy but also timing.
In just using the updated version of Dragon Mania Legends for a few days, it adds to the appeal of the game with the influx of new dragons and new island campaigns. I'm partial to the new shadow dragons (the first one reminds me of Stitch from Lilo and Stitch) and both new dragon types add a new aspect to breeding.
I will say there have been times that I have experienced connectivity issues with the game but my data signal strength could easily be the culprit. Speaking of which, you will need a data connection to play Dragon Mania Legends. The game is universal and available for both Windows Phone and Windows devices. Game play is transferrable between devices using your Xbox Live account or Facebook account. It's worth mentioning that the game is also available on other platforms, which expands the pool of gaming opponents you can battle in the head to head arena.
If you are looking for a quality game to spend a little time with, Dragon Mania Legends is worth checking out. It is a free gaming title but has several in-app purchase opportunities. If you've tried Dragon Mania Legends, let us know what you think of the game in the comments below.
Get the Windows Central Newsletter
All the latest news, reviews, and guides for Windows and Xbox diehards.
George is the Reviews Editor at Windows Central, concentrating on Windows 10 PC and Mobile apps. He's been a supporter of the platform since the days of Windows CE and uses his current Windows 10 Mobile phone daily to keep up with life and enjoy a game during down time.