Dumb Ways to Die 2: The Games - A collection of mini-games where survival is essential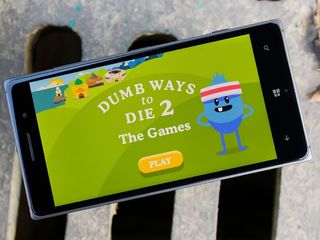 There is a large selection of time waster games in the Windows 10 and Windows Phone Stores. These are uncomplicated games that have a simple goal but reaching that goal isn't as easy as you would think. Dumb Ways to Die 2: The Games is one such offering.
The game consists of thirty-six, death-defying games. Your goal is to complete these games, stay alive as long as possible and rack up tons of points. The games aren't very complicated and often involve swiping or tapping at the screen at the right time to avoid a deadly danger. Such as avoiding javelins that are being thrown at you.
We snuck a peek at the game last week and found it to be a unique, entertaining time waster of a game. Dumb Ways to Die 2: The Games is available from both the Windows Phone and Windows 10 Store, which also includes support for low-memory Windows Phones. All in all, Dumb Ways to Die 2 is a fun, light-hearted game worth checking out.
The main menu for Dumb Ways to Die 2: The Game is presented to you in village style with a rail train delivering you to the various event arenas. You will find a hamburger menu in the upper right corner that opens up options to mute the sound, view the credits, visit the Dumb Ways to Die 2 YouTube channel and visit the gaming shop.
The gaming shop offers you the opportunity to purchase tokens that are used to participate in exclusive games to unlock new characters for your map. One really nice feature in gaming shop is the ability to send the game into kid's mode where the shop options are removed to avoid your kids accidentally buying a boat load of tokens.
The game map includes four arenas full of simple but challenging games. You also have the Dumbest of the Dumb arena where you can compete to unlock new characters (costs a token to play) and a Challenges arena where you can compete against Facebook Friends.
Along with the arenas, you have train stops that will challenge you with mini-games that will award you a safety bonus to your overall score. The map also includes a Team Leaderboard where you can pledge allegiance to your favorite Dumb Ways character and dominate the other teams and a link to the Dumb Ways Mall (online portal) where you can buy toy versions of your favorite character.
Now to the games. The mini-games are brief, lasting only a few seconds and involves simple mechanics such as tapping the screen, swiping at the screen or using the tilt sensors to guide or balance characters. Instructions on how to play each game appears briefly before the start of the action and your game timer consist of a black bar that runs the length of the screen.
Games are timed, requiring only a few seconds to complete and some of the memorable games that stand out in my mind include:
Shark Jump where you tap the screen to have a water skier jump over a shark cage (reminiscent of a Happy Days episode).
Electric Fence Hurdles where you tap the screen to jump over high-voltage hurdles
Diving off a high-dive into a kiddy pool
100 Meter Piranha Freestyle where you tap the screen as fast as possible to outswim a school of hungry piranhas
Wing Walking where you use your Windows Phone tilt sensors to keep your player balanced on an airplane's wing
There are thirty-six mini-games in all. Each game completed will earn you points and you are afforded three lives. Failing a level will cost you one life and your character typically meets a tragic fate.
Dumb Ways to Die will keep you on your toes and does have a slight addictive pull. The only nit I can offer for the game is that it takes forever for the commuter train to get to each of the arenas. I like the Safety Bonus games, but they do delay getting to the heart of the game.
The Dumbest of the Dumb arena is a nice touch and gives you the opportunity for a change of pace and to earn new characters for the game. Granted you have to reach the points goal to get that character, which may be a tough nut to crack.
Overall Impression
Even though I would like the transitions between arenas would move along faster, Dumb Ways to Die 2: The Games is a fun time waster of a Windows Phone game. Graphics are minimal, animations humorous and game play challenging. The mini-games will test your skills at timing, speed, concentration and soft touch.
I'm not sure if Dumb Ways to Die 2: The Games can hold up to marathon gaming sessions, but it is a solid title to have tucked away in your gaming library. The gaming title is available from both the Windows Phone and Windows 10 Store, which also includes support for low-memory Windows Phones.
We like the game and if you give Dumb Ways to Die 2: The Games a try, let us know what you think of things in the comments below.
George is the Reviews Editor at Windows Central, concentrating on Windows 10 PC and Mobile apps. He's been a supporter of the platform since the days of Windows CE and uses his current Windows 10 Mobile phone daily to keep up with life and enjoy a game during down time.
So that means it lags on the 830, 730 and anything lower than that?

Lags on 535...microSD installed

On my 640 doesnt lag.
installed on microSD

Not lagging on Lumia 520 installed on class 10 SD card.

Perfectly fine on the 930 win 10 preview

Is this the game that was on Android like a year ago, or was that just Dumb ways to die?

It looks like this is the second installment of that game

Which also came out about a year ago. I see that the devs only bothered to port the free-to-wait sequel as opposed to the truly free first game.

Dumb ways to die...(whistles melody)...

Man its impossible to score higher than 1200~1300.

Title hints giving some ideas for next Gen Suicide but actually its not

Really liked playing the first one on my Fire tablet. This one is just as fun and challenging. BUT, I can't play any of the game involving the gyro (level whatever), anything involving tilting the phone. The game doesn't register phone movement. Perhaps this is a W10M preview issue. But other apps (Level for one) so work. But still a fun time waster.

Yes, it looks like a bug in the preview. The gyroscope registers sporadically or doesn't at all. Using a L920.

Decent time waster but playing anything on my 920 these days, drains the battery faster than a bucket full of holes lol.

Yeah this game is a battery killer =(

F***! I hate this game...!!! ;)

Not lag on l535. BTW! Is it the new Microsoft unreleased phablet??

Anyone can tell me what exact model is that phone shown in the first pic?
Windows Central Newsletter
Thank you for signing up to Windows Central. You will receive a verification email shortly.
There was a problem. Please refresh the page and try again.