EA Access for Xbox One adds six PopCap games, more titles coming by end of 2016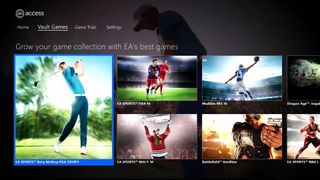 Electronic Arts has added the Throwback Pack to its EA Access service for the Xbox One console. Subscribers will be able to play six Xbox 360 games from its PopCap studio on the Xbox One, via its backwards compatibility feature, for free.
The games that are included in the pack are Heavy Weapon, Bejeweled 2, Bejeweled 3, Feeding Frenzy, Feeding Frenzy 2 and Zuma. With these new additions, EA Access now has 31 games in its Vault that can be played for free with a subscription of $4.99 a month or $29.99 for 12 months (opens in new tab) for Xbox One owners.
In a blog post, EA stated that it will be adding even more older Xbox One games to the Vault by the end of 2016, including EA Sports UFC 2, Mirror's Edge Catalyst and Star Wars Battlefront. On October 13, EA Access subscribers will also be able to play a free 10-hour trial for Battlefield 1 before the full version of that first-person shooter is released on October 18 for Early Enlister buyers and October 21 for all other players.
See at Microsoft Store (opens in new tab)
Get the Windows Central Newsletter
All the latest news, reviews, and guides for Windows and Xbox diehards.
Don't they go in a loss for giving so many games for a small amount?

They don't give us new releases just old ones.I think it's still good for gamers who don't own those games yet

The games are not that old. Look at forza motorsport 5 or horizon 2 its not even free yet! And mirror's edge is not that old

Games get added about 6 months after release. These are just some old arcade titles they are adding to. EA ACESS is a genius stroke. People like me who rarely bought EA games ever now pays EA 29.99/year. It allows people who don't buy their games the chance to play them way after launch for a great price. Looking at Fifa 17 launch it shows that it doesn't affect their normal games sales. It's just extra revenue across the board for EA.

No. They are all games that have made the bulk of their revenue. If the game is making no money and I put it in the vault for $5 a month and that one game counts toward 20% of the playing time of 500,000 players, that's an additional $1 million you can count toward that game. Basically, once EA figures a game has maxed out its revenue potential, it goes into the vault. The annual sports games have been hitting the vault just in time for the new one to come out. I saw all of these games in my download queue and I wondered why. Now I know.

This is a great subscription, if you say you hate EA due to **** in the past, reconsider. You'll have a different opinion. I have more faith in EA than what I once had in Ubisoft Posted via the Windows Central App for Android

yes!! was waiting for free Battlefront!

Me too, and also Mirror's Edge Catalyst - I almost bought this on Deals with Gold but decided to hold off due to a couple of reviews. Can't complain when I'll get it play for "free" as part of my sub. It's really good value

Would like to see far more BC ones, would add a lot of value. Come on Warp.

Would love for the last NCAA Football game to make it to the backwards compatibility list but after the lawsuit that's probably dead.

I will be downloading those as soon as i get home!

This subscription is best

I'm surprised EA Access never comes up when comparing PlayStation vs Xbox ecosystems. it's an incredible value. I wouldn't be surprised to see Ubisoft do something similar in the next year or so.


I downloaded a bunch of them, already plugged away at Feeding Frenzy 2, I really like those games. Can't wait for Catalyst to come to the vault.

I feel a wee bit sorry for the PS4 crew. EA Access is a great bargain that Sony won't allow.

Yep, EA Access is awesome value. One of the best purchases I've made on the One.

I think Sony decided to opt out of EA Access and put it's efforts behind their streaming service instead.

It's actually because it breaks the agreement they have with all the publishers for the PSN Plus games. Because PSN Plus is a rental service. The games free each month aren't the consumers to keep. They feel EA should bring their games to Sonys rental service instead of have their own Rental service. Which is why PS4 gamers are missing out.

Xbox Live Games for gold is different. It's free games you keep. Therefore no agreement with publishers. MS give you back some of that money XBL costs and pay the publishers money foe allowing them to give away their game for free for a month.

For 360 games that's true. For the Xbox One games you have to maintain your Gold subscription, or else they go away.

I thought I'd read something like this. If you forgot to renew your Gold, would the games come back once you renew your sub, or have you lost access to them

The games remain yours, just inaccessible while not gold. So if you come back to gold, the games come back to you.

I wish they would make a subscription for Fifa and such annual games where you could sign up for 20 or 30 a year to get the new game...I only buy them every few years now as generally the changes are not that big apart from players/teams.
If there were a cheaper annual subscription instead of a yearly 60eur for a "new" game every year I would sign up.