List of EA Play Titles in Xbox Game Pass
Xbox Game Pass and EA Play join forces to bring over eighty titles to the service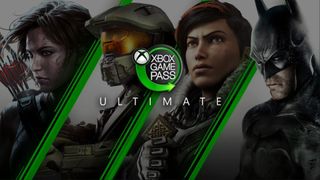 (Image credit: Xbox)
It wasn't too long ago that it was announced EA Play would be joining Xbox Game Pass Ultimate, as well as on Xbox Game Pass for PC. Bolstering the library of the already quickly growing service at no additional cost. EA Play is set to join the service on current and next-gen Xbox consoles on November 10th, and PC in December. Some titles will also eventually be supported by the cloud, allowing for mobile play on Android devices.
Xbox Game Pass Ultimate members will receive the full benefits of EA Play. This includes discounts, ten-hour trials on games that include early access to upcoming new titles, in-game rewards, and more.
All-In-One Service
Large library of games at a low cost

Xbox Game Pass Ultimate combines a large gaming library for console and PC, Xbox Live Gold, and Xcloud into a single package.
List of games in EA Play coming to Xbox Game Pass
Essentially it is every title under the previously known EA Access branding, which is now known as EA Play. Over eighty titles are coming to Xbox Game Pass Ultimate users, with a ton of fan favorites. We've compiled a quick list of everything found currently on the Xbox EA Play homepage. This could change over time, as titles may be removed, replaced, or added in as new releases come out.
Rocket Arena
Peggle
Peggle 2
Feeding Frenzy
Feeding Frenzy 2
BLACK
Heavy Weapon
Bejeweled 2
Army of Two
Crysis
Crysis 2
Crysis 3
Dead Space
Dead Space 2
Dead Space 3
Dead Space: Ignition
SSX
Shadows of the Damned
Alice: Madness Returns
Fight Night Champion
Zuma
Zuma's Revenge!
Need for Speed: Rivals
Need for Speed: Heat
Need for Speed: Payback
Need for Speed
Plants vs. Zombies
Plants vs. Zombies: Battle for Neighborville
Plants vs. Zombies: Garden Warfare 2
Plants vs. Zombies: Garden Warfare
EA Sports FIFA 20
EA Sports FIFA 19
EA Sports FIFA 18
EA Sports FIFA 17
EA Sports FIFA 16
EA Sports FIFA 15
EA Sports FIFA 14
EA Sports NHL 20
EA Sports NHL 19
EA Sports NHL 18
EA Sports NHL 17
EA Sports NHL 16
EA Sports NHL 15
Madden NFL 20
Madden NFL 19
Madden NFL 17
Madden NFL 16
Madden NFL 15
Madden NFL 25
EA Sports NBA Live 19
EA Sports NBA Live 18: The One Edition
EA Sports NBA Live 16
EA Sports NBA Live 15
Mass Effect
Mass Effect 2
Mass Effect 3
Mass Effect: Andromeda
Titanfall
Titanfall 2
EA Sports Rory McIlroy PGA Tour
EA Sports UFC
EA Sports UFC 2
EA Sports UFC 3
Skate
Skate 3
Sea of Solitude
Anthem
Medal of Honor: Airborne
Dante's Inferno
Battlefield Bad: Company
Battlefield Bad: Company 2
Battlefield 1943
Battlefield 3
Battlefield 4
Battlefield: Hardline Standard Edition
Battlefield V
Battlefield 1
Dragon Age: Origins
Dragon Age 2
Dragon Age: Inquisition
Unravel
Unravel Two
A Way Out
Burnout Paradise Remastered
Fe
The Sims 4
Star Wars: Battlefront
Star Wars: Battlefront II
Star Wars: Jedi Fallen Order
Mirror's Edge
Mirror's Edge Catalyst
You can currently join Xbox Game Pass Ultimate for $1, normally $14.99 a month, and gain access to a library of over a hundred titles. This library will only expand even more with EA Play joining the service on November 10th, while also bringing additional perks at no additional cost. You can find the FAQ for EA Play joining Xbox Game Pass on the EA Play website.
Xbox Series X/S
Main
What is the Xbox Series X release date?
How much does Xbox Series X cost?
Why you can't preorder Xbox Series X yet
Get the Windows Central Newsletter
All the latest news, reviews, and guides for Windows and Xbox diehards.