Enhance your Forza Motorsport 6 experience with these offers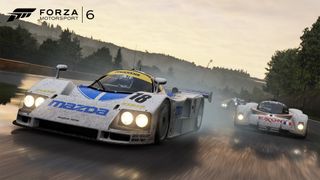 Forza Motorsport 6 is now available on the Xbox One, letting you race 460 cars across 26 locations. For fans of the Forza series, Microsoft and Turn 10 are offering a number of ways to get more out of the game, or get started on your Xbox One racing journey.
First up is the Xbox One Forza Motorsport 6 Limited Edition Console. This console bundle features a brand new racing theme, with a matching wireless controller with rubberized diamond grips. The console comes packed with a 1TB hard drive, along with a digital copy of Forza Motorsport 6 for $399.
For those that already have an Xbox One, Turn 10 is offering a couple of ways of getting new cars and other perks. The Car Pass, available for $29.99, offers six monthly car packs holding seven cars each. Car Pass content will be available beginning in October 2015.
The VIP Membership, on the other hand, is mostly about immediate perks. For $19.99, players can get five exclusive cars: 2013 Ferrari 458 Speciale, 2012 Aston Martin V12 Zagato, 2013 Lamborghini Veneno, 2016 Ford Shelby GT350R and the 1997 McLaren F1. You'll also get other rewards like double racing earnings, invites to exclusive online events, and community gifts.
Forza 6 owners can also now purchase the Fast & Furious Car Pack, which features vehicles from the movie franchise. The pack costs $9.99, but owners of the Ultimate and Deluxe Editions of Forza 6 can get it for free.
Microsoft Stores are getting in on the Forza action with some in-store experiences and discounts. On September 26 and 27, some stores will offer fans the opportunity to play on the Rio Track in the Ford GT Mustang with the Playseat Forza Motorsport Racing Seat, as well as the Thrustmaster TX Racing Wheel Ferrari 458 Italia Edition. You can win a prize pack form Microsoft and Thrustmaster if you get the fastest time. You can also get 25% off the Playseat Forza seat, and Thustmaster racing wheel.
Be sure to read the Windows Central Forza Motorsport 6 review for our thoughts on the game.
Get the Xbox One Forza Motorsport 6 Limited Edition Console from Amazon for $399 (opens in new tab)
How much would this game cost if you bought all the dlc???

Individually the game plus the DLC costs $120, but the ultimate edition costs $100 and includes everything.

Why not in Phones...? Game looks awesome

Forza 6 is around 45GB with 460 cars, 26 tracks, 1080p graphics and 60fps frame rate. It's also one of Microsoft's console crown jewels. That's part of why you're not getting it on a phone. ;-)

All the more reason why a mobile version should be developed exclusively for Windows 10 Mobile.

It's not as easy as you make it sound you know. For starters the ForzaTech engine is what makes the experience what it is. And it's built around the Xbox One hardware.

Yeah, guess you're right. But still.....

Never on phones, never on PC. It is what has helped Turn 10 continue to improve on the game with regular releases. Minecraft is a good example of what happens when a company starts dividing their attention.

Err... Nobody is saying a direct port. Don't we already have alternative versions of XBox games on phone like Mirror's edge, Halo, etc? This could be one.

Kinda bummed that the LE console only comes with the standard version...but at least it comes with forza controller.

I want to pick up a racing wheel for this game, but I don't know which are good. Any recommendations? I've been looking at the thrustmaster 451 ferrari, but don't know it it is any good? Windows central, we need some reviews please!

I bought the Thrustmaster Ferrari 458 Spider wheel and am quite happy with it. For the money, I don't think you can do better, and the reviews I've read are all very good. Plus, you get the Ferrari logo, so what could be better?!

Askerrep, take a look at isrtv.com and Arstechnica.com, both of which have reviews of the various XB1 wheel/pedal offerings. I think simpit.com does also, and Youtube is full of people's impressions as well. You may get a bit of sticker shock if you spec out the Fanatec gear... Everyone: I was very interested in "You can also get 25% off the Playseat Forza seat, and Thustmaster racing wheel." Then I remembered that MSRP on this is $399, and the 'Egg and Amazon already have it every day for $299, which is the same 25% 'off.' If the MS stores are doing 25% off the $299 price, I'll be there!

Its sad theres not discount on vip this time around for loyal fans
Windows Central Newsletter
Thank you for signing up to Windows Central. You will receive a verification email shortly.
There was a problem. Please refresh the page and try again.