Everything Microsoft announced at X018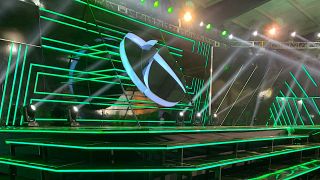 This weekend, Microsoft's X018 event took place in Mexico City. According to the company, "X018 is a global celebration of all things Xbox." The afternoon was filled with news, first looks, and plenty of surprises. What's even more impactful is that over 10,000 gamers joined in the festivities by experiencing upcoming titles and meeting members of the team. However, the most remarkable news had to be the acquisitions of inXile Entertainment and Obsidian Entertainment. You can read about everything the company announced at the celebration below.
Microsoft announced that it has acquired inExile Entertainment and Obsidian Entertainment. inExile is the studio responsible for games like Wasteland. Brian Fargo is a legendary game designer and Microsoft's first-party lineup will only benefit from his expertise. Additionally, Obsidian needs no introduction. This is the team behind titles like Fallout: New Vegas, Pillars of Eternity, and South Park: The Stick of Truth. It's one of the best in the business.
Support for mouse and keyboard input will arrive next week, with select titles enabled at launch for Xbox Insiders and even more coming. Epic Games detailed how Fortnite will be one of the first titles to offer mouse and keyboard input alongside previously announced Warframe. However, Bomber Crew, Deep Rock Galactic, Strange Brigade, Warhammer: Vermintide 2, War Thunder, and X-Morph Defense will also add support in November. Developers working on Children of Morta, DayZ, Minion Master, Moonlighter, Vigor, Warface, and Wargroove promised mouse and keyboard support in the future. Keep in mind that "Designed for Xbox" mice and keyboards will offer the best experience because they feature a dedicated Xbox key and Xbox Dynamic Lighting.
A number of Final Fantasy XII games are joining Xbox backward compatibility. Apart from that, Civilization Revolution is getting Xbox One X Enhanced.
Today, Microsoft announced a number of new improvements to Xbox Game Pass. Aside from the general availability of the Xbox Game Pass app, the company unveiled some upcoming additions to the catalog. PlayerUnknown's Battlegrounds (PUBG) is joining the service on November 12, 2018, and later this month, Agents of Mayhem, Hellblade: Senua's Sacrifice, and Ori and the Blind Forest will be available for free to subscribers. Lastly, Funcom committed to dropping games like Mutant Year Zero at launch.
Forza Horizon 4 is getting an expansion which takes you to the tip of the British Isles. It's called "Fortune Island" and features extreme conditions like fierce lightning storms, dangerous cliffs, and slippery dirt roads.
State of Decay 2 now numbers four million active players. A new free content pack is also coming this month called "Zedhunter."
Sea of Thieves is getting a player vs. player mode called "The Arena" soon. Teams compete against each other to collect the most treasure, but there's plenty of sabotage along the way. This update should launch after "Shrouded Spoils" which adds more customization options and fog.
Crackdown 3 looks much more polished than when we saw it last. Additionally, we received the first footage of the "Wrecking Zone" multiplayer offering. Crackdown 3 should launch on February 15, 2019. The game will be available globally on Xbox Game Pass for Xbox One and Windows 10. In our preview, we said, "The towering environments Crackdown 3's collaborators have built for the game are gorgeous, made all the more exciting when you tear them down, explosion by explosion. We just hope that they're not relegated to gimmick status by the multiplayer systems layered on top of it, which at least for now, are indeed infectiously fun, but potentially lacking in staying power."
Crackdown
The original Crackdown is now free to get you in the mood for Crackdown 3.
Minecraft
Minecraft now numbers 91 million monthly players and the Minecraft Marketplace is thriving. Apart from that, the game is getting an absolutely adorable "Cats and Pandas" update soon. The trailer is quite possibly one of the funniest videos Microsoft has ever made.
Black Friday
There will be plenty of deals on Xbox One and Xbox One X consoles on Black Friday. The Xbox One X's price will go down to $399.99, the same as the PlayStation 4 Pro. Xbox Game Pass will also be available to new subscribers for $1.
Xbox One X
Microsoft reiterated the fact that games play best on Xbox One X by showcasing a new trailer heavily featuring Red Dead Redemption 2.
Battlefield V
A trailer was debuted highlighting the Xbox One X enhancements for the highly-anticipated title.
Void Bastards
According to Microsoft, Void Bastards is a revolutionary new strategy-shooter that will test your wits as well as exercise your aim. It's coming to the platform as a console launch exclusive.
Devil May Cry 5
Devil May Cry 5 features a "Void Mode" which trains players in the complex combat the game offers.
Shadow of the Tomb Raider
Shadow of the Tomb Raider is getting "The Forge" next week. The Forge will be available as a free download to all season pass holders, and sold separately. The Forge contains the first of seven new adventures for Shadow of the Tomb Raider. It also brings with it a challenge tomb which is playable in co-op.
Just Cause 4
Just Cause 4 got a new trailer which showcases the insane destruction. There is a lot more versatility this time around. More Xbox One X gameplay was shown as well.
Kingdom Hearts III
Kingdom Hearts III features Winnie the Pooh and other beloved characters. A new trailer was showcased during the event which shows off some emotional cutscenes. There are also a lot of mini-games in the Hundred Acre Woods which are part of Winnie the Pooh's world.
Jump Force
Bandai Namco gave us a first look at some special moves of two of the most anticipated characters slated to appear in Jump Force. As you can see from the trailer, they're popular Dragon Ball characters.
ID@Xbox
A few new standout ID@Xbox games were announced at X018 like Tunic. The "Winter of Arcade" promotion is coming in December as well.
Give with Xbox
"#GiveWithXbox" is a holiday-timed campaign that aims to bring the joy of gaming to everyone. Beginning today and ending December 9, Microsoft will donate $5 of Xbox products, up to $1 million, for every photo shared on social media about what gaming together means using the hashtag.
Xbox Adaptive Controller
The Xbox Adaptive Controller is launching in 17 new markets in 2019, including Mexico.
These were all of the game announcements from X018. A lot of great experiences are coming to Xbox One in the coming months from various developers, and hopefully, you're as excited as we are for games like Crackdown 3 and Devil May Cry 5.
Metro Exodus
Metro Exodus is getting an amazing collector's edition soon.
Keep an eye on WindowsCentral.com/Gaming for all the latest in Xbox and Windows 10 gaming, accessories, news, and reviews!
Windows Central Newsletter
Get the best of Windows Central in your inbox, every day!
Asher Madan handles gaming news for Windows Central. Before joining Windows Central in 2017, Asher worked for a number of different gaming outlets. He has a background in medical science and is passionate about all forms of entertainment, cooking, and antiquing.
No Minecraft HD news? When is that supposed to happen? Looks very promising otherwise!

I think that patch is probably going to hit in 2019.

Still hope Age of Empires is coming.
Let's also hope "Xbox 2" controllers will feature the dynamic color feature as well 😍.

I'm sure it's coming. They're probably saving that announcement for E3 2019. The fact that Xbox One now has mouse and keyboard support means that Age of Empires will definitely land on the system.

I'm not really that sure about that. Anyway if it comes on XB1 I hope that there will be no controller support allowed.

They also announced 1/2 price 12 month Xbox Gamepass Memberships but it was subtle and mentioned in passing under the Black Friday deals. Not included in above article but would make it USD$60 for 12 months.

This was mentioned in the main article. You can click the "Black Friday" headline and access it.

Very neatly organized list. I wish they had expanded their supported countries to cover more of Europe. Still won't be able to join game pass. Also, @Asher, they mentioned "Will of the Wisps" for 2019 as well.

I mentioned that in the bigger article I wrote. It's live now that embargo has lifted.

Ah yes, thanks for the heads up

No mention of getting the first crackdown for free?

We already covered that ages ago. The game has been free for a few days now. https://www.windowscentral.com/crackdown-goes-free-xbox-store

That article made it sound like you weren't even sure why it was free (at least until it was updated yesterday). It had mentioned hoping it wasn't a mistake at the end. It just sounds like it went free early, but didn't get officially announced as free until the event yesterday. I'd say it at least deserves a mention in the article considering this is the "complete" list. If you don't want this article to be considered a summary, simply don't advertise it as such.

Alright, I added a section below Crackdown 3. Take a look.

@pjhenry totally agree with you...
I wouldn't say more or someone will accuse me of being xenophobe.

I'm glad that they gave Sable screen time again, even if only for a few seconds. They now showed it off at E3, Gamescom, and XO18.

No mention of Below? This game has been on my must play list forever. I thought for sure we'd see something in it at this.

I was hoping for Below. Maybe Capybara Games will announce it at The Game Awards? Maybe Microsoft is saving it for that?

Still no mention of the fabled 'Andromeda' device... I'm starting to think that it won't happen.

That really isn't Xbox's territory. That's main Microsoft hardware.

crap, that almost assures Obsidian isn't getting another Fallout game to do..

Yes, but they can make their own apocalyptic series.

All I really care about is if I can use mouse and keyboard with the Edge browser on Xbox without having to use the controller to navigate. You know, like a computer.

I'm sure Microsoft will allow that.

More good news for MS and Xbox. It feels like E3 all over again as that Sony troll is nowhere to be found.

BFV is not a highly anticipated title.

Overall the show was really disappointing.
There was a lot of hope going into this one. I was hoping for AOE news. I was hoping from news from the "new" studios, I was hoping for announcements of new games... This was a topic about what to expect:
https://www.windowscentral.com/what-were-expecting-microsofts-x0-2018-xb... There was so much hype around this so I was expecting great things...
At the end, I felt this was a bit of a joke. There was a comment or a tweet that said 2 hours to announce
just to announced that they bought two small studios. It was so long and so few real major announcements. I mean yeah there are new games on game pass, that happens every month. Yes, there are new games on BC every now and then.
Yes, MS games have DLCs and extensions.
They showed a bunch of trailers to 3rd party games.
And then there were ads. Yes, advertise that you would see on TV. They even did some black friday advertisement... This felt like watching two hrs of ads lol All that with such an annoying crowd. It looked like the people didn't know what was going on. Jumping, cheering and shouting for everything and anything. When people where talking in the middle they weren't even looking at them. Sometimes they were shouting while someone was talking on stage. LOL
I wonder if they were paid to be there... They showed Crackdown 3 and that was another major disappointment. This has nothing to do with what they showed in 2014-2015. They used to talk about razing an entire city. Here not only did they reduce the scope into a small area with few players, but there has been a major downgrade. The destruction looks so bad compared to what they showed in 2014-2015. And finally about the new studios. I don't know if this is a good news or bad news. Buying a multiple of tiny studios. Taking them out and making them first party studios.
We got to remember the past and what happened to previous studios they bought.
- Press Play bought 2012 (just before XB1 launch)
- Twisted Pixel Games bought 2011 (just before XB1 launch) We know what happened to these. I don't think I remember having seen companies having shows build around the announcement of new studios. LOL
I just wish they had these shows that talks about new GAMES instead. At the end of the day what really matters to me is games.
If they can help these studios grow, give them full creative freedom and help them build quality games then it would be good news. Until then, this is just "news". Nothing else... So overall, for me it was just a waste of time and a bit of a joke.