What we're expecting (and not expecting) from Microsoft's X018 Xbox event
X0 returns in November, 2018, as a special Xbox event for fresh announcements. But what should you realistically expect?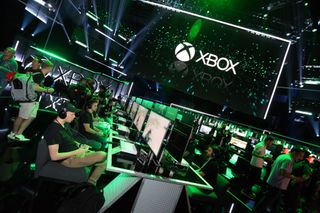 (Image credit: Windows Central)
This year, Microsoft is reviving X0, its previous annual Xbox event of yesteryear. Microsoft gaming head Phil Spencer announced the news on Inside Xbox a few weeks back, detailing a bit about the history of the show, and what fans can expect.
The most recent X0 event took place eight years ago in 2010, in San Francisco. Since then, Microsoft largely stuck to E3 and occasionally Gamescom for making headline announcements, with the odd one-off event appearing here and there. It sounded as though Microsoft wants to begin doing X0 events on an annual basis once again, which historically take place in various locations throughout the world. X0 2018 will take place in Mexico City on November 10th. There will be a special two hour long Inside Xbox live stream during the event, where you can expect major "E3-level" announcements. Spencer noted that previously at X0, Microsoft announced the acquisition of Rare. Acquisitions indeed...
So, let's explore some of the rumors and things we can realistically expect. One thing's for sure, though. With this new Xbox; expect the unexpected.
Games, games, games
As always, up front and center is going to be games, addressing the noisiest criticisms of Xbox to date. While Microsoft has firmly locked down industry-leading third-party games with its Xbox One X console, there remains the question of exclusive titles. Microsoft has already shown a ton of intent to invest in this area, acquiring studios like Ninja Theory, Compulsion Games, and more. However, we still don't really have a clue what the Xbox landscape is going to look like, in terms of exclusives, beyond 2019. Microsoft has recently stated that there are no plans to include Halo Infinite in the show, but who knows?
Crackdown 3
You can almost certainly expect to see Crackdown 3 showcased at X0, considering Xbox Mexico noted it would be playable for attendees.
Crackdown 3 has endured volatile dev history, with rumors of "development hell" and so on. It often feels like the media have already written Crackdown 3 off, due to rough, early demo builds and a lack of communication and marketing from the game. Sumo Digital is leading development on the game, putting on the finishing touches ahead of the game's planned February 2019 launch window.
X0 will be the last real opportunity for Microsoft to showcase Crackdown 3 on a grander stage, particularly when you consider it's going up against both Metro Exodus and Anthem, launching in the same month. Everything we've heard about the game in the past year has been largely positive, detailing expanded features, smoother gameplay, and yes, the inclusion of the promised cloud-powered destruction. Expect to get an idea of what the finished version of Crackdown 3 will look like at X018.
Age of Empires IV
While there's a distinct possibility that it's still a little too early, we might get to see a glimpse of Relic Entertainment's take on Age of Empires. Microsoft announced Age of Empires IV at Gamescom over a year ago, and we haven't heard much about the project ever since.
With the advent of mouse and keyboard support making its way over to Xbox, perhaps we'll find out if the legendary RTS will make its return not just on PC, but on console too.
Gears Tactics
Speaking of PC gaming, there's also a distinct possibility we'll find out more about Splash Damage's upcoming XCOM-like tactics game, set in the Gears of War universe.
This game so far has only been announced for PC, but we've heard credible rumors that it's also slated for Xbox down the line, in similar fashion to the modern XCOM games that inspired it.
Gears 5
Also expect to see a new gameplay demonstration for Gears 5 from The Coalition. Gears 5 looks as though it could expand upon the classic Gears of War cover-based shooter formula, ditching linearity for wider maps and other fresh mechanics. As one of Microsoft's best-known gaming franchises, it's about time Gears of War modernized and evolved to compete with similar titles out there, and hopefully, we'll see a bit of this at X018.
Ori and the Will of the Wisps
Expect to see more from Ori and the Will of the Wisps, which is already shaping up nicely if my hands-on from Gamescom is anything to go by.
So far, Moon Studios has detailed some of the fresh features we can expect from the stunning Metroidvania-like platformer, including improved weapon-based combat, and the Spirit Trials connected races, but I think it's fair to expect even more surprise gameplay features for fans of the franchise.
Fable?
One of the biggest rumors revolving around Microsoft's first-party games lineup pertains to Fable, and the existence thereof. We've heard that the game is indeed in development, at the expanding Playground Games, typically known for the Forza Horizon games.
Whether or not Microsoft is ready to break its silence on this during X0 is unknown, but it would be a pretty awesome place to do so.
Other games expectations and rumors
Some of the other bets include new Sea of Thieves DLC and content, likely showcased during the event. We've also heard that Microsoft isn't done with State of Decay 2, despite having delivered all of the previously-announced content, although it might be too early for an announcement at this time. Some big third-party studios might join the fray to showcase gameplay footage of upcoming titles, particularly if they're in marketing deals with Microsoft, such as Metro Exodus. There's also a chance we could even see some games launched right at the show, such as Ashen, which mysteriously still doesn't have an official release date.
Gears POP for mobile devices might be given a spotlight, and we might hear more about the Battletoads project, previously announced at E3 2018. It's also fair to expect a showcase for upcoming ID@Xbox titles too, as per tradition from E3. We might also begin hearing about games that plan to support mouse and keyboard on Xbox One, to join Warframe and Minecraft.
One of the wilder, potentially less-likely reveals for X0 we've been digging into include a follow up to Killer Instinct, which we've heard repeatedly over the past few months is still being explored by Microsoft. But who knows? Microsoft's war chest is open, and they could certainly surprise us.
New Microsoft game studios
We might get a broader update on what Ninja Theory, Compulsion Games, Playground Games, and Undead Labs are up to, since joining Microsoft. We've already mentioned how Playground Games is likely working on Fable 4 and how Undead Labs is continuing with its support of State of Decay 2, however, we don't know a great deal about Ninja Theory, Compulsion Games, or indeed, the mysterious new "AAAA" studio "The Initiative," led by Darrell Gallagher of Tomb Raider fame.
The transition from independent studio to first-party is no doubt disruptive. At least in Ninja Theory's case, the company is having an all-new HQ constructed, as recently as last July. Microsoft has also taken a lot of criticism for announcing Crackdown 3 too early, so I wouldn't be surprised if we don't hear more about what these studios are working on at X0.
Another hot topic revolves around acquisitions. It felt like little coincidence that Phil Spencer mentioned the Rare acquisition at a previous X0 event during this year's X0 announcement. One of the studios we've heard is in the running for an acquisition is Obsidian Entertainment, known for Fallout New Vegas (ahem, the best Fallout), and more recently Pillars of Eternity. Another possibility we've been digging into is Turtle Rock Studios, known for Evolve and more prominently, Left 4 Dead.
Indeed, as Microsoft moves deeper into subscription-style services on the back of Xbox Game Pass and Project xCloud's internet game streaming, exclusive content could make or break Microsoft's gaming ambitions as they gear up to compete with Google's Project Stream, and whatever Amazon is cooking up. Speaking of which ...
Project xCloud
Project xCloud was first teased at E3 2018 and later revealed, following Google's own announcement for pursuing internet-based game streaming to mobiles and other devices. Getting AAA games onto mobile devices is the next big shift for the core gaming industry, allowing them to ensure constant engagement with their respective audiences. Who knows? They might also convert some Candy Crush casuals in the process.
Considering Microsoft is planning to debut beta testing for xCloud in early 2019, it might be pertinent for Redmond to detail a little more about how it will work. Will they provide accessories to help you clip your phone to an Xbox controller? Will they make a Nintendo Switch-like game streaming-focused Windows tablet? There are so many mysteries surrounding xCloud right now, and it's down to Microsoft to decide when to clear things up.
"Scarlett" and the next Xbox
We've heard that Microsoft's "Scarlett" next-gen Xbox family is targeting a 2020 holiday season launch date, and will be comprised of multiple devices. Whether that includes a traditional console and a streaming-focused device like the cancelled Project Hobart stick, we're unsure.
There's always a distinct possibility that Microsoft will again tease the next-gen Xbox, especially if they talk about xCloud. Microsoft will be keen to stress they have no intentions of abandoning traditional console hardware, and intend to maintain the power advantage over PlayStation into the foreseeable future.
Expect the unexpected
In my previous E3 2018 predictions I took a more conservative position when it came to announcements. But it's quite apparent that Microsoft's wallet is now open and ready to create big surprises, as it gears up to compete with Google and other tech giants as the next war front in gaming begins to open up.
After dropping our collective jaws at E3 2018 with the rapid-fire studio acquisition segment, a prominent Xbox exec sent me a message noting "this is just the start." If indeed, Microsoft is gunning to become a global gaming powerhouse, serious, smart investment is required, and we've already begun to see the foundation of that pivot. For so long gaming felt like a side project at Microsoft, but now that the Xbox division has a seat on the senior leadership tablet at Redmond, it's fair to expect that the future is very bright indeed.
Windows Central Newsletter
Get the best of Windows Central in your inbox, every day!
Jez Corden a Managing Editor at Windows Central, focusing primarily on all things Xbox and gaming. Jez is known for breaking exclusive news and analysis as relates to the Microsoft ecosystem while being powered by caffeine. Follow on Twitter @JezCorden and listen to his Xbox Two podcast, all about, you guessed it, Xbox!
A Fable without Peter Molyneux is no Fable at all.

I agree Peter was a visionary and I think the Kinect debacle helped finished him off sadly. But Fable was fun, quintessentially British with humour and has huge potential on this gen.

That's true. It might actually live up to its expectations.

I never cared for Fable but my kids loved them all so I hope they got a 4th installment in the works. They still talk about how much they liked the first Fable. Hopefully they announce even more studio acusitions or the creation of new studios.

Hell yeah. Cant wait to hear some exciting news.

Price cut for the holidays? My original XBox One died two weeks ago. I'll definitely get a replacement but can wait a few weeks if I can snag one for $100 less.

The One S bundle was like $100 off last year during black friday.

Surely it's time to announce a 2TB Xbox One X already.

I want them to announce they are buying Discord, the Mixer team will buy lightstream, and Jade Raymond getting her own team. Also, some good news from Phil's recent trip to Japan would be cool.

Game Pass already works on PC technically, with Xbox Play Anywhere games. Whether Microsoft will put a focus on PC titles for Game Pass at X0, idk... they might want to keep it to the console audience this time around.

I get the games, but why would anyone tease or make any mention of a newer console right before the end of the year holidays??? That makes no sense, and I would not have even mentioned that in this article. That is a huge speculation that really hasn't proven anywhere close to consistent.

A: Normies aren't watching X0 B: Microsoft has already stated, numerous times, that they're working on a successor to the Xbox One X.

Considering the recent Switch announcement and the upcoming keyboard and mouse support, I want nothing less than Civilization VI for Xbox!

The purchase of Obsidian will be announced.

Microsoft should bring MS Flight Simulator to the Xbox with flight stick controls.

I'm really hoping to see more of age of empires 4.

Have we just given up on a new Elite controller? I feel like we've known basically everything about it for a year and a half now, but it remains frustratingly unannounced.

I believe that the project Scarlett would be the next most powerful xbox console ever. It sets the xbox one x as a middle range console and the "s" as the low-end. Let's say the name would be "XBOX ONE Z" with 20 teraflops and able to render 4k 120fps, 8k 60fps. And it costs $999. Hahaha...