Everything you get with Twitch Prime
We rounded up everything you get with Twitch Prime.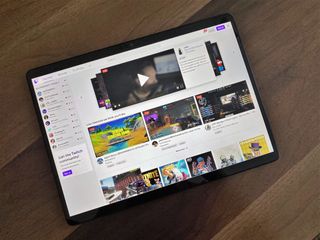 (Image credit: Windows Central)
Twitch has changed subscription options so many times that it can be confusing. What exactly are you getting? It seems for the past several months, Twitch has finally settled on the fundamental aspects of Twitch Prime, there have been no significant changes. So, what exactly do you get?
Twitch Prime
Twitch Prime is one of the many perks of being an Amazon Prime member. It brings several "free" features and services to the Twitch streaming platform. If you have an existing Amazon Prime membership, you already have access to Twitch Prime. This service includes:
Twitch Channel Subscription
Receive a Twitch channel subscription each month to use on a Partner or Affiliate channel of your choice. Using this subscription will give you access to the exclusive channel-specific perks that come with a regular subscription such as chat privileges, badges, and emoticons.
This means Amazon will pay for a single subscription to any streamer you'd like to support. The critical difference between this and a traditional subscription is that you need to re-subscribe each month, whereas the traditional subscription is recurring.
Access Games with Prime and In-Game Content
Get access to select games and in-game loot each month.
This month's Games with Prime, April 2020, includes access to Earthlock, Kathy Rain: A Detective is Born, Turok, Etherborn, and Lightmatter. Claiming any of these games downloads the game to your Amazon Games App. Once the game is downloaded, all you need to do is sign-in and play!
In-game items included with Twitch Prime are often weapons, outfits, character skins, booster packs, and in-game currency. These are a great little bonus when you happen to be playing one of these games when an offer pops up.
Loot Gifting
Receive three additional copies of select Twitch Prime loot to gift to others in the Twitch community.
If a community you subscribe to is using the Community Gift Chest feature, you can gift a copy of select loot. By adding the item to the chest, it is randomly given to a member of the community during the stream.
Exclusive Emoticons
Access these additional emoticons of KappaHD, ScaredyCat, and more, reserved only for Twitch Prime and Turbo members. These are accessible through the usual emote tab on your chat bar and will be listed under the Prime tab.
Expanded Chat Color Options
Members can set unique chat colors for their name at any time by going to their Prime Settings. Use a set of three RGB sliders to pick a personal color rather than having to pick from the standard set of fifteen.
Prime Member Chat Badge
Mark your Twitch Prime status with a unique chat badge. Toggle it on and off through Settings. Identify your self as a Prime member whenever you speak if you like.
Extended Broadcast Storage
Save your past broadcasts on Twitch for 60 days instead of the standard 14.
If you are a streamer and using Twitch Prime, you get all the same bonus content, but you will also get to hold your broadcasts for 60 days. Meaning your viewers can go back and catch up on any of the past streams they may have missed over the past two months.
Worth it?
The free subscription to a streamer of your choice is already a $5.99 value. Nearly half of your Amazon Prime subscription if you are paying monthly. When you add in all the other Amazon Prime features such as two-day shipping (or even same-day delivery in eligible zip codes) and Prime Video — a benefit that pays for itself when you check out the Prime Originals — Twitch Prime just becomes the icing on the cake for anybody who enjoys Twitch content.
Just remember to use your free subscription each month, so your favorite streamer gets their support from Amazon!
Amazon Prime bonus!
All the benefits

On top of all the deals and discounts, Amazon Prime offers, you also get Twitch Prime with your subscription. If you link your Twitch and Amazon accounts, each month you can subscribe to a streamer for free and share your support. Both you and the streamer get all the benefits as if you had subscribed without Prime.
Get the Windows Central Newsletter
All the latest news, reviews, and guides for Windows and Xbox diehards.