Fallout 76 map breakdown: Size, regions, locations, and more
Pulling apart Fallout 76 footage, we've covered everything on its huge map, six regions, and the extensive list of confirmed locations.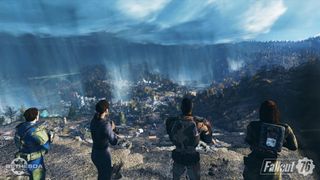 Not only does Fallout 76 debut an ambitious fresh multiplayer twist on the role-playing franchise, but it's got an unexplored location too. Delivering the series's first take on the U.S. state of West Virginia, players will be treated to an all-new map to uncover, spanning its world-famous landmarks and hidden secrets. We've broken everything we know about Fallout 76's map, regions, and confirmed locations, ahead of its slated release this fall.
Fallout 76: Everything We Know
How big is the Fallout 76 map?
Fallout 76 takes place in post-war West Virginia, with players assuming the roles of "Vault 76" members. Vault 76 is located to the western side of the state and was designed to open in 2102, 25 years after the "Great War" began, and 200 years prior to the events of Fallout 4. The earliest existing Fallout game was set in 2161, so we'll get a look over half a century prior to previous installments. The consequences of recent nuclear fallout will be more prominent, making for vastly different geometry and world contents.
Bethesda claims Fallout 76's world is "four times" the size of Fallout 4, making for what looks to be the biggest map in series history. This world packs six regions with distinct biomes, providing a unique feel, gameplay prospects, and connected backstories between them. The world is also littered with points of interest, which Bethesda hopes will further create the feeling of uncovering long-lost remnants of society.
Fallout 76 six regions detailed
Referencing Fallout 76's nukes trailer, we already know every region name and its boundaries within the state. Cross-referenced against information from the Power Armor Edition collectible map and the "Making of Fallout 76" documentary, we're able to get an idea of the region contents.
"The Forest" is the initial starting area of Fallout 76 and where Vault 76 is located. A majority of prerelease game footage takes place in this biome packed with trees, vibrant vegetation, and vast hills. Without heavy radiation damage, we can expect this area to feature low-level enemies and fewer mutations. Settlements appear to include the capital of Charleston, Morgantown, Summersville, Point Pleasant and White Sulphur Springs.
Following an accident at chemical-filled factories, the "Ash Heap" is home to a hollowed mountain stripped down by mining companies. Coal mines, bucket-wheel excavators, and first responders occupy this scarred slice of earth. The cities of Lewisburg, Beckley, Welch, and Bramwell are confirmed in this region, as well as Vault 63. As Vault 76 is one of the first to open, it's unclear how this vault will feature.
Sharply splitting West Virginia in two, the "Savage Divide" is a barren desert wasteland with varying altitude. The mountains in this region bisect the map vertically, creating a challenge for vault dwellers venturing between east and west.
The "Cranberry Bog," known as the Cranberry Glades in real-world West Virginia, is a collection of five bogs found in the south-east of the state. The dark bogs contrast with vibrant burgundy flora, with hints of mutated carnivorous plants that may be hostile to players.
As its name indicates, "The Mire" is a region of swampland up the eastern side of West Virginia packed with hidden secrets. Adaptations of Watoga and Harpers Ferry are confirmed in this region.
Details on Fallout 76's northern "Toxic Valley" are scarce, with no substantial footage of this area so far. Expect heavy radiation, mutated creatures, high-stakes missions, with a need for strong Power Armor. This is also the expected crash site of the downed space station.
All Fallout 76 confirmed locations so far
The Forest
Charleston (City)
Point Pleasant (City)
Morgantown (City)
Summersville (City)
White Sulphur Springs (City)
Flatwoods (Town)
Vault 76
Vault-Tec University (Morgantown)
Morgantown Trainyard
Morgantown Municipal Airport
Mama Dolce's Food Processing (Morgantown)
Charleston Capitol Building
Camden Park
AVR Medical Center (Charleston)
The Greenbrier Hotel (White Sulphur Springs)
Summersville Lake
Summersville Dam
Summersville Mansion
Charleston Trainyard
Nuka Cola Quantum Plant
AVR Medical Center (Charleston)
Mothman Museum (Point Pleasant)
Uncanny Caverns
New River Gorge Bridge
Alpine River Cabins
Green Country Lodge
Gorge Junkyard
Lumber Mill
Isolated Cabin
Ash Heap
Beckley (City)
Welch (City)
Lewisburg (City)
Bramwell (City)
Vault 63
Mount Blair
Lake Reynolds
Charleston Landfill
Charleston Fire Dept
Mount Blair Trainyard
Burning Mine
Big Bend
The Rusty Pick
Joe's Spuckies (Beckley)
Relay Tower 3
Relay Tower 5
Savage Divide
Top of the World Ski Resort
Greenbank
Nuclear missile silo (name unknown)
Nuclear missile silo (name unknown)
The Mire
Watoga (City)
Harpers Ferry (Town)
Valley Galleria
Nuclear missile silo (name unknown)
Cranberry Bog
Nuclear missile silo (name unknown)
Toxic Valley
Crashed space station (name unknown)
Let us know if you spotted any West Virginian locations we may have missed in the comments. In the meantime, Fallout 76 is now available for preorder starting at $59.99 (opens in new tab), ahead of its expected November 14 release for Xbox One, PlayStation 4, and Windows PCs.
Related resources
Windows Central Newsletter
Get the best of Windows Central in your inbox, every day!
Matt Brown was formerly a Windows Central's Senior Editor, Xbox & PC, at Future. Following over seven years of professional consumer technology and gaming coverage, he's focused on the world of Microsoft's gaming efforts. You can follow him on Twitter @mattjbrown.
You missed Camden Park the only amusement park in WV that was prominently featured in the trailer. It is in the Eastern most part of the state. You made no
mention of that area at all.

Sure it was in my list, somehow managed to slip out - thanks for the heads up!

The Forest, "Charleston, Morgantown, Summersville, Point Pleasant and White Sulphur Springs"? Morgantown is a long way from the rest of these areas. White Sulphur Springs is in the south east corner; Charleston and Point Pleasant in the southwest and Summersville in the middle. Morgantown is a stone's throw from the Pennsylvania line far up north central. Plus, there is a rumor that the Trans-Allegheny Lunatic Asylum in the centrally located town Weston is supposed to be a site