Fallout Anthology for the PC available now for $50 with every Fallout game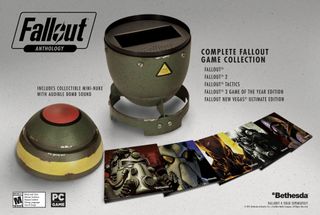 As promised earlier this year, Bethesda Softworks has released Fallout Anthology for the PC. The special collection allows gamers to get all of the titles in the Fallout post-apocalypse game series in one shot, and it even comes with a nifty Fat Man mini-nuke case, complete with bomb sounds, to keep all the discs safe.
Just in case you are unfamiliar with the Fallout series, here's a breakdown of each game in this collection:
Fallout: After 80 years of idyllic Vault life, Vault 13's vital water chip has malfunctioned. You are chosen by the Overseer to venture out into the Wasteland and save your fellow Vault Dwellers.
Fallout 2: As you search for the Garden of Eden Creation Kit to save your primitive village, your path is strewn with crippling radiation, megalomaniac mutants, and a relentless stream of lies, deceit and treachery.
Fallout Tactics: In these dark times, the Brotherhood of Steel is all that stands between the rekindled flame of civilization and the radiated Wasteland.
Fallout 3: Game of the Year Edition: Set more than 200 years following nuclear war, create any character you want and explore the open wastes of Washington, D.C. however you choose.
Fallout New Vegas: Ultimate Edition: Battle your way across the heat-blasted Mojave Wasteland to the neon drenched Vegas Strip. Along the way you'll be introduced to a colorful cast of characters, factions, mutated creatures and much more.
Best of all, the Fat Man mini-nuke case includes an empty slot made for Fallout 4, the next game in the series that will be released on November 10.
Source: Bethesda Softworks
I hope they made Fallout 3 without Windows Live or the game is going to be useless without a weird mod.

When you run Fallout 3 from Steam on Windows 10, a notification appears about potential compatibility issues. When you click it, it downloads an updated GFWL redistributable, which immediately resolves any compatibility problems. I've been marathon playing F3 for the last week or so on W10.10547 and enjoying it greatly. No mods, yet. As long as the updated redist works for the non-steam game, or assuming the collection comes with steam keys, it should be no problem.

I've had the same notification but didn't know what to do with it so I played it anyways. It ran smoothly and I've already beaten the game, it was way shorter than New Vegas

That's not every Fallout game. Fallout: Brotherhood of Steel is missing. It may not have come out on Windows though, maybe it was a console-only release? Either way, I'd update the headline as it's inaccurate.

A quick Wikipedia-read later, and Fallout: BoS is considered a different timeline than the other Fallout games. Doesn't change the fact that it was an officially licenced Fallout title, though. :-)

It also doesn't include Fallout Shelter, what's your point supposed to be?

I'd be all over this if I didn't get 3 and New Vegas during a Steam Sale (then never actually play them). Hopefully it's available for $30 or so during Black Friday; that's more tolerable for me, where I really just want the mini-nuke.

You haven't played Fallout 3 and New Vegas yet? Oh, lucky you! You've got so much to enjoy ahead!

I played 3 years ago. I got it on PC for the DLC. Sadly, the release of Forza 6 and the impending releases of Halo 5 and Fallout 4 leave little time for old games, when thrown together with work and grad school.

I haven't finished 3 yet... =s

They need to release this for the xbone.

How long until you hear of someone detained by the TSA with one of these in their carry on?

Why would you bring this anywhere outside of your home..?? =\

Man how much fun fo3 is but damn too many bugs always freezing up n sheeeit

Well don't bring it to school in Texas, I guess?
Windows Central Newsletter
Thank you for signing up to Windows Central. You will receive a verification email shortly.
There was a problem. Please refresh the page and try again.