How to fix Blue Screen of Death after installing Windows 10 October Patch Tuesday update
HP-branded devices are hitting a Blue Screen of Death after installing the October Patch Tuesday on Windows 10. Here's how to fix this problem.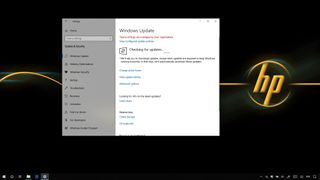 It appears that Microsoft is having some serious update quality control issues these days.
Shortly after the release of the Windows 10 October 2018 Update, users started reporting missing files after the upgrade, which forced the company to stop the distribution of the update. And now some users are reporting (via BleepingComputer) Blue Screen of Death (BSOD) errors after installing update KB4464330, which is the cumulative update that addresses the data loss problem.
According to several forums posts at the official Microsoft forums (opens in new tab) and on Reddit, some HP devices are crashing with the WDF_Violation error when trying to install the latest cumulative update. This problem isn't just happening on devices running the October 2018 Update but also on computers running the April 2018 Update (version 1803).
User Mikael Sillman, at the Microsoft forums, also reveals that the support team said that the company is investigating the problem, and it has temporarily paused the update on affected devices. However, if you're having this problem, there's a workaround that seems to be working for some users.
In this Windows 10 guide, we walk you through the steps to resolve the BSOD crashes after installing the October Patch Tuesday.
How to fix BSOD errors after installing the Windows 10 Patch Tuesday October update
To fix the problem the WDF_Violation error after installing update KB4464330 or KB4462919 on Windows 10, use these steps:
Warning: This isn't an official fix, but it appears that has helped several users to resolve the Blue Screen of Death on HP computers. Use these instructions at your own risk.
Start your computer.Quick Tip: If you're starting your device after the crash, it should go straight into Advanced Startup. If this is not the case, as soon as your device goes through the Power-On Self-Test (POST) and the Windows logo appears, press the power button. Repeat this process three times, and then your device should enter into the Advanced startup settings.
Click the Advanced startup button.
Click the Troubleshoot option.
Click on Advanced options.
Click the Command Prompt option.
Type the following command and press Enter:cd C:\Windows\System32\drivers
Type the following command and press Enter:ren HpqKbFiltr.sys HpqKbFiltr.sys.old
Type the following command and press Enter:exit
Once you complete these steps, restart your HP computer, and Windows 10 should start booting as expected.
More Windows 10 resources
For more helpful articles, coverage, and answers to common questions about Windows 10, visit the following resources:
Windows 10 help, tips, and tricks
Mauro Huculak is technical writer for WindowsCentral.com. His primary focus is to write comprehensive how-tos to help users get the most out of Windows 10 and its many related technologies. He has an IT background with professional certifications from Microsoft, Cisco, and CompTIA, and he's a recognized member of the Microsoft MVP community.
Step 6 appears to have a typo: "Wystem32" probably should be "System32."

I had this issue as an Insider on my Surface Pro. Had to clean install the system.

This one is on HP. It is their update which is being delivered by Windows update.

Glad I haven't turned on my laptop recently. Will wait this one out.

same, this was a lucky dodge. Normally I force search updates aand install them right away before starting anything, but the past week was spent entirely on Linux. (working on my uni project)

If you have a pre-skylake or pre-ryzen computer the easiest fix is getting rid of Windows 10.

It is not the KB4462919 update that is causing this crash at all, it is the failed install of the "HP Development Company, L.P. - Keyboard -7/11/2018 12:00:00 AM - 11.0.3.1" in Windows update. Before this update the HpqKbFiltr.sys driver does not exist.
It appears that the HP driver update is improperly adding/replacing a driver with an unsigned 32-bit driver instead of a signed 64-bit driver like W10 requires.
If you refuse the keyboard driver update, you should be fine with the October update.

Had the same problem on 3 machines. 1 machine fixed itself, 2 others tried various restorepoints that did not work. Googled but nothing was pointing in the right direction untill now. Will try it if i get this error again.

Nice there is a fix for this. But still can't help feeling an oh, no facepalm coming on. I was starting to trust updates, but I guess its back to therapy again.

This patch took out my audio on my HP-15. Tried everything under the sun, ended up having to do a full factory restore to fix the issue.

Rehire those programmatic testers along with quality assurance Microsoft!
How many examples do we need that that will prove - that making developers do the testing and insiders to replace programmatic testers + QA is moronic? At this rate, Microsoft is literally playing in to the hands of technosphere who loath Microsoft with a passion and used to say Windows always suffers from BSODs. Bad PR is not worth the gain in profits, Ballmer knew this - why didn't bat an eye when he was told how much addressing the RROD with Xbox would cost. I sure am glad, I deferred all updates - have been deferring updates everytime there is major upgrade to the O/S as there were always bound to be issues after firing QA and Programmatic testers - lo and behold, sadly I was proven right.
Windows Central Newsletter
Thank you for signing up to Windows Central. You will receive a verification email shortly.
There was a problem. Please refresh the page and try again.