Forza Horizon 3's first DLC, the Smoking Tire Car Pack, adds seven fast new cars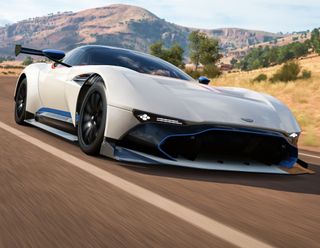 Microsoft has released its first of a series of monthly DLC packs for its recently released Xbox One and Windows 10 open road racing game Forza Horizon 3. The Smoking Tire Car Pack adds seven more cars to the game.
Xbox Wire (opens in new tab) states:
If you own the Forza Horizon 3 Ultimate Edition, you get the Smoking Tire Car Pack for free. All other owners of the game can get the pack for $7 on its own, or via the $29.99 Forza Horizon 3 Car Pass (opens in new tab), which will offer access to the first six DLC car packs for the game.
Check out our Forza Horizon 3 review
See at Xbox Store (opens in new tab)
Windows Central Newsletter
Get the best of Windows Central in your inbox, every day!
I hate these car passes...

I normally don't bother buying these car packs either but sometimes if I see some kind of novelty or fun car like the cop car in this case, I will buy it just for fun.

I know but it's just crazy to me they have two different dlcs one 20$ and one 10$ and they both only give you cars lol nothing else

Car pass is just cars. VIP gives you in game bonuses as well as access to exclusive online events.

And there is the Expansion Pack now too. Which buys you the TWO expansions due later. Hopefully they'll be as great as the Storm Island expansion for FH2 is.

Nickle meet dime. This is what gaming has turned into and what most publishers will try to pull from you. Lets Limit what used to be the full functionality of older games because it can be added by downloads later. On top of that instead of adding one giant piece of extra game for thirty dollars, let's release 5 small additions for 10 dollars each! I really don't mind DLC, especially when I love the game, but this Nickle and diming crap has got to stop.

Yes, Forza Horizon surely suffers only having 300 cars available in the base pack. Without these 7 additional cars it's useless!

Don't buy them then lol. There's still heaps to see and do in the core game.

@OblivionFTW - fine, just don't freaking buy them then. Nobody is holding a gun to your head.

Oooh looks like that cop car is pretty functional too with lights and everything!

How much dlc will they have for this game

8 or so car packs with two expansions. I imagine one of the expansions will be Porsche, with a dozen cars and some extra events. Then something like Tasmania with some extra map, cars and events.

Expansions will be actual expansions of the game, but 'just' a handful of extra cars. Look at Storm Island for FH2 and Rally for FH1, its this kind of thing.

Are the expansions free for everyone and just the cars dlc? I just turned my forza on and there's a big update for it

Are the expansions free for everyone and just the cars dlc?

Why would the expansions be free?

I'm new to forz. I asked because my game had a 1.5 gb update

Burnout paradise is still tops racing game on PC, best jumps, boost, and wicked wreck physics. Best price too!

Slightly differnet markets. Burnout caters more to arcade types with over-the-top crashes and physics (and fake car brands) but Forza has real cars and a more realistic driving simulation. Your personal preference doesn't make it objectively better.

What a beautiful game! So, to those that played it, are the car engine sounds that realistic when driving them?

I'm not an expers, but they seem realistic to me. Different cars have different sounds, but I wouldn't know if they exacly match the target car.

Check my shelby gt350 tune .my gamer tag is dimitrisdim14 ,if anyone wants to download this tunning
Some specs for this tunning
All wheel drive
0-97km/h 1.9 sec
0-160km/h 4.5 sec
Top speed 433 km/h
Launce- acceleration 10
Speed 8.8
Handling 8.6 http://youtu.be/xNzoo_8KI_I

Just wondering if you don't have Forza Horizon 3 yet even though these DLC's have already come out will you still be able to get them if you have the car pass?? Please answer!!