Forza Horizon 4 runs at native 4K resolution on Xbox One X, allows 60 FPS
Forza Horizon 4 looks stunning on Xbox One X.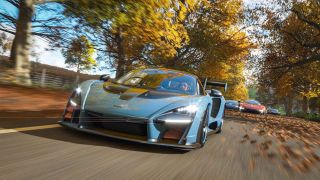 Microsoft started off E3 2018 with a bang, taking the wraps off of the latest entry in its Forza Horizon series called Forza Horizon 4. The game takes place in Britain and features numerous enhancements over its predecessor. However, what was most surprising was the announcement that the game would run at 60 FPS on Xbox One X.
Digital Foundry was able to test out the title at E3 2018 and concluded that Forza Horizon 4 achieved native 4K resolution on Microsoft's new console. A 60 FPS option will be added in later which will probably allow you to toggle between the two settings. It's unclear if this means that the game will run at 1080p 60 FPS or support a lower resolution because it's an incredibly demanding experience.
Following up on the Australian journey packed into Forza Horizon 3, Forza Horizon 4 will take fans to the United Kingdom. One of the key features that Microsoft and developer Playground Games are hyping up is the game's dynamic seasons system, which will switch from snow to falling leaves, and plenty of rain, as time goes on.
Forza Horizon 4 is set to launch on October 2, 2018 for $59.99. If you pick up the Ultimate Edition, you can get early access starting on September 28. The first expansion is expected in December 2018 and the second one should launch in early 2019. Forza Horizon 4 will also be available as part of Xbox Game Pass on Xbox One and PC through Xbox Play Anywhere.
Keep an eye on WindowsCentral.com/Gaming for all the latest in Xbox and Windows 10 gaming, accessories, news, and reviews!
Windows Central Newsletter
Get the best of Windows Central in in your inbox, every day!
Asher Madan handles gaming news for Windows Central. Before joining Windows Central in 2017, Asher worked for a number of different gaming outlets. He has a background in medical science and is passionate about all forms of entertainment, cooking, and antiquing.
Wait 60fps would be 1080 or lower?! I thought several games could already hit 4k60?

Forza Horizon is more demanding than Forza Motorsport because of the open world. So while FM7 can hit 4K60, it has defined circuits so can be better optimized. Horizon has been locked to 30FPS on console until now. At least on Windows 10 we get all of the frames!

I guess they made a mistake here. 1080p or lower seems wrong. Pretty sure it's above 1080p with the 60fps mode

To get 60 FPS out of Forza Horizon 4 would be really challenging. They may lower the resolution to 900p. Maybe it'll be dynamic scaling and 60 FPS. I just didn't want people to be disappointed if that happens. I'm sure we'll know more about it in the coming months.

Forza Horizon 4 looks like a massive step above Forza Horizon 3. Even the best PC has trouble running Forza Horizon 3 at 4K 60 FPS.

That's more to the fact the engine doesn't like deviating from it's 30 fps target. It's relative easy to get 1080p30 for example, it's significantly harder to get 1080p60.

running Forza 3 4k/60+ with ultra setting on rx480

Sorry, but Xbox can't do 4k @ 60fps. It's simply not powerful enough; a lot of gaming pcs can't even do that. What we are going to see is the same: 4k @ 30fps or 1080p @ 60fps (hopefully stable). You can either cherish resolution/texture or performance.

This is just not true. Like at all...

google the games running at Native 4k60 on Xbox, u will be surprised. then correct edit your typical PC gamer comment.

Nope. No games are running 4k clocked at stable 60fps. And definitely not any FPS. It is why games are now getting patches offering gamers the option of either 4k clocked at 30fps or lower resolution for 60fps. You are simply deluded if you think there games running upscaled/native 4k (with or without hdr) at 60fps. Might want to put down that blunt...

Forza Motorsport 7 is running at 4K 60 FPS. It's solid. I think Path of Exile too. Even Nine Parchments. The list goes on and on.

"No games are running 4k clocked at stable 60fps. " well if you googled like ISO_117 asked you would find that Forza Motorsports 7 runs 4K native @ 60fps.

A few people pointed it out but...4K60fps games one One X:
Forza 7
Titanfall 2
Gears of War 4 PvP Multiplayer
Doom
Fifa 18
Halo 5
Madden
Path of Exile Many current games use Dynamic resolution scaliing but feel free to check DIgital Foundry on those games. Gears great example of almost never dropping its resolution.

Only sith deal in absolutes

It did 4K 60 FPS for Forza Motorsport 7 so the Xbox One X can do 4K 60 FPS.

The majority of sporting games are also 4k60, like Madden, NBA, FIFA. Plus F1 2017. But for the most part you are correct, games which don't have such fixed location information are not going to hit native 4k60 (technically they could, but developers are focussing on the best visuals possible rather than compromising, up to you to decide whether that's a good thing or not). Also, to the website team, I accidently clicked on report for this post, it was completely unintentional, please disregard.

Need to have an option to turn the dynamic season thing off.

I don't think so. That's a gameplay mechanic.

Yeah, while I can understand why, it kind of sounds like the major drawcard for the game.

Why are people complaining? PS4 Pro can barely even do Native 4K. At best their games can get up to 1440P resolution.

Many new one has been 1080p on Pro and 4K on X.

If it's simply a matter of fill rate or pixel shaders, then 4k/30p is still 2x the compute power required over 1080/60p. Given that the rest of the game (models, shaders, AI, etc) should be the same, I cannot think of why the X1X would hit 4k/30 and not be able to do 1080/60 easily.
Windows Central Newsletter
Thank you for signing up to Windows Central. You will receive a verification email shortly.
There was a problem. Please refresh the page and try again.