Forza Street could be Microsoft's new iOS and Android racer
Could Forza Street be a new mobile racer from Microsoft?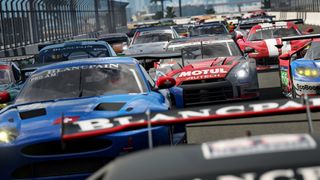 While Microsoft's racing efforts seemingly lay with its next annual Forza installment, talk of a new spin-off project has surfaced. A newly-reported leak direct from Turn 10 Studios indicates a mobile offshoot lies ahead, currently dubbed "Forza Street."
Forza Street looks to be a new mobile racing game headed to iOS, Android, and Windows 10 devices, as detailed in a report from GTPlanet. Mention of the project first surfaced in a recent "Week in Review" post to the Forza blog, buried under a broken hyperlink. We were unable to see the slip-up ourselves, seemingly corrected as of press time. Below is a snippet of the file path from the report:
Although details are scarce, Forza Street looks to be a project outsourced to Brighton-based studio, Electric Square. The studio previously partnered with Microsoft Studios in 2018 on Miami Street, delivering a casual "pick-up-and-play" Windows 10 racer. Given its previous portfolio under Microsoft, this could serve as a slate for the Forza-branded mobile title. As noted by GTPlanet, Dan Greenawalt, Forza franchise director, is slated to make his "Forza Monthly" debut in March, potentially tied to this title.
Microsoft has scaled its Xbox mobile investments in recent years, formerly soft-launching a Gears of War title themed around Funko's POP figure line. With an Xbox Game Pass hub now on mobile, and Project xCloud game streaming venturing beyond the living room, Forza is an ideal franchise to transition into the mobile space next.
Until official confirmation from Microsoft, take such details lightly on Forza Street. And as with all pre-release projects, the state of Forza Street in early 2019 is unclear. Let us know your thoughts on a Forza street-racing mobile game in the comments section.
Windows Central Newsletter
Get the best of Windows Central in your inbox, every day!
Matt Brown was formerly a Windows Central's Senior Editor, Xbox & PC, at Future. Following over seven years of professional consumer technology and gaming coverage, he's focused on the world of Microsoft's gaming efforts. You can follow him on Twitter @mattjbrown.
Only makes sense to. There's still a gap between the mainstream mobile playerbase and console gamers and stuff like this can help create more Forza players on PC & Xbox. Could even get the interest of Nintendo and Sony gamers who own smartphones. Am I interested in the game itself though? Hard to say until we see it in action. Could well just become another Gameloft-esque money sink.

I'm really hoping it will be close to a real Forza title and not NFS No Limits like garbage, we have enough of those.

If for racing platform on mobile gaming, Asphalt 9 Legend is the most stunning graphic, and the realistic physic ever made as of today. Hope Forza will beat it with all the realistic details. And 60fps gaming.

Realistic "physics"? You're not serious are you?

Yeah, I am serious. I repeat once again, on mobile gaming platform. Even NFS No Limit has no realistic physic on it. When u take a curve, u can see the car a bit rolling, not static as on flat surface. That's what I mean by physic. Not the gameplay like barrel roll/spin.

So in other words, you mean more realistic animations?

Graphic. I mean graphic. But animation is count too, if u want. Asphalt 9 is the most powerful graphic so far on mobile (in 60fps), beside Real Racing 3 in racing category. But the gameplay, failed. U know, not open world racing, pay to play, etc. If Forza for mobile is adapted from Forza Horizon, which is open world, with a super graphics, real car sounds, it would be the most played/downloaded game in no time. Like PUBG, pc to mobile. Boom!

Let's hope they won't make just a NFS copy cat with Pay2Win concept, and instead provide a decent experience. I'd rather pay upfront the game than have it free with dozens of micro$$! Look at Grid Auto Sport on IOS. Paid 10EUR for it and that was it, no other micro$$ crap. RR3 has micro$$ but you can enjoy the game very well without any...Asphalt 9 is a step down from Asphalt 8 in game play, because of the whole pay2win and micro$$ boxes with cards.

They might look alike to non-game-programmer, but animation and physics (using physics engine) are 2 very different things. Computation costs are different too. There are things that you just cannot achieve with static keyframe animation.
Like Arthur and horses rolling down hill. Real life example... Ashimo vs Atlas? One's a machines, one's a bot with AI. BF4 Levolution (dead, static keyframe animation that you cannot interact) vs https://youtu.be/3JioJ2UC4Bk? You can keep shooting the racks while it's falling. Monster Hunter World... no much physics is involved in the gameplay I think. Or, like, y++, y-- bouncing ball, that isn't physics.

Or one would think that if they can bring actual Forza games through Project xCloud to mobiles, what's the point?

I'd love to see Microsoft venture a little more into mobile devices. Just give me Xbox Live support so I can keep earning achievements and we're golden.

Gears Pop has been soft-launched? When?

https://www.windowscentral.com/e?link=https2F2Flinks2Ftype2Fsid2Fhttps2F2Fstore2Fdetails3Dcom.microsoft.gearspop3Den&token=0xqiK4Ji It's currently available via Google Play, but limited to only very select regions.

Aha, nice. Although it's not available where I am. I do find it incredibly odd to release a mobile app in limited regions.

If they can manage to provide a well built racing experience on mobile, why not? Asphalt 9 is ok, RR3 is ok, your turn Ms to bring Forza to our mobile devices.

I'll play it, I spend a lot of time on trains and trams commuting so more games the merrier, but make it P2W and it can die in a fire, let me pay 5-10 bucks for the game and that's it (not going to happen though).