Gadgets for Windows 10 Mobile picks up a small update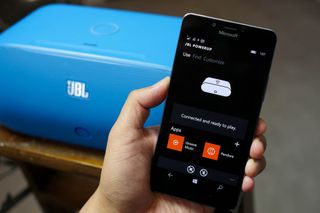 Microsoft's Gadgets app for Windows 10 Mobile, formerly known as Device Hub, has received what appears to be a small update. No major changes are evident, but it's likely to contain some bug fixes and performance improvements.
The Gadgets app allows you to connect your phone to a number of accessories, and manage them all from one place. It can be used with both wired and wireless accessories, from wireless speaker to Mircosoft's Display Dock. You can check the battery level on each of your devices, and even get alerts when you loose a Bluetooth connection.
Thanks to Aditya for the tip!
It still has the Windows 8.1 design.

Well I doesn't have hamburger menu, so this is better

Great app, everytime I plug in my headphones/aux input, it opens the music app. Simple yet useful.

Yeah, this is perfect for the car. I just wish it would autostart from where it was when I last stopped listening.... But it might come later. :)

Yes this must be added to this app actions

Really? How do you set that up? I would use this every day.

I think you can do that as you plug things in and it'll recognise it and ask you what options you want to select. Open up the app, plug something in and you'll be able to customize.

Top annoying AP. Every time you plug the earphones in it pop out the app!

That's my issue, when u plug in headphones groove suppose to open, instead the screen flashes and nothing happens. Let's see if it's fixed now. You can disable it also.

Just tried it. It works.(update installed)

Try deleting that profile and remake it. 2 updates ago, Groove stopped launching when I plugged in the audio cable. After remaking the profile it worked again.

You can select what happens when you connect your device.

Every time I open the app it asks me to restart the phone.

Same here on a Lumia 810. Always asks for restart. If I select restart, it never does. If I say I'll restart later, then manually restart, it still asks for a restart. So, I've given up and uninstalled it.

Moving the App to Phone memory can fix the issue

Does not work in my 1020 no matter what i do. Headphones are not recognized...

Still does not show up in my app list.

Yeah. Here too but receiving the updates

This update happened yesterday.

How about they make it non-Lumia specific?

I have tried all the headphones (wired) with me and this app didn't recognize any... Although it works flawlessly with my Bluetooth headsets....

I tried my coloud boom and also headphones of 950 they works as expected...

If you already have a headphone profile, delete it and remake it. It should work again after that.

It just works with devices shipped with WP 8.1 (and 1520). And of course, W10M.

Still waiting for win 10m

I've been on it all year :)

Gadget is available for WP 8.1. I'm using it on L640. Really nice!

If gadgets is missing goto storage apps and uninstall, reboot, check for updates and reinstall. Fixed my Lumia icon.

Where to find Gadgets in settings?

It is a separate app now. Search it in the app list.

Got it Thanks. I am also using L720 but W10M preview.

Well, I am the one who tipped about this update and this app works like charm for me. Now I can connect to my generic Bluetooth headsets without hassle. Thanks a lot microsoft. -L720 WP8.1

They mention W10M. Maybe they don't bother 8.1 anymore though not even third of users are jumping to W10M. It has been 950/XL centric here. Haha.

Still no love for 920. The app works on 1520 though. Both on 10586.36

Which 1520? It's not working on my 1520.3. I'm hoping it's the ". 3" and not something wrong with my device.

Last update it disappeared.Now it's back,lol!

Off topic best buy has Xbox one elite controllers on sale

'loose a Bluetooth connection'....oops!

Still not opening lumia 730

Useless update... Good way to waste yr data....

this is one really nice app. i love it.
btw, the new update added support for Treasure Tags. they removed the separate app for Windows 10 Mobile. :)

After the last update, I can't find the app in my settings(Lumia 925)

Search it in the app list

Ah so that's why it started pestering me to set it up at 4:15 am last night :|

My Treasure tag mini still not working

Argh - I was hoping the update would help...

Mine on 8.1 doesn't work. It did work a year ago, but stopped at some point.

Another name change. It makes me wonder if making slight changes and then changing the name is standard policy.

It may be a common update for all, but not for me. Reason: Previously it was not listing my Laptop and another phone that has been connected via Bluetooth sometime, but after this update I'm able to see those devices in the list.

Too bad it still doesn't work with the Nokia treasure tag.

Have too guys forgotten about windows phone 8.1? The updates is for 8.1 too you know?

Yep I also got it on Phone 8.1

Believe me, they don't bother 8.1 users anymore. Sad but true.

We need to be able to edit the icon for each and every connected "gadget".

Seems hugely more reliable with treasure tags. No more signal loss.

I haven't done a lot of fooling around with the update yet, but the problem with the previous version wasn't connecting, it was DISconnecting. I used it with my Treasure Tags, and whenever I tried to disconnect, it would automatically reconnect just a few seconds later; I had to completely remove the Tags in order to stop my phone from notifying me every time I went anywhere. I haven't looked at the update yet, but hopefully it fixes this.

When my 1520 updated to the gadgets app a couple of weeks ago the app disappeared. Even resetting the phone did not bring it back. This update however has resulted in the app now appearing. It appears the app was always there as connecting a device would make it appear however you could not see it or manually open it. A app search failed to show it as well. Maybe it was a Australia thing but its all fixed now.

Same updated for wp8.1 too...

I wonder if the DT-903 will work with my Icon now? Will check when I get back to work on Monday.

It - the DT903- works like a charm with my 930.

Oh yea? Gadgets licked up a small update for Windows 10 mobile?? Wow, that's awesome!!! Let's talk about the official Windows 10 mobile update, though -_-. Where is it? If it being released on the 31st, just call it 'as early as next year'

And on tne second day... I lost my bt headset and this app pinpointed the correct location where I lost it. I went to the store and ther it was. This uggly app works.

Cant use my Bluetooth headphones and band 2 simultaneously.
Windows Central Newsletter
Thank you for signing up to Windows Central. You will receive a verification email shortly.
There was a problem. Please refresh the page and try again.