Gaming at the Insomnia 59 LAN party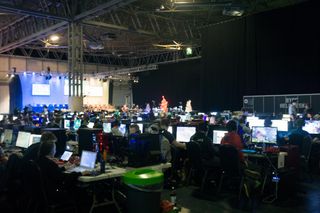 Richard Devine and I went to Insomnia (this one was number 59), a UK-based gaming festival operated by Multiplay. The company is actually a subsidiary of GAME, a video game retailer, but what they've continued to do with Insomnia is nothing short of spectacular. So just how was gaming at the LAN party?
The short answer: really, really good.
Here's the more detailed part. We were located on a row after booking two seats ahead of time. Entry is provided to those who have purchased BYOC (Bring Your Own Computer) tickets. They're pricey, but these also include access to everything on the exhibition floor too. And that's for the entire weekend. As an added bonus, we also added indoor camping to the experience. Because if there's anything that goes together, it's LAN gaming and tents.
Bags down, two laptops on the desk, and we're ready to rock and roll. What makes the LAN party itself so amazing is the atmosphere. Low lighting is mixed with the sea of bright screens, flashing LEDs, array of computers and gazing eyes at monitors. It's a surreal sight to see hundreds of men and women (both young and old) come together for the love of a medium like video games.
CS:GO, League of Legends, Rocket League, Overwatch, Unreal Tournament, Minecraft, Hearthstone, DOTA 2, World of Warcraft. Some attendees even chilled out with the latest episode of The Grand Tour. These are just but a few of the things one can spot on a walk through the various rows. Some brought laptops, most dragged their desktops along with their favorite monitor (or two).
Internet was (as one would hope and expect) stable with a down and up speed of around 90Mbs. And that's with a multitude of PCs running on the same connection to the outside world. Food and drink was handled by on-site restaurants and outlets, but it was possible to take full advantage of the Birmingham National Exhibition Centre (NEC) and order through an app on your phone. You didn't even have to move from your seat. Ordering cans of lager and cider for delivery was a well-used option on our table, I assure you.
That's not all that could be ordered either. Fancied installing a new GPU or completely switching out your PC case while at the LAN party? No problem. Overclockers UK delivered orders to Insomnia twice a day for free. They even brought orders to the seats so — again — you didn't have to move if you chose not to. Richard ordered a USB to ethernet dongle, while I treated myself to some Corsair LED fans, mounting parts, and a dust filter.
But that was essentially it. There was a complete focus on gaming. A discord server was available for gamers to band up and play together or request support from on-site staff. It's the first LAN event I've attended for many years, but is one I wholeheartedly enjoyed and would certainly attend again. Next time I'll be bringing my workhorse of a PC to get some serious gaming done.
Thinking of heading to the next Insomnia event and are interested in making a full weekend of it? We highly recommend you spend the extra funds to bag yourself a seat at the LAN party and go for the indoor camping!
Windows Central Newsletter
Get the best of Windows Central in in your inbox, every day!
Rich Edmonds was formerly a Senior Editor of PC hardware at Windows Central, covering everything related to PC components and NAS. He's been involved in technology for more than a decade and knows a thing or two about the magic inside a PC chassis. You can follow him on Twitter at @RichEdmonds.
Is there anything like this in the US?

Yes, they are in quite a few states. But it depends where you are if one would be near you. Many conventions also have them as well like PAX for example but those ones are usually difficult to get in as they require a badge which sell real quick to my understanding.

These kind of events are really nice, they keep alive the spirit of the old LAN parties, where people actually connected their pcs through wired LAN for gaming, because there was no other way to access multiplayer gaming. Ahh. Those were the days :)

Having been attending this event for some time and seen it develop it is pretty amazing. They changed the event from being very much a BYOC event to ones with BYOC and exhibitors to one of a festival. This added more exhibitions and internet celebrities which in turn brought in the day trippers and for the next event we will see live music (still not sure about that still getting used to the hoards of day trippers). I really like the event in the NEC and it's big enough for them to continue to grow. Of course in the UK Europe and US you have plenty of options for Europe the ultimate is probably dreamhack but you also have plenty of smaller events run by enthusiastic folk my favourite in the south of England is thebiggame they do a very nice spin on how to get both hard and no so hard core fans participating. Unfortunately the dates often clash with insomnia as they make full use of bank holidays to get 72+ hours of gaming in (in the case of insomnia almost 5 full days).

We game all night. Nearly. We bailed at 3am on Saturday, things were getting weird. As evidenced by the Discord channel. Terrific event though, first time we've done the full weekend experience and won't be the last!

That would be after the pub quiz, not surprised! That's definitely one of the main features of iSeries events, would be worth trying to make it to that next time.
Windows Central Newsletter
Thank you for signing up to Windows Central. You will receive a verification email shortly.
There was a problem. Please refresh the page and try again.