Ashava falls to a single hardcore player in Diablo 4 Server Slam
And he did it in World Tier 2 no less.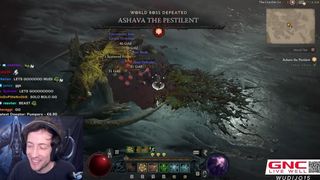 (Image credit: Wudijo)
What you need to know
A solo hardcore player has taken down Ashava all by himself during the Server Slam weekend.
Players can only reach a max level of 20, whilst Ashava is still a level 25 fight, and players have been lowering the difficulty to defeat the World Boss in group play.
Wudjio has solo-killed Ashava on permadeath mode, without lowering the difficulty.
---
The Server Slam weekend is in full swing and Diablo 4 players are having a hell of a time facing the world boss Ashava, and getting their butts handed to them in the process. This beastly boss is no joke, especially since the level cap has been lowered to 20, five levels below the recommended level for this encounter. Many players have been crying out for mercy on Twitter and Reddit, and sharing their strategies to survive the fight, such as dropping the difficulty.

But one player has risen to the challenge and done the impossible: he soloed Ashava on hardcore mode and on World Tier 2, the highest difficulty available during the server slam. Wudijo, who was dared by the developers themselves in the Developer Endgame Livestream to take on Ashava alone, has proven his skill in this epic showdown. Watch the video below, where he slays Ashava with a minute to spare.
German streamer Wudijo is well known for his playthroughs and guides of action-RPGs like Diablo and Path of Exile, so is a seasoned player, and this isn't the first time Wudijo has solo killed Ashava. As a rogue he took Ashava down alone in the last Open Beta weekend, but at five levels higher.

This weekend's world boss encounters were much more difficult than previously, as many players have been complaining. Even Rod Fergusson, GM of the Diablo franchise has been sharing his woes trying to take down Ashava.



Ok so I'm 0-2 against Ashava so far. Thinking about trying World Tier 1 to see if I get a better result. First try was sooo close though, only 10% left.Ok, 25 mins till Round 3 - let's do this!May 13, 2023
Rod has since updated Twitter, and let us know it took him five tries, and that was with turning down the difficulty to World Tier 1.

It's worth noting that on previous beta weekends, the legendary item drop rates were also buffed to 300%, whereas they are at more realistic levels during the Server Slam, meaning Wudijo has not only completed this challenge at a lower level but with less favourable gear too. As Wudijo has now taken down Ashava multiple times as a solo player, I can't help but compare him to the Elden Ring communities LetMeSoloHer, a player famed for multiple kills of Malenia in co-op difficulty. Could Wudijo become the boss Ashava fears the most?

Whilst progression from the Server Slam does not carry over to the full game release on June 6, players who beat Ashava this weekend will receive the Cry of Ashava Mount Trophy which can be carried on their mount in the full game.
Xbox controller deals: Amazon | Razer | Dell | Best Buy | Walmart
If you're struggling with Ashava yourself, you still have one more chance to take her down, as she spawns just one more time before the end of the Server Slam weekend. Check out our guide to spawn times and tips for slaying this formidable beast. Unless you enjoy pain, we definitely echo the advice to turn down the World Tier to 1. We can't all be Wudijo.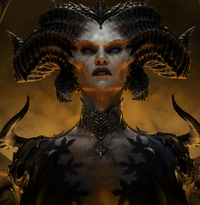 Diablo 4: Ultimate Edition
Offer your wallet as a holy tribute to our Blessed Mother and get the Ultimate Edition of Diablo 4, which includes a variety of cosmetic items, the Premium Battle Pass and a 20-level boost to enjoy when the full game launches.
Buy on: Xbox | PC (Battle.net)
Get the Windows Central Newsletter
All the latest news, reviews, and guides for Windows and Xbox diehards.
Jen is a News Writer for Windows Central, focused on all things gaming and Microsoft. Anything slaying monsters with magical weapons will get a thumbs up such as Dark Souls, Dragon Age, Diablo, and Monster Hunter. When not playing games, she'll be watching a horror or trash reality TV show, she hasn't decided which of those categories the Kardashians fit into. You can follow Jen on Twitter @Jenbox360 for more Diablo fangirling and general moaning about British weather.