The Diablo 4 Open Beta will reward players with adorable wolf cosmetic
He protec, he attac, but he also makes a sweet backpack.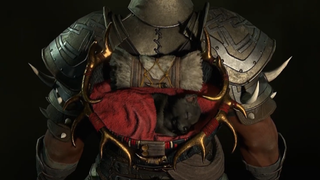 (Image credit: Blizzard Entertainment)
What you need to know
The latest developer live stream aired today for Diablo 4, revealing more about Stronghold and Armor systems, Open Beta details and minimum PC requirements.
Blizzard announced that players will receive rewards in the Open Beta to carry over into the full release, including an adorable wolf backpack.
The playable classes in the Early Access Open Beta will be Barbarian, Sorcerer and Rogue only.
---
In the second developer update in this live stream format, Diablo 4 developers have given us more insight into what to expect from the two Open Beta weekends coming up in March. They covered everything from rewards for completing the Open Beta up to level 20, to what minimum PC requirements will be needed when the game is launched in June. You can watch the full live stream below, but we'll summarize the main takeaways.
Rewards for playing the Open Beta
While it's already been confirmed that progress in the Open Beta will not carry over into the full game release, you will be able to earn some in-game rewards to take with you. The titles of Initial Casualty and Early Voyager, and a ferociously cute 'Beta Wolf Pack' cosmetic item that will be rewarded to players who hit level 20 in the Open Beta. Make sure your Battle.net account is linked to your game for these rewards to carry over.
A companion to kill for.Get a character to level 20 during the #DiabloIV Beta to unlock the Beta Wolf Pack cosmetic. pic.twitter.com/hBxSgzpfpyFebruary 28, 2023
World Bosses
On each Saturday of the two open beta weekends, players will be able to experience a World Boss in the form of the demonic Ashava. Ashava will spawn at four different times over the day so all timezones will get a chance to take on this mighty foe.

World Bosses are a new addition to the Diablo franchise and will feature in the open world of Sanctuary as events in which up to twelve players can take part. You will fight with other players on the server to defeat these optional bosses and the camera will pull out so you can see everyone's efforts to take down the beast.
What classes will be available on the Diablo 4 open beta?
The initial weekend, which runs from March 17 to March 19 for players with Early Access, will have the Sorcerer, Rogue and Barbarian available to play. Blizzard have said that on the all-access weekend March 24 to March 26, there will be a choice of five classes so we will also get access to the Druid and the recently revealed Necromancer.
In addition to the reveal of the available classes during the open beta, we were also informed that couch co-op will be available for players using console. Both players will need to have a Battle.net account to use this, but only one player is required to have Early Access.

There will even be four-player online co-op available so we will get to test the game out with friends and really give those servers a stretch. There will be XP bonuses for playing with others, as in previous games. 5% bonus for playing with another adventurer, and 10% for being with a member of your own gaming party.
Minimum requirements for playing Diablo 4 on PC
For the first time, we have a comprehensive list of pretty forgiving specs needed to play Diablo 4 on PC and have listed these below.
Swipe to scroll horizontally
| Header Cell - Column 0 | Minimum Requirements (1080p native res/ 720p render res, 30 fps) | Recommended Specification (1080p res, 60fps) |
| --- | --- | --- |
| Operating System | 64-bit Windows 10 | 64-bit Windows 10 |
| Processor | Intel Core i5-2500K or AMD FX-8100 | Intel Core i5-4670K or AMD R3-1300X |
| Memory | 8 GB RAM | 16 GB RAM |
| Graphics | NVIDIA GeForce GTX 660 or AMD Radeon R9 280 | NVIDIA GeForce GTX 970 or AMD Radeon RX 370 |
| DirectX | Version 12 | Version 12 |
| Storage | SSD with 45 GB available space | SSD with 45 GB available space |
| Internet | Broadband Connection | Broadband Connection |
Developers confirmed that ray-tracing will be available after launch.
Diablo 4 Armor System
During the stream, Meng Song, Diablo 4's lead systems designer, went into more detail about what we can expect with armor systems in the game. As in previous games, characters will have five armor slots made up of Helm, Chest, Boots, Legs and Gloves. Armor will scale with item power, and Meng showed a few interesting graphs on the maths that's gone into crafting Diablo 4 armor that I highly recommend you watch the entire stream for.
Unlike it's predecessor Diablo 3, armor will not only protect against physical damage but it will also mitigate elemental damage at half the % of the physical mitigation. The developer also stated there will be penalties at higher world tiers for elemental resistance, and you will need to source ways to tackle this in game.
Monsters will also have armor which is an entirely new concept for Diablo 4, and will enable the developer to better tune the enemies to the player level rather than simply making monsters HP sponges in higher difficulties.
What are Strongholds?
Strongholds are places of importance in the world of Sanctuary that have been overrun with evil. These have been developed as an overworld discovery, of which you will find multiple strongholds in each zone. Strongholds are to be experienced alone or with your party, and each is completely unique.

Players will need to discover Strongholds, each in a different location with a different story and gameplay objective, and complete the associated tasks to liberate it from its demon overlords. Upon completing a Stronghold you will clear the area and it can be populated again, unlocking additional content. Some Strongholds will become towns, vendors or way points as the people of Sanctuary feel safe to return to their homes.
We saw some exciting gameplay footage of a player fighting their way through a Stronghold in the Scosglen region of Diablo 4. The example shown was of 'Hopes Light' which is a port town taken over by Drowned enemies, one of the monster categories shown to us as early as Blizzcon 2019. The flames of the lighthouse in this area have been extinguished and the player cleanses the area of these demons and fights a path to reclaim the light house.

Completing Strongholds will not only reward you with loot and XP, but they will also result in high levels of 'renown' which is another system in Diablo 4 that you want to level up for certain rewards. Hitting milestones with your 'renown' will reward paragon points, potion charges and other tasty enhancements.
How do I access the Diablo 4 Open Beta?
The Open Beta will be available on Windows PC, Xbox Series X|S, Xbox One, PlayStation 5, and PlayStation 4. If you want Early Access to the Open Beta on March 17-19 and you are yet to order Diablo 4, use our link below to get your pre-order in. You can do this at any time up to and during the Early Access weekend.

Following this you will be sent a Beta Early Access code for Diablo 4 that you will be able to redeem for your chosen platform.
Go to diablo.com/beta and log in to your Battle.net account, you will need to create one if this is your first time.
Enter your special code and select your gaming platform and region, click Redeem.
You should see a Success page, and PC players will be given access at this stage.
If you are requesting access for console, another code will be emailed to you closer to the start date of the Open Beta.
Access for everyone on these platforms, will be March 24-26, and progress from the previous weekend will carry over for those who took part. I will see you there!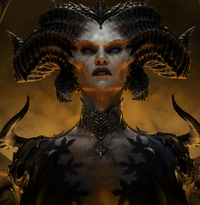 Diablo 4: Ultimate Edition
The Ultimate Sacrifice from your wallet to our Blessed Mother, the Ultimate Edition of Diablo 4 comes with a bunch of cosmetics, the Premium Battle Pass and 20 tier skips.
Buy on: Xbox|PC(Battle.net)
Get the Windows Central Newsletter
All the latest news, reviews, and guides for Windows and Xbox diehards.
Jen is a News Writer for Windows Central, focused on all things gaming and Microsoft. Anything slaying monsters with magical weapons will get a thumbs up such as Dark Souls, Dragon Age, Diablo, and Monster Hunter. When not playing games, she'll be watching a horror or trash reality TV show, she hasn't decided which of those categories the Kardashians fit into. You can follow Jen on Twitter @Jenbox360 for more Diablo fangirling and general moaning about British weather.