Best handheld console alternatives to ASUS ROG Ally: Steam Deck and more
Not convinced by ASUS' handheld? Find the best ROG Ally alternative and switch.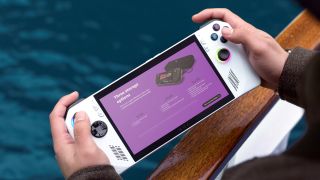 (Image credit: ASUS | Windows Central)
If you're looking for the best ASUS ROG Ally alternative to enjoy portable PC gaming wherever you go, what essential features should you be looking for? Whether you're prioritizing battery life, game compatibility, or something with its variant of a docking station, I've rounded up options that excel in various categories and compared them to the complete list of ROG Ally specs. There's no need to wait for a pre-order either; most are on sale now with healthy availability.
It's a relatively young category, but more tempting handheld consoles capable of playing fully-fledged PC titles are joining an emerging market with healthy competition. The Steam Deck may have been one of the first major players to enjoy worldwide recognition, but ASUS appeals to Windows 11 fans by choosing the leading operating system. Alternatives have many other pros and cons, so let me explain your options.
The best ROG Ally alternatives to buy right now
Why you can trust Windows Central Our expert reviewers spend hours testing and comparing products and services so you can choose the best for you. Find out more about how we test.
The best ROG Ally alternative overall
Specifications
Storage:
64 / 256 / 512GB
Display:
16:10, 60Hz, 400-nits
Reasons to buy
+
Established community provides tips and tweaks.
+
Plenty of verified titles to pick up and play.
+
Dual touchpads for fine mouse control.
Reasons to avoid
-
SteamOS needs tinkering to optimize.
-
Incompatible anti-cheat still blocks some games.
-
Last-generation hardware.
Seeing the Steam Deck top the list as the best ROG Ally alternative is hardly surprising since most social media platforms relentlessly compare Valve's efforts against ASUS. It's undoubtedly weaker in every aspect of its internal components, but the Linux-based handheld is constantly refined for improved performance with each set of patches and updates.
I get a kick out of tinkering with the SteamOS desktop lurking behind the scenes, but I take no issue with users who find it somewhat intimidating. Thankfully, Valve continues to work on supporting a series of drivers that allow Windows 11 to dual boot on Steam Deck in a few simple steps, either in portable mode via a microSD card (slow but functional) or directly from the internal SSD (fast but currently less suitable for dual boot) to transform it into an Xbox handheld of sorts.
If you're comfortable with self-made tweaks and reading performance graphs, the very nature of throttling its GPU and optimizing framerate limits alongside sophisticated image upscaling tech gives the Steam Deck a massive boost to its lifespan. Some titles can go from battery-draining nightmares to comfortable long-haul gaming experiences that hardly spin up the built-in cooling fan. Figuring out which gaming handheld is better will be an ongoing debate, but Valve's Steam Deck remains the top competitor to ASUS' ROG Ally for now.
2. AyaNeo 2
Stock Windows OS unlocks all game launchers
Specifications
Storage:
512GB / 1TB / 2TB
Display:
16:10, 60Hz, 400-nits
Reasons to buy
+
Windows compatibility with all games.
+
Powerful hardware in various options.
+
Comfortable build for long gaming sessions.
Reasons to avoid
-
Windows isn't optimized for handhelds.
-
Typical weak battery life for high-end gaming.
For a more natural comparison to ASUS' ROG Ally, Windows 11 comes standard with the AyaNeo 2, and pros and cons with it. Before breaking down its specs comparison, the most striking difference relates to its shocking cost, with the most basic model starting at $1,099. Still, you get 16GB of DDR5 RAM with a 512GB solid-state drive, like the high-end Steam Deck and the ROG Ally.
Initially starting as an Indiegogo campaign, the AyaNeo 2 is undoubtedly an even steeper option for anyone who thinks ASUS is setting a high price. Still, the funds went into an appropriately comfortable design, with TechRadar's AyaNeo 2 review claiming it feels like it's built to last with a fancy presentation. Unfortunately, despite all its advantages, there's still the timeless issue of battery life.
The AyaNeo 2 can be optimized similarly to its competitors, but playing games at high settings won't bag you much longer than 1-2 hours of portable action. Still, having standard Windows 11 running underneath the graphical frontend means you're free to install any launcher of your choice, with anti-cheat software working as intended. With fewer overall users, however, support for lesser-known games will be thin if you can't figure out the bugs yourself.
If you're comfortable gaming on a Windows 11 laptop, the same tweaking skills carry over naturally to a handheld running the same OS. The AyaNeo has other variants with scaling hardware, too. Still, not all will suitably compare to the beefy hardware the ROG Ally offers - even with its debatable battery life for all-day gaming.
Stream PC games at max graphics settings
Specifications
CPU:
Qualcomm Snapdragon 720G
Display:
16:9, 60Hz, 450-nits
Reasons to buy
+
True all-day battery life.
+
Access to both PC and console titles via streaming.
+
Play PC games at high-to-maximum graphical settings.
Reasons to avoid
-
Reliant on a steady and high-speed Internet connection.
-
Android operating system limits game selection.
-
Controller support is limited.
Handheld consoles designed for streaming services like Xbox Cloud Gaming might seem like a cop-out when you compare it to the ROG Ally and its native rendering but hear me out. Although the G Cloud runs a version of Android as its operating system, it gives you access to a handful of services filled with PC titles alongside console alternatives.
In their Logitech G Cloud review, Zachary Boddy praises yet another comfortable design for extended gameplay sessions, so the competitors hardly seem to suffer in their construction. It's a hefty bonus for something that offers such incredible battery life, given that the games are mostly streamed from the cloud unless you opt for native Android titles or emulation.
With access to NVIDIA GeForce Now to take the stress of rendering PC games off your device, all the heavy lifting can be done externally and beamed to your device with lightning-fast speeds if your Internet supports it. One of the only real downsides is its exclusivity to the United States, which hinders its use compared to any standard cellphone running similar software. Still, the controls and screen are gorgeous, and it's a fantastic alternative for those comfortable with subscriptions.
Flexible PC gaming over the cloud
Specifications
CPU:
Qualcomm Snapdragon G3x Gen 1
Display:
20:9, 144Hz, AMOLED
Reasons to buy
+
AMOLED 144Hz screen makes it one of the best around.
+
Removable controller helps with portability.
Reasons to avoid
-
Exclusive to the United States.
-
Still relies on a stable Internet connection, whether Wi-Fi or 5G via Verizon.
The second of two cloud gaming recommendations, the Razer Edge still has a reasonable reason to rival the ROG Ally, with several serious comparisons in its higher-end components. Boasting an incredible AMOLED touchscreen with a 144Hz refresh rate, it leaves major players like Valve's Steam Deck in the dust regarding visuals. Naturally, it's practically identical to its functionality as the Logitech G Cloud, but with fancy upgrades.
Our Razer Edge review described the Kishi V2 Pro controller as a double-edged sword, proving to be versatile and easy to attach but drastically negatively affecting standby battery life. There's also a rough limitation to US-only markets, just like the G Cloud. It's not a great look compared to ASUS' efforts to offer the ROG Ally in even more markets than Valve with its Steam Deck. Then again, the 5G variant of the Razer Edge relies on a partnership with Verizon, which might tempt existing customers.
Still, bagging a full day of PC gaming via the cloud makes the Edge a viable alternative to the ROG Ally on its battery supremacy alone. Another option that depends on your Internet connectivity and location within the United States, but a tempting one, nonetheless. Razer makes high-quality hardware, and the Edge could easily rival the portable PC gaming scene unless you already have an Android device offering similar display specs.
5. GPD WIN3
Physical keyboard wherever you are
Specifications
CPU:
Intel Core i7-1195G7
Display:
16:9, 60Hz, 400-nits
Reasons to buy
+
Standard components means easy upgrades.
+
Slide-up touchscreen hides physical keyboard, if you prefer.
+
Full-size USB port for standard peripherals.
Reasons to avoid
-
Weaker hardware than its competitors.
-
Controls reportedly feel cheap and can become stuck during use.
You can gain a physical keyboard with the GPD Win3 if you're willing to drop some hardware specs. It's a bonus to those who despise touch screens, especially when using Windows on such a small device. Microsoft hasn't precisely optimized its latest operating system variants to screens this small, and on-screen keyboard support is shaky at best when launching full-screen games.
It's an unusual-looking device, sporting probably the least attractive aesthetics, but it stands out for its unique keyboard and a full-size USB-A port. Connecting any of the best Xbox controllers would work perfectly fine since the GPD Win3 runs Windows 10, but you might not gain much since the unit already has a twin-stick setup. A dedicated mouse is likely a better idea, given there are no touch pads to simulate one more accurately.
You still have expandable storage options via a microSD slot, and there are a few variants of the GPD Win3 to choose from to fit your budget. It's worth checking before splashing out on the ROG Ally, though it feels like more of an answer to the Nintendo Switch featuring Windows as an OS.
How to choose the best ROG Ally alternative
Deciding on the best ASUS ROG Ally alternative is similar to picking one of the best gaming laptops, which usually come under similar scrutiny for their battery performance and comfort for portable play. Naturally, a handheld console explicitly designed for games has a huge advantage over lugging a foldable computer wherever you go, but they still differ in critical areas.
Battery life: Handheld consoles like these generally give a Whr (watt-hour) or mAh (milliampere-hour) specification, and the higher the number, the better. Handhelds specializing in streaming, like the Logitech G Cloud and Razer Edge, boast vastly superior playtime.
Portability: If you plan to leave the house regularly, you'll want to keep a handheld console safe. Valve's Steam Deck includes a carry case, but ASUS sells you the ROG Ally equivalent separately. You'll want to protect larger devices like the Razer Edge from damage, although the removable Kishi V2 Pro helps keep it compact.
Operating system: As mentioned, part of ROG Ally's appeal is running Windows as its OS, with ASUS-branded software overlaid. That's not to say it'll permanently stay that way since a YouTuber already turned the ASUS ROG Ally into a Steam Deck with a custom SteamOS installation. Consider your willingness to learn how alternative systems work, such as Android and Linux, and your options expand considerably.
Get the Windows Central Newsletter
All the latest news, reviews, and guides for Windows and Xbox diehards.