After a long 5 years, Razer has updated its premium Nommo speaker line bringing THX spatial surround, improved RGB lighting, smaller size, custom gaming profiles, more power, and some wireless components. The result is killer PC speakers ideal for gaming, wasting time on YouTube, or watching a movie.
Pros
+

Excellent 2.1 sound with THX 7.1 software

+

Improved Chroma RGB lighting

+

Smaller size

+

Fewer wires

+

99db volume is loud
Cons
-

Expensive

-

Razer software is getting bloated, bit buggy
Why you can trust Windows Central Our expert reviewers spend hours testing and comparing products and services so you can choose the best for you. Find out more about how we test.
I've been a fan of Razer's Nommo speakers since they were released in 2018. Coming in at different price points, including Nomma Chroma and Pro, Razer's Nommo Pros set the bar for powerhouse delivery, especially with its subwoofer, which is the size of an office trashcan.
I feared Razer gave up on the line, especially with its new — and highly innovative — Leviathan V2 sound bar. Luckily, that's not the case, as the company just announced the Nommo V2 X ($149.99), Nommo V2 ($299.99), and the top tier Nommo V2 Pro ($449.99). Additionally, the company has a new accessory dubbed the Razer Wireless Control Pod ($49.99), which is like Surface Dial but with a multimedia do-it-all focus.
I've spent the last week with the Razer Nommo V2 Pro, and here are my thoughts. Why trust me? Well, up until last week, all I have used are the Nommo Pros, so I'm in an excellent position to talk about what's new, what's good, and maybe what doesn't work.
Disclaimer: This review was made possible by a review unit provided by Razer. The company did not see the contents of the review before publishing.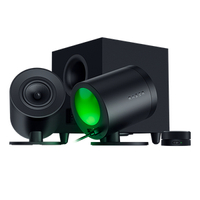 Razer has a range of Nommo V2 speakers that just launched. The V2 Pro is the top-of-the-line, featuring wireless connectivity, a subwoofer, and Chroma lighting. You can save some money by going for the wired Nommo V2 or a pair of Nommo V2 X speakers.
No matter which one you choose, you'll get THX Spatial Audio and cross-platform compatibility.
Razer Nommo V2 Pro: Price, specs, and availability
The Razer Nommo V2 Pro will be available worldwide in June 2023 at Razer.com for $450. Likewise, the Nommo V2 X ($150) and Nommo V2 ($300) will also be available from Razer.com starting in June.
Razer is currently taking preorders for all three versions.
While not announced, Best Buy and Amazon often carry Razer products, and as inventory moves through the channels later in June and July, the Nommo V2 Pro and other versions could appear in those stores.
The new $50 Wireless Control Pod won't be available worldwide until August 2023. However, the Nommo V2 Pro comes with the Wireless Control Pod in the box, so those who purchase the premium, top-tier version gets it on day one starting in June.
Swipe to scroll horizontally
| Header Cell - Column 0 | Nommo V2 Pro | Nommo V2 | Nommo V2 X |
| --- | --- | --- | --- |
| Drivers | 2 x 3" Full-Range Drivers1 x 5.5" Down-Firing Subwoofer Driver | 2 x 3" Full-Range Drivers1 x 5.5" Down-Firing Subwoofer Driver | 2 x 3" Full-Range Drivers |
| Subwoofer | Wireless | Wired | - |
| Max SPL | 99 dB | 98 dB | 96 dB |
| Frequency response | 40 Hz – 20 KHz | 40 Hz – 20 KHz | 75 Hz – 20 KHz |
| Surround sound | THX Spatial Audio | THX Spatial Audio | THX Spatial Audio |
| Chroma | Rear Projection | Rear Projection | - |
| Wireless control pod | Supplied | Optional Accessory | Optional Accessory |
| Bluetooth | 5.3 | 5.3 | 5 |
| Compatibility | PC, Mobile Devices, PS5, PS4, Nintendo Switch | PC, Mobile Devices, PS5, PS4, Nintendo Switch | PC, Mobile Devices, PS5, PS4, Nintendo Switch |
Regarding differences between the models, the short of it is the Pro version has a wireless subwoofer, whereas Nommo V2 is wired, and V2 X omits one. The two drivers on the V2 Pro and V2 have an Aluminum Phase Plug, a more professional-grade mechanical interface, while the V2 X does not feature this technology. The V2 Pro and V2 have Razer Chroma backlighting, whereas the V2 X does not. Finally, the V2 Pro comes with the Razer Wireless Control Pod, while the other two models omit it (though it can be purchased later for $50).
Razer Nommo V2 Pro: Setup and software
The Nommo V2 Pro is easy to set up especially compared to the original version, which had a wired subwoofer and wired control pod in addition to optical out, resulting in an efficient but clumsy system.
The two drivers connect via a braided cord, while the right speaker has a power input and USB Type-C (to Type A) output, which is connected to the PC or laptop. In addition, the V2 Pro has a wireless subwoofer, which means fewer cables and more freedom to place the subwoofer in different locations. That said, the subwoofer still needs power and has its mini plug for AC.
Likewise, as the name implies, the Razer Wireless Control Pod has no cords.
Everything connected without effort — I didn't have to do anything with the wireless subwoofer and the Wireless Control Pod to get Windows 11 (and Razer Synapse) to see it and the speaker drivers. That was pretty cool.
Running Razer Synapse V3, Razer's proprietary software, I was surprised to see that the speakers and subwoofer both had firmware updates waiting, which you don't typically see. I don't know what the updates did, but it only took about 5 minutes before I could play and configure the Nommo V2 Pro.
Razer gives enough settings to give users control over the Nommo V2 Pro without overwhelming them. By default, the system is set to stereo (instead of THX), and the EQ is flat.
Honestly, I wasn't thrilled with the out-of-box audio experience as things did not sound as good as my original Nommo Pro. However, turning on THX and customizing the EQ to the classic 'rock curve' (high bass, lower mids, boosted treble) or going to the Movie preset dramatically changed the sound profile. Razer does include presets like Game, Movie, and Music, but I find tinkering with the 10-band equalizer is the best option as it significantly alters how the speakers sound.
In addition to the EQ, Razer provides a separate slider for the subwoofer with seven levels to either increase or decrease the amount of the bass supplied. Oddly enough, however, this slider recently disappeared from Synapse, so I'm not sure what happened there. Users can also switch to Bluetooth for other connected devices, including your phone as another input source.
One exciting addition to the Nomma V2 line is 'Game Profiles,' where THX and game makers created custom sound schemes for various games. For now, only Cyberpunk 2077 is included with THX Environmental Mode. Razer says more are on the way, including Genshin Impact, Grand Theft Auto V (Steam), Hogwarts Legacy, Marvel's Spider-Man: Miles Morales, and Monster Hunter Rise, although you are free to create your own custom profile for either games or apps and even add artwork, which is a nice touch. Razer provides Bright Memory: Infinite, Command & Conquer Remastered Collection, Diablo IV, and Doom as examples. Users can set those games to Default, Game, Movie, Music, Custom, or Follow existing Audio EQ.
The Nommo V2 and V2 Pro (but not V2 X) include Chroma RGB rear projection lighting, which is a clever addition. This means the lighting projects out the back of the speaker, presumably against your wall. The lighting can be set up using Razer's Chroma Studio, where you can even set them to 'ambient mode,' which reflects the color scheme of your display at the moment. Of course, you can also use Razer's various presets or customize the lights yourself.
What I like about rear-projection Chroma RGB is that I previously used Hue Bloom lamps to do the same thing on my desk. It's like Razer read my mind. Now, I can remove those lights for a cleaner setup or keep them (but move them) to provide even more colorful lighting for my desk and office. The brightness and spread of the Hue Bloom are analogous to the Nommo V2 Pros, so Razer didn't cut any corners here.
The Wireless Control Pod acts as a giant volume knob. You can also use it to power the speakers on or off, toggle input source, e.g., Bluetooth, mute (press down), play/stop, or be customized with Razer Synapse and set it to anything the user wants, like changing your mouse DPI. During my testing period, however, I could not configure the Wireless Control Pod as it did not show up in Razer Synapse, perhaps due to my early access.
Finally, Razer offers a 'power saving' function whereby the speakers enter a standby mode after 15, 30, or 45 minutes of non-use. While a nice inclusion, I found it more reliable to keep the speakers on except when the PC is turned off. Razer offers an option to turn off the RGB lighting when the display is not on, but I have not found this reliable in my testing.
Razer Nommo V2 Pro: Versus original Nommo and Leviathan V2 Pro
Compared to the original Nommo Pro, the new V2s bring many small but welcomed additions. Here are a few that I've compiled from my usage:
Speaker housing and footprint are smaller than V1
The subwoofer is smaller than V1 (or rather, square and not cylindrical; also, lighter)
V1 RGB was just some tiny base lights that didn't do much
THX spatial surround sound
THX Gaming Profiles
Wireless down-firing subwoofer and Wireless Control Pod
There are also other minor changes, like how the connection to the PC runs to the speaker driver (right) instead of the subwoofer, which means you need a shorter cable that can be closer to the PC.
The new Wireless Pod is significant because, quite frankly, I never used the wired one from Nommo Pro as it was connected to the subwoofer and often just fell on the floor. This new version is much more convenient and way more customizable.
Regarding audio quality and sound … well, it's fantastic. The subwoofer packs a punch that can shake your room and make something you feel. The THX works well in that even though the speakers are flanking you on the left and right, it creates a center-channel-like experience where dialogue sounds like it is coming at you, but music/effects are "to the sides." This ability is due to the simulated 7.1 THX software experience from a 2.1 hardware setup.
I'm not sure why you would ever use just stereo, which is why it being the default setting is odd.
What about the Leviathan V2 Pro? We gave that system a very high rating, but it's essential to know that Razer sees them for different audiences, and the Nommo V2 Pros are likely to be even more powerful overall. According to Razer, the Nommo V2 Pro is geared more toward the solo gamer who also wants a more traditional cinema and multimedia setup. While it lacks the ground-breaking beam-forming surround sound of the Leviathan V2 Pro, the Nommo V2 Pro fits easier on most desks as you don't need to place the speaker below your monitor, which could be a problem for some setups with large displays that are 32-inches or larger.
While I love the Levithan V2 Pro for my setup, currently, with a 32-inch Dell 6K monitor, the Nommo V2 Pro works better. If I had to place a sound bar below this display, it'd jack it up much higher than I'd prefer. However, with the Nommo's movable speakers, I can put them anywhere and adjust them on the fly.
Razer Nommo V2 Pro: Competition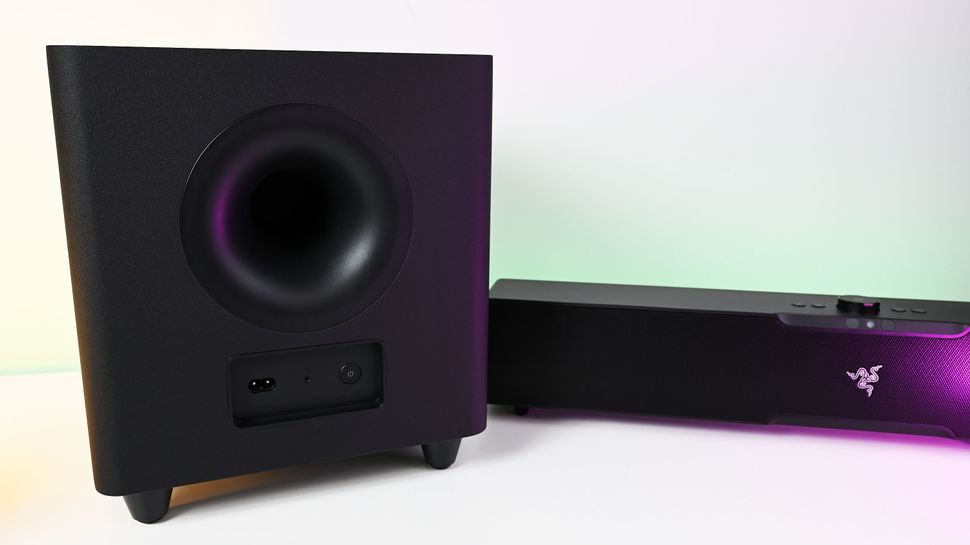 There's not a lot of competition in this space if you're sticking to mainstream gaming speakers, especially ones with RGB.
The Razer Nommo Pro (V1) are still available, but Amazon has them for $550. While these are excellent speakers (more on that below), I could not recommend dropping $100 more for them when you get fewer features. Now, if they drop to $400 or lower, I would still consider them a good buy. While they lack THX and better RGB, the sound is still fantastic, which is what really matters.
You could also downgrade slightly to the Razer Nommo V2 ($300) with a wired subwoofer and no control pod or the Razer Nommo V2 X ($150), which are just the satellite speakers/drivers with no Chroma RGB, subwoofer, or control pod.
Razer's $400 Leviathan V2 Pro is also a good alternative that I'm sure Razer wouldn't mind if you chose instead. It's also $50 cheaper. The sound from that device (with a similar subwoofer) will be close to the Nommo V2 Pro, plus you get literal head tracking that helps shape the soundscape to you in real time.
The Logitech 980-000467 Z906 5.1 Surround Sound system ($488) is slightly more expensive, and you don't get RGB or wireless components, but you get a "true" 5.1 system instead of a 2.1, pretending to be 7.1. But, of course, positioning five speakers on your PC desk could be a challenge for space, not to mention a mess of wires unless you plan on mounting.
The Bose Companion 2 Series III Multimedia Speakers for PC are much cheaper at $183, but you only get two speakers. These won't be as powerful or as loud as the Nommo V2 Pro as these are "basic" speakers, but they are made by Bose, which delivers some of my favorite default sound profiles.
Razer Nommo V2 Pro: Should you buy?
You should buy this if …
You want a high-end 2.1 speaker system for your PC.
You have desk space for two speakers.
You want even more RGB for your PC battle station.
You already bought into the Razer ecosystem.
You should not buy this if …
You already have Razer Nommo V1 Pro.
You prefer a soundbar setup.
You don't have $450 to drop just for audio.
Here's the bottom line: If you're coming from some cheap, knockoff computer speakers, the Nommo V2 series is a great place to start for replacements and easy to recommend.
As to which of the series to get, Nommo V2 X ($150), Nommo V2 ($300), or Nommo V2 Pro ($450), it clearly depends on what you feel comfortable spending. Ideally, most people go for the $450 Pro, as you get all the frills, including a wireless subwoofer and that control pod. If you do, you won't be disappointed.
However, like most things in life, the middle choice (Razer Nommo V2 at $300) is likely the best for most people. You still get the same features, RGB, excellent drivers, and a powerful subwoofer, but you're saving $150 over the Pro line. While the control pod is well built and highly functional, if you already have a keyboard like the excellent Razer Blackwidow V4 Pro (what I use), you get a smaller version of the dial and a volume/media scroll bar that's even closer to your fingertips, making the control pod a bit redundant.
Is the Nommo V2 Pro worth the upgrade over the original Nommo Pro? I'm not convinced they are. Dropping $450 for some improved audio, lighting, a smaller footprint, and a more wireless experience is a lot considering I didn't have any complaints about the Nommo Pro V1 sound profile. Those are still fantastic, and I wouldn't toss them in the garbage for these. Don't get me wrong, if money is no object, the Nommo V2 Pro is great, but Razer kind of nailed version 1.0 with only some minor complaints if the sound is your only concern.
Besides the higher-than-average price, are there any downsides? The only one I can think of is Razer Synapse V3, which while crucial for the Nommo V2 Pro experience, is becoming a chonk at 1.3GB of files, and I occasionally do have some issues with it (like the disappearing subwoofer slider).
Speaking of price, it's important to note that the Nomma V2 Pro is $50 cheaper than the original Nomma Pro ($499) when it launched in 2018. While that doesn't undo the sting of $450 speakers, it's nice Razer did bring the price down a bit while delivering more (and better) features.
Razer does sound well, especially since it purchased THX a few years ago (the companies operated independently, however). The fun engineering of the Razer team with the technical and audio prowess of THX shines in these speakers. The Chroma RGB, (mostly) wireless setup, and new control pod are just icing on the cake. It's a safe bet I'll stick with the Razer Nommo V2 Pro for the next 5 years.
Daniel Rubino is the Editor-in-chief of Windows Central, head reviewer, podcast co-host, and analyst. He has been covering Microsoft since 2007 when this site was called WMExperts (and later Windows Phone Central). His interests include Windows, laptops, next-gen computing, and for some reason, watches. Before all this tech stuff, he worked on a Ph.D. in linguistics, watched people sleep (for medical purposes!), and ran the projectors at movie theaters because it was fun.