The StylthGrip makes the Steam Deck more comfortable to hold, and it's nice that it comes with a glass screen protector. However, some of the extras of this case are a little awkward. Installing and removing the hardcover feels odd.
Pros
+

Improves grips on Steam Deck

+

Openings for all ports and fans

+

Screen protector included

+

Works with official dock
Cons
-

Hard cover is awkward

-

Doesn't fit in official Steam Deck case

-

Expensive
Why you can trust Windows Central Our expert reviewers spend hours testing and comparing products and services so you can choose the best for you. Find out more about how we test.
---
UPDATE: The original review of the Satisfye StylthGrip was published on Oct. 19, 2023, and was updated later that day after Satisfye explained how the RYZEN Pads work in relation to the thumb grips.
---
If you have a Steam Deck, you know it's one of the best gaming handhelds on the market today. Of course, as with any device, having the best Steam Deck accessories can significantly improve your experience. As such, I'm always looking for new gear and peripherals.
Recently, I became aware of the Satisfye StylthGrip, an accessory that, as the name suggests, slides over the Steam Deck to give it better grips. Satisfye is well-known in the handheld gaming space for making amazing thumb grips, carrying cases, and slide-on grips for Nintendo Switch, so I was eager to test out its Steam Deck product. While the StylthGrip does improve the Steam Deck experience overall, it also adds some awkwardness.
Disclaimer: This review was made possible thanks to a review unit provided by Satisfye. The company did not see the contents of this review before publishing.
Satisfye StylthGrip: What I like
According to Satisfye's website, the StylthGrip releases on Oct. 30, 2023, but preorders are currently open. Pricing for the StylthGrip is a bit hard to swallow since this purchase puts you back $59.99 for the case itself or $89.99 for the StylthGrip Bundle.
At the time of writing, the StylthGrip can only be purchased from Satisfye's website, but it sometimes goes on sale and can be purchased for less. It's also possible that it could find its way to Amazon soon since other Satisfye products are available there.
I specifically reviewed the StylthGrip Bundle, which includes multiple things in addition to the StylthGrip case. There's the hardcover that slips over the case, two thumb grips, two RYZEN pads, four rubber pads for the back buttons, a glass screen protector, and a tin box with fitted foam padding to keep it all securely together.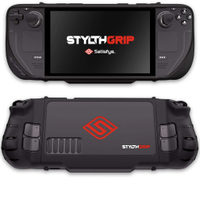 Satifsye StylthGrip for Steam Deck | $59.99 at Satisfye
With this grip case that easily slides over the gaming handheld, you can make your Steam Deck more comfortable to hold. It's available in black or transparent red. Preorders are currently open, and it launches on October 30, 2023.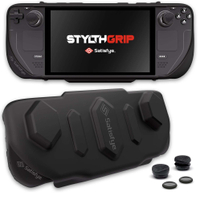 Satifsye StylthGrip Bundle for Steam Deck | $89.99 at Satisfye
This purchase provides better ergonomic grips for your Steam Deck gaming handheld. Also in the box is a hardcover for travel, thumb grips, a screen protector, and silicon pads for the back buttons. This all comes in a tin box.
It was easy enough to slide the StylthGrip over my Steam Deck, and unlike some other case accessories out there, it didn't feel like it would harm my expensive gaming handheld in the process. Once on, it fits snuggly and securely, so I don't have to worry about it slipping off or feeling awkward. However, once on, it's meant to stay on, so it's harder to remove.
The rubber casing is well-designed to accommodate all of the Steam Deck's buttons and vents, so you don't have to worry about the handheld overheating or being harder to use when the StylthGrip is in place. What's more, the case can be used in the official Steam Deck dock. However, I did try to put the StylthGrip encased Steam Deck in the official carrying case and found that it was too large to fit. Still, including the StylthGrip hardcover in the bundle makes it so you don't need to use a travel case.
More Steam Deck
- Is Baldur's Gate 3 on Steam Deck?
- What games can Steam Deck run?
- How to play FIFA 23 on Steam Deck
- How I destroyed my Steam Deck
As far as the actual feel of the StylthGrip goes, I was a bit skeptical at first that the Steam Deck's ergonomic grips could be improved upon because they are already rather good. However, there's no denying that having the StylthGrip case's textured rubber grips in place feels better than simply grasping the more slippery plastic.
Additionally, I was initially hesitant to stick the rubber pads onto my Steam Deck's back buttons because this is done with adhesive, but they do feel good when in place and make these controls easier to use.
So, if you're the kind of person who tends to get sweaty fingers or simply prefers a stronger hold on your handheld, then the StylthGrip case and rubber pads can definitely be helpful accessories for you. The StylthGrip also looks nice, with a simple design that doesn't detract from the Steam Deck's discrete look. I never felt embarrassed whipping it out, and sometimes I even forgot it was in place because it matches the Steam Deck's black casing rather well.
Satisfye StylthGrip: What I don't like
My biggest problems with the StylthGrip Bundle are two-fold. For one thing, the thumb grips that come with the case don't fit on very snuggly unless you put the separate RYZEN pads on the joysticks first. This is a little odd as it takes more work than usual to get the thumb grips in place. Additionally, there are no instructions in the box explaining that this is how the thumb grips must be installed, so you might get frustrated as the thumb grips fall off and stare at the separate RYZEN Pads confused and unsure of what to do with them. Additionally, one of the thumb grips is taller than the other one. I'd prefer they were the same height.
The other issue I have is that the hardcover is too bulky. This piece of plastic gets installed by being pulled over the front of the Steam Deck and then pressed in until the StylthGrips rubber nubs are pulled through four holes (two on top and two on bottom) to keep it in place. While it does provide protection to the Steam Deck screen, the whole installation and removal process for the hardcover feels somewhat straining.
What's more, there are five raised truncated hexagon shapes (think Rupees from Zelda) on the hardcover designed to provide protection when the Steam Deck is in transit. The main problem I have with them is that the two on the far sides come out rather far to accommodate the thumb grips, which makes the whole thing rather bulky and not nearly as sleek as some other Steam Deck cases.
Satisfye StylthGrip: Competition
Thankfully for fans like me, there are tons of the best Steam Deck accessories to choose from, including other grips, carrying cases, battery packs, docking stations, and more.
If you're specifically interested in the StylthGrip Bundle for its protection, I suggest you look at my Tomtoc Arccos-G47 review. This Steam Deck bag offers a great way to travel with your gaming handheld because it's spacious enough for the Steam Deck and other accessories. Plus, it has a shoulder strap for easy carry. I was even able to place the Steam Deck into it while it was in the StylthGrip, although it was a rather snug fit.
Satisfye StylthGrip: Should you buy it?
You should buy it if...
✅ You want a secure case that adds textured grips to Steam Deck
The textured rubber feels really good on the handheld and makes it easier to hold during play. It's easy to slip onto the device and fits snuggly, so it won't fall off or feel awkward.
You should not buy it if...
❌ You're looking for a less expensive option and don't need all of the extras in the bundle
The Satisfye StylthGrip feels good, but it costs a good amount, too. Some of the bundle's included accessories don't work very well, so it might be better to simply get the StylthGrip on its own. If you want to save money, you should look for a different grip option that costs less.
The StylthGrip case itself is a great Steam Deck accessory that's helpful for making the gaming handheld easier to hold. This is due to its textured rubber material, which prevents the Steam Deck from sliding around. It also looks nice and doesn't detract from the design of the Steam Deck.
However, I can't fully recommend everything that comes in the more expensive StylthGrip Bundle. There are both RYZEN Pads and thumb grips included in the package. You need to slip the RYZEN Pads over the joysticks before putting the thumb grips on top or else they don't really stay in place. This is a bit awkward and takes more work than is usually expected for thumb grip installment.
Additionally, it felt a little straining to install and remove the hardcover from the StylthGrip. Still, being able to add the rubber pads to the four back buttons does make them easier to use and provides additional grip. So, if that's an important aspect to you, then the bundle might be worth it.
This textured, rubber Steam Deck case provides a comfortable feel so you can grip your gaming handheld more easily. It comes in black or transparent red and launches on Oct. 30, 2023. Preorders are now open.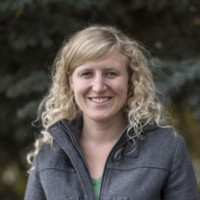 Self-professed gaming geek, Rebecca Spear, is one of Windows Central's gaming editors with a focus on Xbox and PC gaming. When she isn't checking out the latest games on Xbox Game Pass, PC, or Steam Deck; she can be found digital drawing with a Wacom tablet. She's written thousands of game guides, previews, features, and hardware reviews over the last few years. If you need information about anything gaming related, her articles can help you out. She also loves testing game accessories and any new tech on the market.