Final Fantasy fans react to Xbox and Phil Spencer's surprise appearance at the fan festival
The Final Fantasy 14 announcement meant to world to this guy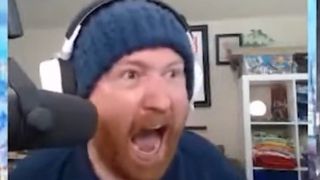 (Image credit: Brian Montford)
What you need to know
At a gaming event in Las Vegas, Yoshi P unexpectedly welcomed Xbox lead Phil Spencer to the stage to announce Final Fantasy 14 coming to the Xbox platform.
Content creator Ginger Prime has been campaigning for years against Final Fantasy exclusivity on PlayStation, and had an emotional reaction to the announcement.
Ginger Prime aka Brian Montford is not primarily an Xbox gamer, however he wants all gamers to have access to his favorite franchise.
---
Square Enix surprised Xbox fans yesterday by revealing that Final Fantasy 14: A Realm Reborn will finally arrive on the platform in 2024, with an appearance from Phil Spencer on stage to confirm the news. This announcement meant more than anything to Ginger Prime, aka Brian Montford, a passionate Final Fantasy 14 player and content creator. As a result, he shared his emotional reaction with the world in a video that captured his joy and excitement live as it happened. Watch below:
"I'm pleased to welcome my good friend... @XboxP3" Thank you @xbox @FF_XIV_EN 🥹🥲 pic.twitter.com/hbBBN1vv8PJuly 28, 2023
"For over a decade I worked on campaigns to keep support and a voice that FFXIV would be great on Xbox." Montford tweeted following the announcement.
READ MORE
-Xbox have stopped taking part in 'console war'
-New Final Fantasy XIV expansion 'Dawntrail'
-Mortal Kombat 1 pre-order beta dates konfirmed
The video, owing to his incredible reaction, has been circulated around social media by some with ulterior motives of pushing a console war. However, Montford later put out a YouTube video giving more context to his reaction. Moreover, he revealed he is not primarily an Xbox gamer at all. He simply wants to end PlayStation's exclusivity of Final Fantasy so more people can enjoy the games. An honorable mission if ever we saw.

Montford has been involved in the Final Fantasy community for years, sharing insights and opinions on the franchise's updates, lore and thoughts on its future. In fact, he's been advocating for the addition of Final Fantasy 14 to the Xbox platform for years now. In Montford's opinion, more people having access to Final Fantasy is a win-win for Xbox and Square Enix, and more importantly the Final Fantasy fanbase.

Some PlayStation fans haven't taken the news quite as well, and believe firmly that Final Fantasy belongs solely on the PlayStation platform. However, Brian has been keen to emphasize he is not a 'console fanboy' of either platform. In fact, he refers to himself as a "console agnostic" and is actually more passionate about streaming games on cloud services like Nvidia GeForce Now.

Montford jokes in his video that he should next campaign for Final Fantasy on the cloud. Well, perhaps with Xbox's commitment to providing games on Nvidia, it may not take that long.
Wider fan reactions
While a vocal minority of players have been commenting on the news in a negative manner, wanting exclusivity to remain, the majority reaction has been overwhelmingly positive. A casual glance over threads on Reddit reveals many agreeing with Montford's excitement and for similar reasons. Opening up Final Fantasy 14 to the Xbox platform will bring more players to the game and more competition in line with other multi-plat MMOs like Destiny 2 and Elder Scrolls Online. One Redditor commented in this discussion, "This is a good game. This game will now be available to more players. What's there to dislike? This is obviously good, I'm glad to see it." with another responding "I'm really glad that a whole other platform will now be able to experience this incredible game."

In fact, the main concern of the fanbase is making sure the servers can take a new surge of players when the launch comes to fruition, but in the main they believe it will be a great improvement on queue times with the larger player pool.
Final Fantasy returns to Xbox
Square Enix's decision to bring Final Fantasy 14 and other titles to the Xbox platform is a welcome and long-awaited move that will benefit both the developers and the players. By expanding their reach and audience, Square Enix will be able to showcase their games to a wider and more diverse market. As a result, Xbox players will be able to enjoy more options on their platform where doors have previously been closed.

I'm not a huge fan of Final Fantasy myself, but it's great to see passion in the gaming community with a positive outcome like this, and using this particular video to add fuel to any console wars is frankly abhorrent behavior by those involved. I for one am happy Brian Montford has got the thing he's so passionately advocated for and look forward to more collaborations and innovations from Square Enix and Xbox in the future, and it sounds like most Final Fantasy 14 fans agree that this is a net positive result all around for the game.
Get the Windows Central Newsletter
All the latest news, reviews, and guides for Windows and Xbox diehards.
Jen is a News Writer for Windows Central, focused on all things gaming and Microsoft. Anything slaying monsters with magical weapons will get a thumbs up such as Dark Souls, Dragon Age, Diablo, and Monster Hunter. When not playing games, she'll be watching a horror or trash reality TV show, she hasn't decided which of those categories the Kardashians fit into. You can follow Jen on Twitter @Jenbox360 for more Diablo fangirling and general moaning about British weather.