JSAUX is seemingly trying to do the impossible and make a USB dock interesting. While they've certainly succeeded, the build quality here isn't quite good enough for me to give it a score comparable to other, less flashy docks I've tried. It does look great, though, and does exactly what it says on the box by increasing the functionality of your handheld devices, so it may still appeal to some hardcore RGB fans.
Pros
+

Works with multiple handheld devices

+

Customizable with OpenRGB

+

Compact design

+

Looks cool
Cons
-

Build quality isn't great

-

Placement of right angle cable isn't ideal for Steam Deck

-

Temperamental with HDMI cables
Why you can trust Windows Central Our expert reviewers spend hours testing and comparing products and services so you can choose the best for you. Find out more about how we test.
I'm always apprehensive about taking on USB docks, as they are one of the trickier accessories to critique. Besides 'does it work or not?' it's hard to write an engaging piece on such simple hardware. This time around, JSAUX has brought something a little bit more exciting to the table.
The JSAUX RGB Docking Station comes in two models, a 12-in-1 and an 8-in-1, and is compatible with most handheld gaming devices (though not the Nintendo Switch). It's not just your average dock; it's an RGB dock. Does that make it better? Let's find out.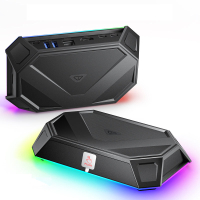 JSAUX RGB Docking Station for Steam Deck

A multifunctional device that can charge, connect, and display your handheld gaming device or tablet with amazing RGB lighting effects. You can customize and sync the colors with your screen and other RGB devices, including the Steam Deck RGB Backplate. Starts at $59.99 for the 8-in-1 model and $89.99 for the 12-in-1.
Buy now: Amazon 8-in-1 | Amazon 12-in-1 | JSAUX
Disclaimer: This review was made possible by review units provided by JSAUX. The company did not see the contents of the review before publishing.
RGB Docking Station: Price, availability and specs
Image 1 of 3
Currently, you can only purchase the two JSAUX RGB Docking stations directly from JSAUX's official storefront, though they say these will be available on Amazon at some point in the future. Prices are $59.99 for the 8-in-1 model and $89.99 for the 12-in-1. The differences between the two models are listed in the table below, but essentially, with the higher-priced model, you are getting more ports and 4k@120Hz display support. In addition, you gain a 3.5mm audio interface and two card slots (TF and SD).

UPDATE: As of Oct. 4 2023, the dock is now available on Amazon.
Swipe to scroll horizontally
| Category | 8-in-1 RGB Docking Station (HB0801) | 12-in-1 RGB Docking Station (HB1201) |
| --- | --- | --- |
| Ports | USB A 2.0 x 1 (480Mbps) | USB A 2.0 x 1 (480Mbps) |
| Row 1 - Cell 0 | Gigabit Ethernet x 1 | Gigabit Ethernet x 1 |
| Row 2 - Cell 0 | USB-C PD x 1 (100w) | USB-C PD x 1 (100w) |
| Row 3 - Cell 0 | USB-A 3.0 x 2 (5Gbps) | USB-A 3.2 x 2 (10Gbps) |
| Row 4 - Cell 0 | HDMI 2.0 x 1 (4K @ 60 Hz) | HDMI 2.1 x 1 (4K @ 120 Hz) |
| Row 5 - Cell 0 | USB-C 3.01 x 1 (5Gbps) | USB-C 3.2 x 1 (10Gbps) |
| Row 6 - Cell 0 | IN: USB C x 1 | IN: USB C x 1 |
| Row 7 - Cell 0 | Row 7 - Cell 1 | 3.5mm audio jack |
| Row 8 - Cell 0 | Row 8 - Cell 1 | TF card slot (480Mbps) |
| Row 9 - Cell 0 | Row 9 - Cell 1 | SD card slot (480Mbps) |
| Row 10 - Cell 0 | Row 10 - Cell 1 | DisplayPort 1.4 (4K@120Hz) |
| Dimensions | 150x92x28.2mm | 150x92x28.2mm |
| Weight | 315g | 335g |
RGB Docking Station: What's good
Can you ever have too much RGB? Well, JSAUX apparently thinks not, as in its wisdom, it's put some of the brightest and boldest RGB I've ever seen — on a docking station. Seriously, this thing is bright. While that may be annoying to some, I imagine those who would be put off wouldn't be purchasing an RGB docking station in the first place, so I'm going to say the brightness and vibrancy of the lights here get a big thumbs up from me. With my Steam Deck or Logitech G Cloud docked it makes them look like true centerpieces on my desk.
The RGB itself can be played with easily, too, simply by installing OpenRGB on your Steam Deck or whichever device you choose to use with it. There are six modes in total, from 'Direct,' which is just a solid light, to 'Stacking,' which is full-on rave lighting. My favorite settings were 'Rainbow Wave' or 'Breathing,' as I like my lighting a little more mellow and less like a confused pre-lit Christmas Tree.
The dock functions essentially the same as JSAUX's more demure dock, the 6-in-1, with the benefit of extra ports depending on which model you go for. If you splash out for the 12-in-1 dock, you get the benefit of two card slots for expanding the storage of your device, plugging the dock into a power source, then placing the Steam Deck on top, opening up my handheld to more ports to use keyboard, mouse, and an external monitor.
I don't currently have a PC capable of playing Baldur's Gate 3, so this is the only way I've been able to get the big screen experience and enhance that further with some atmospheric lighting is the icing on the cake.
The pass-through charging of up to 100W is super-fast and much needed for devices like the Steam Deck, as long as your power source is suitable. The bottom of the dock is also rubberized, so you won't get any slipping around on your desk. While the dock is mainly marketed as a Steam Deck accessory, it's also compatible with the Logitech G Cloud, the ASUS ROG Ally, the Razer Edge, and Ayaneo handhelds.
RGB Docking Station: What's not so good
Image 1 of 3
When connecting the dock to my Steam Deck, one problem became glaringly apparent. The right-angle USB-C cable means the wire covers the top vents of the Steam Deck. Only partially, but I know how hot my Steam Deck can get over long periods of use, especially with demanding games like Baldur's Gate 3, and I question if this will have an impact in the long term. You can turn it in the other direction, but you are then blocking the power button. I'm not sure why they've changed the angle of the connection from the design on the 6-in-1 dock, which was perfect and didn't obstruct anything of importance.
While they look beautiful, all lit up in their RGB glory, the build quality of these docks could be much better. The plastic feels a little too lightweight for my liking, and pulling out the stand isn't as smooth as I'd expect. If these had been made in a brushed metal design, JSAUX could have hit it out of the park, but being made of flimsy plastic means it's hard for me to recommend these over the much cheaper 6-in-1 device based on RGB lighting alone. There's no denying it's beautiful on the outside, but there is room for improvement on the inside.
It's worth noting that the dock can be temperamental with specific HDMI cables. This isn't the first time I've had this issue. My car's Android Auto also has high standards and will only accept the highest caliber of USB-C cables. The JSAUX RGB Dock is similarly snooty, and the first two cables I used with it sent my Steam Deck's screen resolution and orientation haywire. Third time lucky, I used the HDMI from my Xbox, and the dock worked perfectly. I have more HDMI cables in this house than dinner plates, so it's not an issue for me, but it may be if you don't have an overwhelming amount of tech in the home.
RGB Docking Station: The competition
The RGB USB dock market isn't exactly brimming with options. You can get a bunch of cheap knockoffs on Amazon, but I wouldn't be connecting anything less than a reputable brand to my Steam Deck in a hurry, so to keep it simple, I'll stick to well-known names. The most obvious that comes to mind with RGB products is Razer, and they, of course, have the Thunderbolt 4 Dock Chroma.
It doesn't have a stand for a handheld, though, and it's not the most aesthetically pleasing way of displaying your Steam Deck while connecting to an external monitor. In addition to that, it's miles more expensive than JSAUX's offering at a whopping $329.99 MSRP.
If RGB isn't your bag, there are many options for Steam Deck docks, notably JSAUX's own 6-in-1 dock and the Syntech 6-in-1. You'll lose out on ports and that jazzy lighting, but they will hold your devices in a pleasing manner and do a solid job of expanding your USB options. They may be no frills, but they're also both great value at $49.99.
RGB Docking Station: Should you buy?
You should buy this if ...
You love RGB everything
Versatility and compatibility with multiple devices is important to you
You want more ports and storage options for your handheld
You have a good-quality HDMI cable
You shouldn't buy this if ...
You dislike RGB lighting or find it distracting
Your budget for a dock is lower, as this is a pricey option
You want a dock that's also compatible with Nintendo Switch
As a lover of RGB devices, I had high hopes for the JSAUX RGB Docking Station, and I'm certainly the target market for this device. That being said, there are a few things that make it less than perfect for me, from the thin plastic build of the pull-out dock to the odd design choice of the USB wire.
It certainly takes a pretty picture, and I appreciate that JSAUX has tried to make something out of the ordinary for a much lower price point than Razer would ever do; I just hope we get a better version for future releases that can compete with the best Steam Deck accessories.
JSAUX RGB Docking Station
The JSAUX 12-IN1 RGB docking station is a multifunctional device that can charge, connect, and display your Steam Deck or other handheld devices with amazing RGB lighting effects. Sync with your other devices using OpenRGB software and keep your devices charged with up to 100w passthrough USB-C charging.
Jen is a News Writer for Windows Central, focused on all things gaming and Microsoft. Anything slaying monsters with magical weapons will get a thumbs up such as Dark Souls, Dragon Age, Diablo, and Monster Hunter. When not playing games, she'll be watching a horror or trash reality TV show, she hasn't decided which of those categories the Kardashians fit into. You can follow Jen on Twitter @Jenbox360 for more Diablo fangirling and general moaning about British weather.