Get ready to gear up – Gears of War and Shoot Many Robots are your free "Games with Gold" for December 2013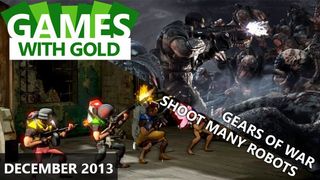 While Xbox One users will have to wait for an update "Games with Gold" program, current Xbox 360 users will still be able to take advantage of some great offers. This month, the company is offering up the original Gears of War, along with an indie game, Shoot Many Robots.
Gears of War will be available from December 1 to December 15. The title normally would cost you $19.99 on the Xbox Marketplace, but can be obtained for free during this time period.
Gears of War is a military science fiction game that is played from a third-person perspective. It was originally launched in 2006, but you can relieve the adventure in your living room this month. Join Delta Squad and save what little sources of humanity remains on planet Sera. You will play as Marcus Fenix, an ex-con with an attitude. When you are finished crushing through the campaign, you can join a multiplayer match with up to eight other gamers. The title is powered by Unreal Engine 3 and was produced by Epic Games.
Shoot Many Robots is the second title available for "Games with Gold" and will be available from December 16 to December 31. The title would normally cost $9.99, but will be free during the aforementioned dates.
Shoot Many Robots is an Xbox Live arcade game developed by Demiurge Studios and published by Ubisoft. The game was originally released last year, 2012. The action platformer takes you on an adventure where you (you guessed it), shoot many robots. The game has a rating of 4/5 stars on the marketplace and is worth paying attention to once it is released for free (or now, if you want to support the developers).
Are you enjoying the selection of "Games with Gold" offers or are they not enough?
Source: Microsoft (opens in new tab)
Windows Central Newsletter
Get the best of Windows Central in in your inbox, every day!
I've never played Gears of War, so this month actually has something. Maybe when I'm done with endless Forza 5

Kinda sucks for people that bought GoW Judgment so they'd get both games.

A game from 2006 that costs as much as a cell phone game for free. Thanks Microsoft

It's crazy how entitled people are. There are legitimate complaints about xbl, but there were less complainants from people before this program.

Wait, the first Gears? Not Judgment or even 3? I don't get it...

Easy. Free. As in they didn't have to give away a game but they did.

Microsoft needs to start dishing out newer games. I'm glad they're doing the giveaway but atm it's a namesake because Sony is also doing a similar thing. But comparing what Sony has to offer the Xbox stuff don't look so good. I'm all Microsoft but Xbox needs to listen to their userbase. Can't wait to get my hands on the Xbox One soon!

I'm glad there still giving games away, some people are just ungrateful about free stuff.
I've got my Xbox one and no games shame on me lol

It's not about being ungrateful, necessarily. They're trying to sell this as a decent alternative to PSN's program, but PSN gives out much-newer games (like, 5 years newer, in some cases). The reason we complain is because everyone got these games 5+ years ago. I mean, it might sound like (and even BE) spoiled whining, but when Microsoft is trying to use this as a cheap P.R. stunt, that's what they're going to get--feedback on the quality of the offerings.

Man, we're taking the embarrassment to new heights with this. You can go to GameStop and get the first Gears for $2.99 used. Why? Because the game's 7 years old, the online community is most-certainly dead, and 99% of people who want the game got it 5 years ago or more. They're pretty-much giving away games that aren't even selling on the marketplace. Again, this game can be purchased for $2.99, as can the first sequel. The third game's $10, meaning you can get ALL THREE for about $15, or $5 less than they noremally charge for this game on the LIVE marketplace.

Gears online community dead? Have you been on YouTube lately most modern clips are from gears 1 and 3 gears 2 and j are not that great, take it from me I till this day play 1 and 3 and finding a rank execution on 3 takes no time at all

Really can't wait for this to kick in for the Xbone. Maybe then we can get games that are 2 years old instead of 6 years. Lol

I can't see how it will start for One any time soon. They just don't have the back catalogue to fall back on. Though I hope they do, and no in app purchase models please. I hope they do keep it going though. I downloaded Gears as it was one of the many games I didn't buy. Got in to 2 and loved it. I actually put it on the other day and liked it. My One is in for repair, so I am back on the 360. Hopefully, they keep this going and I can download to both platforms.

I dunno. There are already 25ish games. If releases are steady it should be easy. My main issue is that I already own all the games they are giving out. Except for one, That HMM games.

25 games for the One? Not sure, you are probably right, but how many of them will available for free in the coming months is open for debate. Regarding 360 games, there are literally tons to go at.

Just fired up the marketplace. 24 games and one demo. I was just saying that if a game did not come out ever again, when they start Games for Gold on the Xbone, they would have ammunition for an entire year if they do two games a month. If one then two years. The game flow will be steady. I surmise by the end of next year there will be in the ballpark of 60-80 games available.

I have no doubt, I can't check, but I am sure you will be right. But they can't release those, surely.

Gears of War is a great freakin' game. Especially in coop (obviously)

You pay money to watch something you already payed for. And they give you game that's $2 and a arcade game that sold quite bad.

Just a heads-up: in Germany, Gears of War is not available (not sure why). The free game for the first half of the month is Halo Wars.


The complaints are stupid. While I played GoW, my son, nephews and even my cool gaming niece have not. There are great Xbox 360 console deals and not every family can afford an Xbox One. All of them 12 to 14 years old are having a blast playing for the first time. There are plaenty of rabid gamers with 20+ backlog that seem to collect games more than play games and a majority live on CAG. You are not the only video game consumers, nor are you guys majority that has to own every console and every AAA title. So, maybe this go around is not for you, go purchase Dark Souls or wait for the 12 days deals, but stop bashing the free games just because you played them already. There are plenty of new gamers who missed last Gen and they have a massive library to still enjoy. The attitude of some of the "hard core" is getting risiculous always ready to ridicule everyone else for no reason. The center of gaming-verse does not soley revolve around you. I swear some gamers are their own special kind of cyber bully - you do nothing to enhance the community in anyway but always first with a complaint. Express your dipleasure then give everyone a break - we all payed for our consoles and xbox live memberships and many like my family and the family of my brother sister are very happy that the kinds can get free games or cheap games. You have to think, not everyone was even old enough to play when it was released in Oct 2006. There is whole generation of gamers who can now get a chance to play for free. Now there are new players online too, making it fun even for veterns to play again. One thing, its not just Microsoft. They need to line up and get publishers to participate and often that means payment and licensing. If you pay the full price for XBox Live, it is atill just $5/month. Consider the money you loose paying AT&T and your cable company (you never use all your minutes or data nor watch every channel, ao you loose money) the free games are a bargin and an excellent perk - stop your complaining and be happy and thankful for what you have.

People complained when they were giving us indie games which are usually fun so I'm not sure why they complained, and now they're complaining when we get one of the games from a hugely successful Xbox franchise. You're lucky you're getting anything. Quit the complaining and enjoy the game -_-

The article is somewhat confusing. Is "shoot many robots" an indie title or an XBLA title?

Why am I reading so much about Xbox and Windows 8???? I come here for Windows Phone 8 info and there's getting to be less and less of it buried amongst the this other stuff. Time to start looking elsewhere for my Windows Phone 8 articles I guess.

I'm excited that Microsoft is releasing older games. There's many series I have never started that I've always wanted to. Gears of War is one of those that I have never started and at this rate Microsoft is merely helping me get engaged in new games. I don't see why some people are so upset. I'm still only half way through Assassin's Creed I and they gave me Assassin's Creed II free a couple months back and now I have Gears of War I to keep me busy too. It makes sense on their end too. They revitalize the original games for series so that everyone has a chance to go back to the beginning and decide whether or not they want to continue the series.
Windows Central Newsletter
Thank you for signing up to Windows Central. You will receive a verification email shortly.
There was a problem. Please refresh the page and try again.