GOG Galaxy 2.0 may be what PC gamers need to unite all launchers
CD Projekt's solution to multiple launchers for PC gamers is off to a promising start.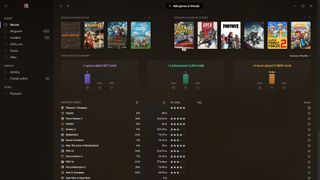 (Image credit: Windows Central)
It used to be far simpler for PC gamers a decade ago. Really there was only one storefront and game launcher: Steam. Sure, Blizzard's Battle.net was around, but the major player was Valve with Steam and its incredible hold on the digital market. That is until publishers decided they no longer wanted to split the revenue with Valve and wanted their own storefronts. This began to create issues for PC gamers who had to install numerous launchers. They thought it couldn't get any worse, but it did.
Steam failed to take action in clearing up its catalog, the client continues to lag behind the competition, and Gabe isn't quite the savior the PC gaming community hoped he'd become. Now, in 2019, we have Epic aggressively pushing forward with timed exclusives, essentially throwing Fortnite money at a monopoly problem it claims to be looking to solve. The solution could be right in front of our eyes from the beloved Polish publisher CD Projekt. Here's GOG Galaxy version 2.0 and it could unite everyone under a single roof.
All your games under one roof
GOG (opens in new tab) already had its Galaxy client as a Steam-lite experience, but the company is turning it into the one launcher to unite them all. Previously, you'd only find GOG-listed games in the Galaxy client and it was pretty basic in terms of community features. This is all set to change with version 2.0. GOG Galaxy 2.0 is currently in closed beta but already you can clearly see the direction CD Projekt is looking to take. Your GOG account is a base, which you then build upon by connecting all your other accounts, be it Steam, Origin or Xbox.
Adding new accounts to synchronize is a simple process, too. Depending on how deep the integration is, you'll be able to import all your games, launch them from within GOG Galaxy, sync achievements and game time, and even chat with friends or see when they're online. That's the goal anyway. In its current form, there are a few features missing from the most common launchers supported by GOG Galaxy. At the time of writing, only Xbox and GOG are "officially supported" integrations; the rest are provided and maintained by the community.
After connecting a few of my accounts, it was amazing to see the library begin to pull in all my games, achievements and other metadata. The entire process from logging into my accounts to seeing the last few games being added was around five minutes. GOG Galaxy attempts to match your games to its database of titles, much like Plex does with music, video and other media, which is usually accurate but you can tag stuff and change out images and icons if you really want to micromanage everything.
For now, friends are not imported, nor can you chat cross-platform, but this is something CD Projekt boasts about fixing on its website so I can see these features being enabled before the new launcher makes it out of the beta phase. It's not perfect and you will need to have all other launchers installed. You won't be able to simply uninstall Steam, UPlay, Origin, Epic, and Unity. You'll need to have them installed for GOG to connect and fire up the launcher, which can then launch the game you desire to play. It works better in practice than explained, I promise.
Not all platforms are supported, because why would they want to help you leave their deals and promotions for another publisher's fancy new tool? CD Projekt is looking to the community for assistance here. While the team will work on securing partnerships and access to other launchers, it may be down to the community to add manual hooks for others to use with GOG Galaxy and CD Projekt already provides necessary APIs. Some community-provided integrations are already present, but I could see this growing.
It's a shame that Microsoft still hasn't got the Microsoft Store quite right for PC gaming. After you've installed a fresh copy of Windows 10, you don't immediately head to the official store from Microsoft to install all your favorite games ... unless you only play Minecraft Bedrock Edition. It's a missed opportunity for the company, as we've previously looked into. Microsoft could even get involved with CD Projekt when the company eventually decides to sort out the Microsoft Store situation. It could then get integration squared away for Xbox and Windows games so we can run and update them all from within GOG Galaxy.
Steam does this already ... kinda
Steam allows you to add all your externally purchased games (and even physically installed titles) as entries into your library. The only drawback to this implementation is the lack of Steam support for said titles. You won't be able to connect with friends and the wider community, nor will these games have dedicated pages for each listing, but at least you can launch the game from within Steam, so long as there's no incompatibility.
GOG takes this approach to the next level by effectively automating the process, making it all look good, functional enough to get you to remain in one location to launch all your games, and it has plans to further develop the platform and bolster support for third-party platforms. Version 2.0 of the GOG Galaxy client is shaping up to be the only launcher I'll need to use on a regular basis, and that's a great thing.
Projekt CD has its bases covered in an increasingly paranoid world. No data is shared with third parties, according to the publisher, and all your data is removed from its servers if you disconnect an account. It clearly states no data is hoarded when connecting accounts. The integration API is also open source so we can peek at what's going on behind the scenes.
You can sign up for the GOG Galaxy 2.0 closed beta right now.
Affordable accessories that'll pair perfectly with your PC
Every one of these awesome PC accessories will enhance your everyday experience — and none cost more than $30.
KLIM Aim RGB gaming mouse (opens in new tab) ($30 at Amazon)
Whether you're a gamer or not, this is an absurdly good mouse for the price. It's ambidextrous, has a responsive sensor, a braided cable, tank-like build quality, and, yes, it has RGB lighting, though you can turn it off if that's not your thing.
AmazonBasics USB speakers (opens in new tab) ($16 at Amazon)
These neat little speakers may only pack 2.4W of total power, but don't let that fool you. For something so small you get a well-rounded sound and a stylish design. And they only cost $16.
Razer mouse bungee (opens in new tab) ($20 at Amazon)
Use a wired mouse? You need a mouse bungee to keep your cable tidy and free of snags. You get no drag on the cable, and this one has subtle styling, a rust-resistant spring and a weighted base, all for $20.
Get the Windows Central Newsletter
All the latest news, reviews, and guides for Windows and Xbox diehards.
Rich Edmonds was formerly a Senior Editor of PC hardware at Windows Central, covering everything related to PC components and NAS. He's been involved in technology for more than a decade and knows a thing or two about the magic inside a PC chassis. You can follow him on Twitter at @RichEdmonds.
This is what Microsoft should have created with Xbox branding so you have an all in one interface including the MS store. The Xbox Console Companion is far behind.

Exactly, this is what the Xbox App should have always been.

I never understood why PC religiously back Steam instead of GOG. Steam is essentially the antithesis if what PC gaming was supposed to be all about.

This came to me the other day.
Valve doesn't have to design, future proof, maintain dev tools, api, library, OS. And Valve owns no IDE, no computer language, no HW/SW R&D, no nothing.
The only thing Valve did? Created a game store, piggy bagging it on Windows Classic, and try to sell games cheaper faster (and Valve takes 30%).
Then we have a culture, a bunch of proud gamers, telling people to better spend you hard earned money on a $700 card. The cheaper you can get your SW the better. Oh, and online services / game servers should be free.